Catch up quickly with the stories from Central and Eastern Europe that matter.
Russia's war on Ukraine
Ukrainian President Volodymyr Zelensky this week appointed Rustem Umerov, a Crimean native with extensive business and political experience who has chaired Ukraine's commission monitoring international financial and military aid to the country's war effort, as the country's new defence minister. He replaces Oleksiy Reznikov.  
Umerov, a Crimean Tatar, will be the first Muslim to hold the position. Observers say his elevation to the post signals Kyiv's seriousness about retaking the Crimean peninsula—where Russia has persecuted Crimean Tatars since illegally annexing the region in 2014. 
The defence ministry "needs new approaches," Zelensky said in dismissing Reznikov, whose ministry has been plagued by corruption allegations. Reznikov himself hasn't been implicated, but the controversy has tainted the ministry amid intensifying anti-corruption measures as the country seeks to join the European Union. 
Ukraine on Monday said that Russian debris fell on Romanian territory after an attack, which was vigorously denied by Romanian President Klaus Iohannis. 
However, on Wednesday, Iohannis was forced to ride back after debris from a Russian drone was found on Romanian territory near the Danube river. Iohannis called it "a serious violation of the sovereignty and territorial integrity of Romania." 
Russia has been bombarding Ukrainian ports on the banks of the Danube since President Vladimir Putin pulled out of the Black Sea grain deal, with missiles and drones frequently landing near Romania.  
As a NATO member, Romania is protected under article 5 of the military alliance's treaties, which says that an attack on one member will be considered an attack on all members. Iohannis said the country is "on alert" and in contact with NATO allies. 
At a meeting with the European Commission on Wednesday, EU ambassadors from 22 of the 27 member states either openly opposed the idea of extending the restrictions on Ukrainian grain imports or remained deeply sceptical. 
Ukrainian grain products—wheat, maize, rapeseed and sunflower seeds—are banned from the markets of Poland, Hungary, Romania, Bulgaria and Slovakia under a deal struck with the European Commission earlier this year to protect their farmers from an influx of cheaper produce from their war-torn neighbour. 
The restrictions are due to expire on September 15, but the front-line five have been advocating for their extension until at least the end of the year.  
While many countries recognised the difficulties faced by the five countries, they have asked the Commission to propose alternative measures and believe a decision to extend the import restrictions would be "purely political", with Poland's forthcoming general election looming over the discussion. 
Ukraine will be armed with depleted uranium anti-tank rounds that can aid its troops in piercing Russian tanks, the Pentagon has said, as Russia warns of "very sad consequences". 
The controversial 120mm anti-tanks shells will be used to boost the performance of 31 M1A1 Abram tanks the US will also give Ukraine. Opponents of the weapons, such as the International Coalition to Ban Uranium Weapons, say the dust created by such weapons can be breathed in, while munitions which miss their target can poison groundwater and soil. 
While US Secretary of State Antony Blinken visited Kyiv in a show of the United States' continued support, a Russian attack on a crowded market in eastern Ukraine's Kostiantynivka city on Wednesday killed at least 17 people and wounded 32 more. Ukrainian drones heading to three Russian cities including Moscow, Rostov-on-Don and the Bryansk region, were shot down overnight.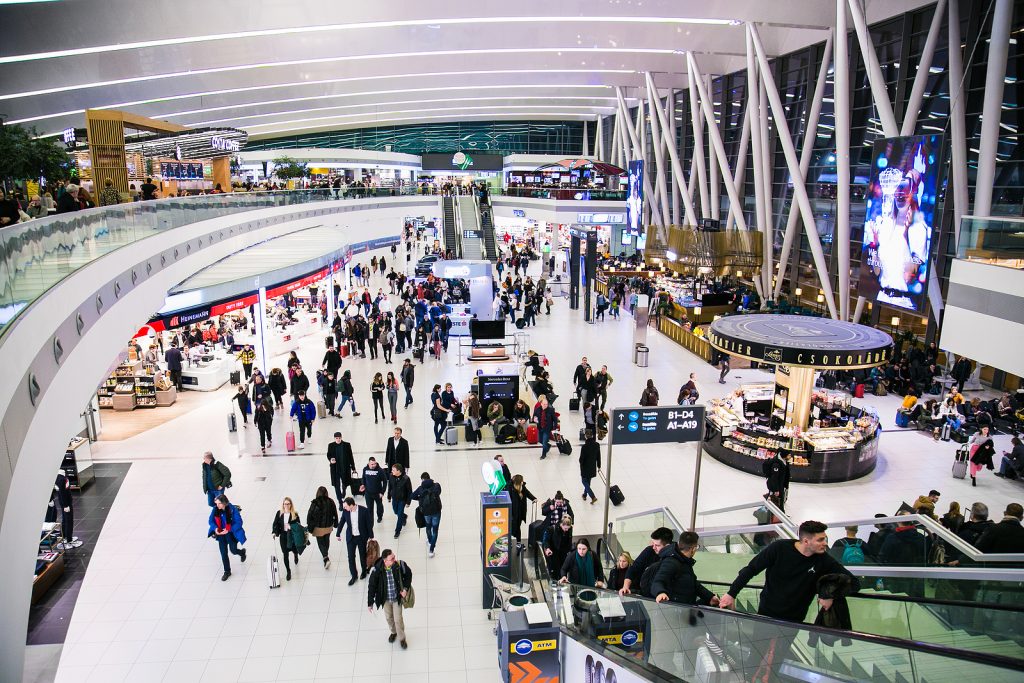 Ferenc Liszt International Airport, Budapest
Other news from the region
Hungary's government has submitted a formal offer to buy a majority stake in Budapest Airport in a transaction that could be valued at about four billion euros, potentially ending years of wrangling over the hub's fate. An earlier bid put forward by a consortium led by the Hungarian government in 2021 collapsed due to the challenging economic environment the government was in at the time. The airport is currently operated by AviAlliance, a Germany-based airport management company.
French food giant Danone will invest 230 million zloty (50 million euros) to create a plant producing medical nutrition products in the city of Opole in southern Poland. The investment will expand a facility already run by the firm to allow it to produce food for people with special dietary needs, creating 50 additional jobs. The move comes after Danone's acquisition of Polish medical nutrition company Promedica earlier this year. 
The ruling Georgian Dream party has initiated an impeachment inquiry targeting Georgia's president, Salome Zourabichvili, an independent, for her visit to Europe to promote the country's EU accession without permission from the Prime Minister's Office. Prime Minister Irakli Garibashvili's administration, which supports maintaining closer ties with Russia and China than Zourabichvili does, said her trip amounted to contempt of the nation's supreme law.  
Bosnian Serb leader Milorad Dodik has vowed to ban the international community's envoy, Christian Schmidt, from entering Bosnia and Herzegovina's Serbian entity, Republika Srpska. The announcement came just days after prosecutors charged Dodik for passing laws that would allow him to bypass or ignore decisions made by Schmidt, who is tasked with overseeing the civilian aspects of the Dayton agreement that ended Bosnia's bloody civil war in the 1990s. 
In an open letter dated September 6, dozens of major international and Czech companies called on Czech Prime Minister Petr Fiala (ODS/ECR) to legalise same-sex marriage so that their employees can live and work in Czechia without discrimination and prejudice. Same-sex couples in the country may currently enter civil unions but not marriages and cannot adopt children, and the companies argued unequal conditions cause unnecessary expenses.  
Hundreds of people protested on Monday in the capital of North Macedonia, Skopje, over allegations that patients at the state Oncology Clinic missed life-saving treatment because staff were stealing expensive drugs to sell on the black market. The organisers of the protest demanded that the last three health ministers take responsibility because they allege that the abuses have been going on for some time. 
Armenia said on Wednesday that it would host a joint military exercise with the United States next week, at a time of rising military tension with neighbouring Azerbaijan and open friction in its relationship with Russia. The Armenian Defence Ministry said the purpose of the Sept. 11-20 "Eagle Partner 2023″ exercise—in which 85 US soldiers and 175 Armenians will take part—was to prepare its forces to take part in international peacekeeping missions, but a Kremlin spokesperson still said news of the small exercise "causes concern".
Following the mass seizure of weapons and ammunition from a house in the Serb-majority town of Zvecan in northern Kosovo on Tuesday, Interior Minister Xhelal Svecla reported he received a death threat from the ethnic Serb Northern Brigade, classified as a terrorist organisation by Prishtina. The commander of NATO-led troops in Kosovo said the region remains "highly volatile" even though the security situation has calmed since a major outburst of violence in May. 
Main photo: Rustem Umerov following parliamentary confirmation of his appointment as Ukraine's defence minister. (Official Twitter/X account).
Unlike many news and information platforms, Emerging Europe is free to read, and always will be. There is no paywall here. We are independent, not affiliated with nor representing any political party or business organisation. We want the very best for emerging Europe, nothing more, nothing less. Your support will help us continue to spread the word about this amazing region.
You can contribute here. Thank you.