The Academy Museum of Motion Pictures, a two-year-old institution in the heart of Los Angeles, has announced plans for its first permanent exhibit, Hollywoodland: Jewish Founders and the Making of a Movie Capital, which will open on May 19, 2024 — during Jewish American Heritage Month.
The announcement, made in an exclusive to the Forward, comes after the museum confronted serious criticism upon its opening — including from the Forward — for overlooking the significant role of Jews in creating the American film industry. 
The Museum's initial, temporary exhibits focused largely on the works of Asian, Black and Latinx filmmakers, as well as the making of Citizen Kane and The Wizard of Oz.
Those temporary exhibits omitted mention of the contributions of the original major studios' Jewish founders: William Fox (Fox Films); Adolph Zukor (Paramount); Harry, Albert and Jack Warner (Warner Bros.); Carl Laemmle (Universal); Louis B. Mayer (Metro Goldwyn Mayer); Harry Cohn (Columbia) and David Sarnoff (Radio-Keith-Orpheum). (Mayer was mentioned in The Wizard of Oz exhibit, in a revisitation of allegations that he exploited the film's young star, Judy Garland.)
In Hollywood's first decades, these Jewish men developed moving pictures into America's most popular form of entertainment — and a multi-million dollar global industry.
As Rolling Stone reported in January 2022, after major museum donors — including film and television producer Haim Saban, who with his wife, Cheryl, donated $50 million to the museum — protested the lack of Jewish representation, alongside Academy members and community stakeholders, museum staff concluded that the foundational story of Hollywood's Jewish pioneers deserved a permanent installation.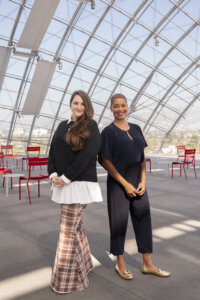 Curator Dara Jaffe and Jacqueline Stewart, director and president of the Academy Museum of Motion Pictures. Photo by Owen Kolasinski/©Academy Museum Foundation
"We never had any desire to exclude or not represent the Jewish founders," Bill Kramer, the museum's former director and president, told the Forward in January 2022, when the museum first shared its intention to craft an exhibit focused on Hollywood's Jewish pioneers. "We long planned on having a temporary exhibit highlighting them but are now going to make it permanent." 
"Within my family, there are a lot of variations of the Jewish immigrant story" Dara Jaffe, the curator in charge of the Hollywoodland exhibition, said in a recent interview at Fanny's, the Academy Museum's inhouse restaurant named for Jewish comedian Fanny Brice. "Most of my great-grandparents came over in the wave of Eastern European immigrants escaping the pogroms at the turn of the 20th century. As I read about the Jewish founders of Hollywood, I can't help but see my great-grandparents in their stories."
Hollywoodland, which is still in development, will involve a multimedia element, including a short-form documentary about the immigrant backstories of Hollywood's pioneering Jewish studio heads, and an immersive projection map highlighting how the film industry shaped Los Angeles between 1902, when the first theater dedicated to playing motion pictures opened, and 1929, when the first Academy Awards ceremony took place. These installations will help build the exhibit's dual narrative of how the Jewish founders' Hollywood "dream factories" became synonymous with Los Angeles. 
"We want people to be engrossed in the nuanced story of Hollywood's Jewish immigrant founders — how their lives and careers were defined by their Jewish identities," Jaffe said. 
"We are committed to telling the truth," Jacqueline Stewart, the museum's new president and director, said in an interview. "And it's true that Hollywood's founders were Jewish businessmen who saw their studios as a way to elevate cinema and to make a name for themselves in an environment that was profoundly antisemitic."
"I think the exhibition's narratives of how political and religious oppression and exile move people around the world will resonate with visitors of many different immigrant backgrounds," she added.
The post A museum snubbed Hollywood's Jewish founders. Its next exhibit hopes to make amends appeared first on The Forward.