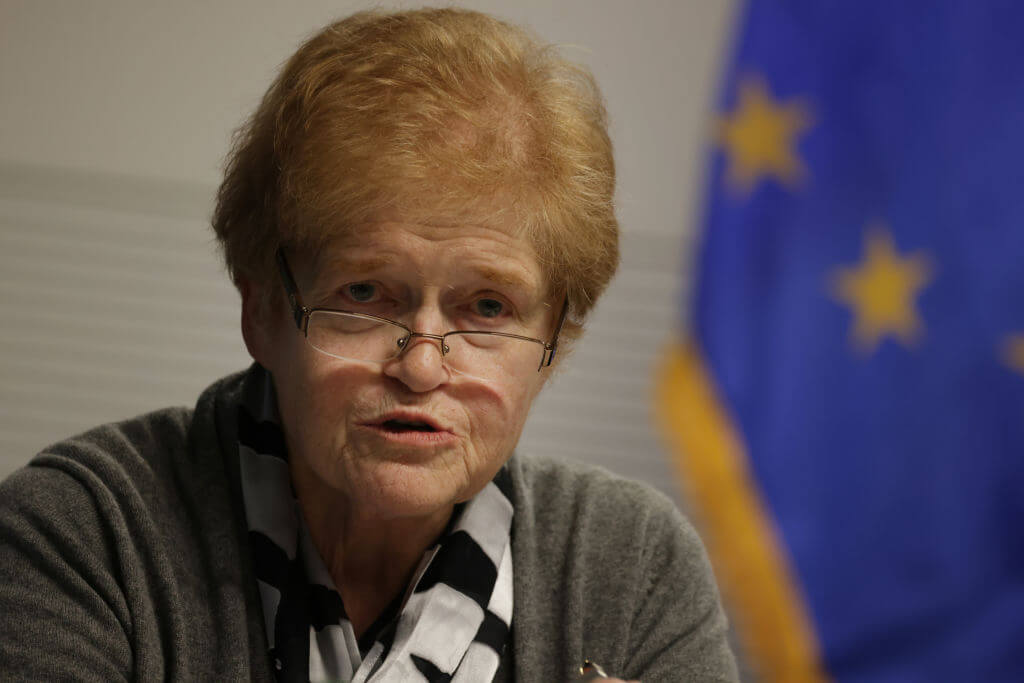 As Jewish families around the world recited "Next year in Jerusalem," a phrase often sung at the end of the Passover Seder expressing a desire to return to a rebuilt Jerusalem after years in exile, Ambassador Deborah E. Lipstadt, had a similar wish. A year into her tenure as the U.S. envoy to monitor and combat antisemitism, Lipstadt expressed her hope that in 2024, the fight against Jew hatred "will be a little bit easier and possibly more successful."
"We have been fighting this fight for a long time," Lipstadt said in an interview with the Forward on the eve of Passover, referencing the passage in the Haggadah: In all generations it is our duty to consider ourselves as if we had come forth from Egypt. "I can't predict, but if I wanted to, I would say we'll still be fighting it next year; hopefully it won't be worse, maybe it'll be a little bit better." 
Lipstadt, who is on temporary leave from Emory University in Atlanta during her ambassadorship, is one of the world's most respected historians of the Holocaust. She was nominated to the position, which had been elevated to the rank of an ambassador, in July 2021 but only confirmed by the Senate last March.
In a pre-Passover op-ed published on CNN's website, President Joe Biden reiterated his administration's commitment to aggressively confront the rise in antisemitic rhetoric and physical attacks against Jews. The Anti-Defamation League's annual audit counted 3,697 antisemitic incidents last year, the highest number since it started tracking antisemitism in 1979 and a 36% increase from 2021. 
Biden announced that the White House plans tol release a "comprehensive" strategy to combat antisemitism, following consultations with more than a thousand Jewish community stakeholders and faith leaders in the coming months. 
Lipstadt said the president expressed what he "feels very strongly" – that the government can't fight hate alone. It is up to ordinary people to "speak up, speak out" whenever they encounter antisemitism, she said. "We can't let little comments pass without it being challenged." 
In January, Lipstadt joined Doug Emhoff, the second gentleman of the United States, on a trip to Poland and Germany to commemorate International Holocaust Remembrance Day. After an emotional visit to the Auschwitz-Birkenau concentration camp and sites made infamous by Nazi atrocities, Emhoff said he regretted not speaking up when witnessing antisemitism in his own past. "Now, I'm gonna keep speaking out as much as I can," he said. 
Lipstadt, who has visited Auschwitz "dozens of times," said she was struck by the "tremendous impact" the visit had on Emhoff, the husband of Vice President Kamala Harris. "He really was shaken by it" she said, adding that he takes the issue very seriously as a spokesperson on behalf of the administration and "he's a great proponent for other people to take it seriously as well." 
The special envoy's office, which is a part of the State Department's office of religion and global affairs, was first established by Congress in 2004 to monitor global antisemitism. 
Lipstadt's first official international trip last June included a stop in Saudi Arabia as part of an effort to advance religious tolerance and change attitudes toward Jews in the Gulf region. 
While focused on antisemitism in foreign countries, Lipstadt said the biggest challenge is fighting the growth of hatred on social media, which has no borders. "It becomes very clear that what is spread in European continents, South America and Asia is also spread in the United States," she said.
The post Ambassador Lipstadt's hopes for Passover 2024: The fight against antisemitism 'will be a little bit easier and possibly more successful' appeared first on The Forward.