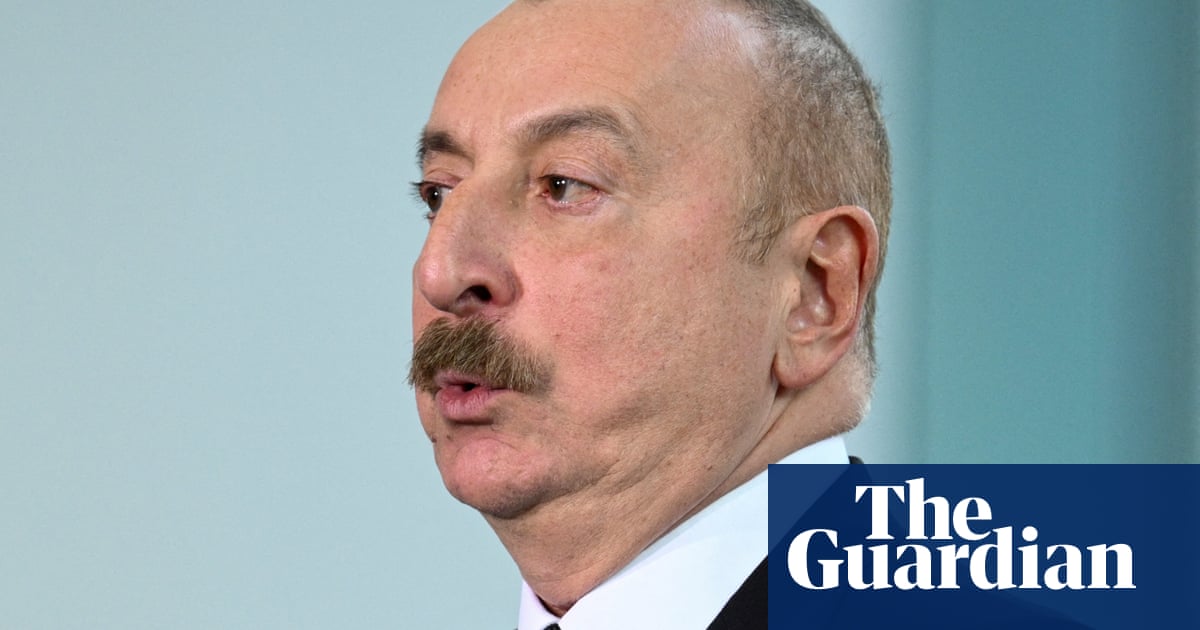 Azerbaijan will not attend an EU-brokered event in Spain where its president, Ilham Aliyev, was set to hold talks with his Armenian counterpart over the future of Nagorno-Karabakh.
Aliyev had been considering taking part in a meeting to discuss the breakaway region – which has largely emptied out after the mass exodus of ethnic Armenians – with the leaders of France, Germany, Armenia and the EU Council president, Charles Michel.
Azerbaijani state media said Aliyev had wanted Turkey to be represented at the meeting with Armenia's prime minister, Nikol Pashinyan, which was scheduled for Thursday, but that France and Germany had objected.
Baku felt "an anti-Azerbaijani atmosphere" had emerged among potential participants, according to reports.
The Azerbaijani news outlet APA said Baku had been angered by French officials and France's decision, announced on Tuesday, to supply Yerevan with military equipment.
"Any format involving France is not acceptable for Azerbaijan, Baku will not participate in such a platform," APA said, citing an unnamed Azerbaijani official.
Accounts from within Nagorno-Karabakh have revealed the dramatic aftermath of the region's defeat by Azerbaijani forces in a lightning-fast military operation last month.
"The city is now completely deserted. The hospitals, more than one, are not functioning," Marco Succi, who travelled to the region this week as part of the International Committee of the Red Cross (ICRC), said. "The medical personnel have left. The water board authorities left. The director of the morgue … the stakeholders we were working with before, have also left. This scene is quite surreal."
Succi said his ICRC team were scouring the regional capital, Stepanakert's, abandoned streets with megaphones looking for the last residents who had been unable or unwilling to leave.
Succi said they found Susanna, an elderly cancer patient confined to bed, who was reportedly showing signs of malnutrition and was taken by ambulance to Armenia.
A video published on Wednesday by the Russian peacekeeping mission from Stepanakert similarly showed empty streets littered with debris left by former residents.
International media outlets have been refused entry to Stepanakert because the area is not yet secure, Azerbaijani officials have said.
Estimates of ethnic Armenians still in the Karabakh region ranged from only 50-1,000, after more than 100,000 fled in recent days, the first UN mission to the area in 30 years reported on Monday.
One of the few men left was thought to be a farmer from a village near Stepanakert. Speaking in Yerevan, his daughter Ani – who asked that her second name and father's name be withheld for security reasons – told the Guardian he had decided to stay for now because he "could not leave his cattle behind".
"He told me that he does not want his cattle to die, they are his life," Ani said.
Ani last spoke to her father on Monday, when he described how fleeing neighbours had left food and other provisions that would last for three weeks. "I am not sure what he will do after that. There are no shops, no food. He is all alone there."
Western officials have urged Baku to provide the ethnic Armenians who left Nagorno-Karabakh with security guarantees that would ensure their eventual return.
skip past newsletter promotion
Sign up to This is Europe
The most pressing stories and debates for Europeans – from identity to economics to the environment
Privacy Notice: Newsletters may contain info about charities, online ads, and content funded by outside parties. For more information see our Privacy Policy. We use Google reCaptcha to protect our website and the Google Privacy Policy and Terms of Service apply.
after newsletter promotion
During a visit to Armenia on Tuesday, the French foreign ministry said that Paris was working on "a draft resolution aimed at guaranteeing a permanent international presence in Nagorno-Karabakh" that would enable Armenians "to return to their lands" in due course.
But several refugees said they saw no way for them to go back to their homes, mindful of a long history of bloodshed between the two sides.
"We will not return, no matter what the promises are," said Tigran, a Nagorno-Karabakh native, in an interview from Dilijan, a town north of Yerevan where his family had been housed in a temporary shelter. "We just don't trust Azerbaijan. We don't want to live under their rule."
Azerbaijani officials have emphasised that they would guarantee "the equal rights and freedoms of everyone" in Nagorno-Karabakh, "regardless of ethnic, religious or linguistic affiliation".
But the Brussels-based International Crisis Group, pointing to the mass exodus, wrote in a report this week that "the [Azerbaijani] promises made are insufficient to build trust".
"While it should be a goal of international diplomacy that the displaced can safely visit and, eventually, return to the enclave, that is likely to require a long-term effort," the report said. "More immediately, residents of Nagorno-Karabakh will need help to start new lives in Armenia, where they may be for some time, if not permanently."
It also remains unclear whether Azerbaijan is planning to repopulate the mountainous region with its own citizens.
Between 1988 and 1994, about 500,000 Azerbaijanis from Karabakh and the areas around it were expelled from their homes, according to Thomas de Waal, a Caucasus scholar and senior fellow at the Carnegie Europe thinktank.
The ethnic Azeri population made up about 25% of the total population of Nagorno-Karabakh before a Russian-brokered ceasefire signed in 1994 that left Karabakh, as well as swathes of Azeri territory around, it in Armenian hands.
Baku previously said it had resettled some districts in Nagorno-Karabakh that it had retaken from Armenia after six weeks of fighting in 2020, in a programme that the authorities called the "big return".