Lawyers for Bryan Kohberger, the Idaho quadruple murder suspect, recently accused FBI agents of interfering with a witness involved in the case.
Kohberger, 28, was charged with four counts of murder in the first-degree and one count of felony burglary, in the fatal stabbings of Kaylee Goncalves, 21, Madison Mogen, 21, Ethan Chapin, 20 and Xana Kernodle, 20. All four victims were students at the University of Idaho and were killed in an off-campus residence last November.
Kohberger has maintained his innocence in the case, previously standing silent during his arraignment, resulting in Judge John Judge entering not guilty pleas for each charge on his behalf.
During a recent court appearance, Kohberger's main lawyer, Anne Taylor, spoke about a recent witness, Gabriella Vargas, a genetic genealogy expert, who recently took the stand to speak about DNA and DNA matching related to the case.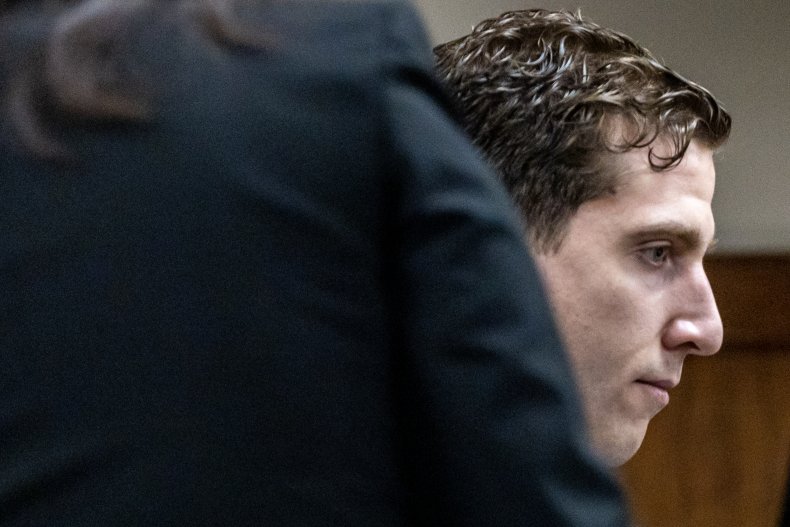 Bryan Kohberger looks on during a hearing at the Latah County courthouse on June 27 in Moscow, Idaho. Lawyers for Kohberger, the Idaho quadruple murder suspect, recently accused FBI agents of interfering with a witness involved in the case.
August Frank-Pool/Getty Images/Getty Images
"Last night, she was visited by two FBI agents and interrogated about her testimony," Taylor said in court while speaking about Vargas, Law & Crime reported on Saturday. "That, in our view, impacts Mr. Kohberger's due process right."
In response, Latah County prosecutor Bill Thompson responded in court, saying that he "reached out to investigators and said, 'Can you find out what's going on?'"
According to Law & Crime, Thompson added that the request for FBI agents to speak with Vargas came in response to her possibly questioning parts of her own testimony.
Last month, Kohberger's attorneys called several DNA experts to the stand as a witness to help dispute portions of the case and evidence related to a DNA match prosecutors discovered from Kohberger and the DNA profile found on a knife sheath that was found at the murder scene.
Newsweek reached out to Kohberger's attorney and the FBI via email for comment.
Meanwhile, a grand jury previously indicted Kohberger on each of the charges he currently is facing. However, his legal team has continued to file motions in attempt to have the indictment thrown away.
"A grand jury was empaneled at a time when the small community of Moscow, Idaho had been exposed to 6 months of intense local, national, and international media coverage," Kohberger's lawyers said in a motion in June. "Because the state has provided extensive discovery, Mr. Kohberger knows that exculpatory evidence exists. Whether a fair and impartial panel of grand jurors was assembled amidst intense media coverage is a significant question the Defense must evaluate."
The state of Idaho previously announced that they were planning to seek the death penalty for Kohberger who recently waived his right to a speedy trial.