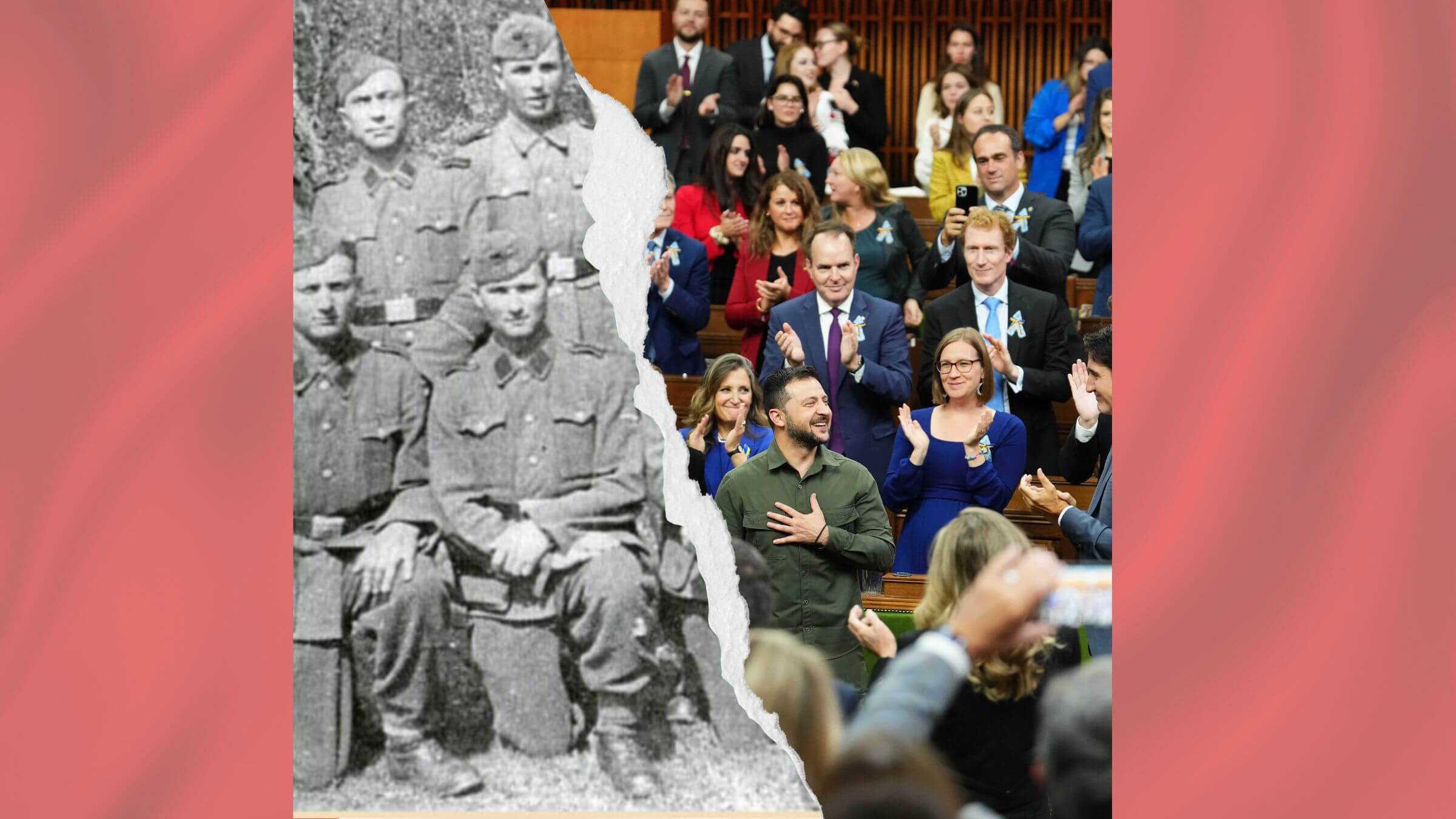 Canada recently welcomed Ukrainian President Volodymyr Zelenskyy to address Canada's House of Commons, an institution in which I served three terms.
It was to be a highlight of Zelenskyy's North American tour. And it was to illustrate the deep and long-standing relationship between the two countries. After all, Canada is home to the world's third-largest Ukrainian community, smaller only than that of Russia and of Ukraine itself.
But something went very wrong.
The speaker of the House, Anthony Rota, decided to invite one of his constituents, 98-year-old Yaroslav Hunka, to attend. He officially recognized Hunka from the chair and, introducing him as a war hero who had fought with the First Ukrainian Division, urged the entire House, together with President Zelenskyy and Prime Minister Trudeau, to offer up a standing ovation.
It turned out that Hunka was a veteran of the 14th Grenadier Division of the infamous Nazi Waffen SS.
Thus, Canada's House of Commons, the heart of Canadian democracy, was sullied not only by the presence of such a man in its venerated chamber, but also by the warm ovation that greeted him. Of course, the incident also provided a boon to anti-Ukraine Russian propaganda, during a critical period of Russia's illegal war on Ukraine. It was an embarrassment no one but Putin wanted or needed.
Rota, who as speaker was both the symbol and leader of this reputable chamber, resigned over this debacle when it became clear that none of the officially recognized parties (the governing Liberals, the opposition Conservatives, the Quebec-based Bloc Québécois, and the social democrat New Democratic Party) would support his continued term as speaker. He was offered no choice, and whether the Liberals will welcome him back in their caucus has yet to be decided. In the meantime, Prime Minister Trudeau has now offered his own apology.
Inviting Hunka was an insult to Canada's Holocaust Survivors, to their families, to Jewish Canadians and, I would argue, to all Canadians — whose commitment to democracy, the rule of law, tolerance, equality and multiculturalism is well-known.
Inviting Hunka also underscores what could be considered Canada's original sin of not properly vetting immigrants following the Second World War. Hunka is not the only example of former Nazi collaborators permitted entry into Canada. Helmut Oberlander, a member of the Nazi death squad Einsatzkommando 10a, responsible for killing close to 100,000 people who were mostly Jewish, made a mockery of the Canadian judicial system and, in 2021, managed to die peacefully at his home in Waterloo, Ontario, having for decades evaded deportation to face justice in Germany.
Canada has never fully accepted that, regardless of the Holocaust atrocities they may have committed, Nazi fighters did indeed immigrate to our country and live quietly among us.
At a time of rising antisemitism in Canada — Jews are, year after year, the most targeted community in religiously motivated hate crimes — this terrible event underscores the importance of education about the Holocaust and the history of World War II.
This education is timeless, defining the Jewish experience and offering lessons about how hate and racism poison society. The fact that the province of Ontario recently mandated Holocaust education in elementary schools is a good start, one that other provinces should follow.
But it is not only children who require a better knowledge of the Holocaust. That is why the Jewish community has supported public investments in Holocaust museums such as the newly opened Toronto Holocaust Museum and the 2025 move of the Montreal Holocaust Museum to a more accessible downtown location.
Also, we call on the Hon. Arif Virani, Canada's minister of justice and attorney general, to task Canada's War Crime Unit to review and consider any more evidence that has emerged from the recent release of new research and archival material that further implicates those now living in Canada who committed wartime atrocities.
Canada, a proud G7 country, one of the main Allied countries that defeated the Nazis in the Second World War, and home to a significant but dwindling number of Holocaust Survivors, saw its reputation tainted by the applause it unknowingly gave to a man who fought for the Nazis.
Let's make sure this humiliation never happens again.
To contact the author, email opinion@forward.com.
The post Our government unwittingly applauded a man who fought for the Nazis. We must take steps to ensure it never happens again appeared first on The Forward.