Former Capitol Police Chief Steven Sund said that multiple federal agents were in the crowd during the insurrection at the U.S. Capitol building on January 6, 2021, but he wasn't informed of their presence.
Sund revealed the information in a nearly hourlong interview with former Fox News host Tucker Carlson on Carlson's independent show, Tucker on Twitter. Carlson sat down with Sund after right-wing news company The National Pulse leaked an interview between Carlson and Sund that Fox News never aired. Carlson shared the new interview on X, formerly Twitter, on Thursday night.
The previously unseen footage from Fox News came days after former President Donald Trump was indicted by the Department of Justice (DOJ) with four criminal charges on August 1 regarding his alleged involvement in the U.S. Capitol riot. He has been charged with conspiracy to defraud the United States; conspiracy to obstruct an official proceeding; obstruction of and attempt to obstruct an official proceeding; and conspiracy against rights. In the indictment, it said Trump "was determined to remain in power" following his 2020 election loss to President Joe Biden. The former president pleaded not guilty during his arraignment in a Washington, D.C., court and continues to deny any wrongdoing.
In the new interview with Carlson, Sund expressed frustration about not being informed about intelligence acquired by multiple military and federal agencies before the riot. Sund alleged that even as he begged for National Guard assistance—a request that was not granted for hours as rioters stormed the U.S. Capitol to try and overturn the election results—"multiple" federal agents were in the crowd without his knowledge.
Ep. 15 Former Capitol Police Chief Steven Sund reveals what really happened on January 6th. Our Fox News interview with him never aired, so we invited him back. pic.twitter.com/opDlu4QGlp

— Tucker Carlson (@TuckerCarlson) August 10, 2023
A Government Accountability Office (GAO) report in February overviewing the office's investigation into the riot revealed that by January 3, 2021, the Federal Bureau of Investigation (FBI) was tracking four domestic terrorists who planned to attend the riot, Sund said. Three days later, on the day of the riot, the number of domestic terrorists tracked by the FBI grew to "18 to 19".
Newsweek reached out to the FBI by email for comment.
Stationing federal agents in a planned demonstration is standard police work, Sund said, who added that it was concerning that he wasn't informed of the FBI's plan to do so on January 6.
"They have 18 or 19 domestic terrorists coming to this event, so of course they're going to have resources and they're not going to just put in one agent. You're going to have multiple," Sund said. "I don't know how many they actually had in there.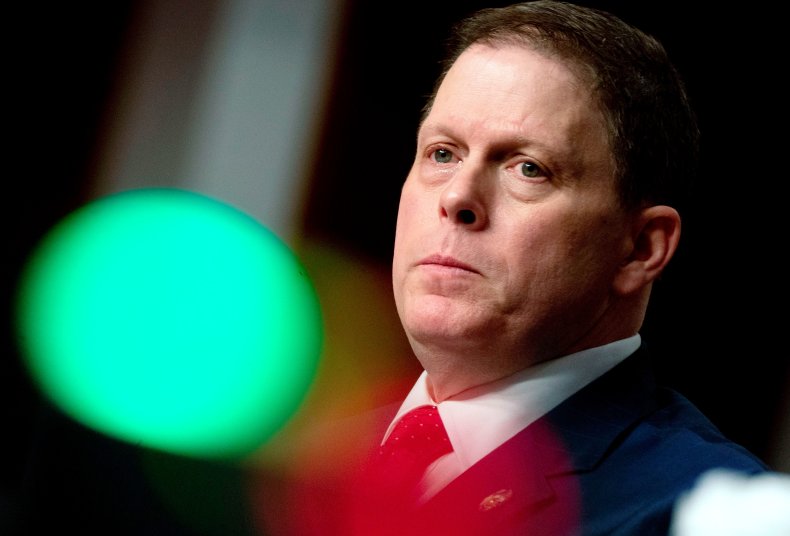 U.S. Capitol Police Chief Steven Sund is seen on Capitol Hill in Washington, D.C., on February 23, 2021. Sund recently told Tucker Carlson that he thought the FBI had multiple federal agents in the crowd at the January 6, 2021, Capitol riot, but he wasn't informed of their presence.
ANDREW HARNIK/AFP via Gett
"That would be regular, standard police work, so I wouldn't be surprised by that," Sund continued. "But not to share that intelligence? That's concerning."
Carlson added that it would be common sense to inform the Capitol police that the FBI had agents stationed in the crowd. Instead, Sund alleged that he was left in the dark and encountered delays and roadblocks when he requested assistance from the National Guard.
The actions, or lack thereof, taken by the government leading up to the riot led Sund to believe that intelligence officials in power were aware of the attack in advance and covered it up by failing to disseminate the information to those who needed it. Meanwhile, after facing mounting pressure from Congress and the union representing the Capitol Police, Sund resigned from his position shortly after the riot.