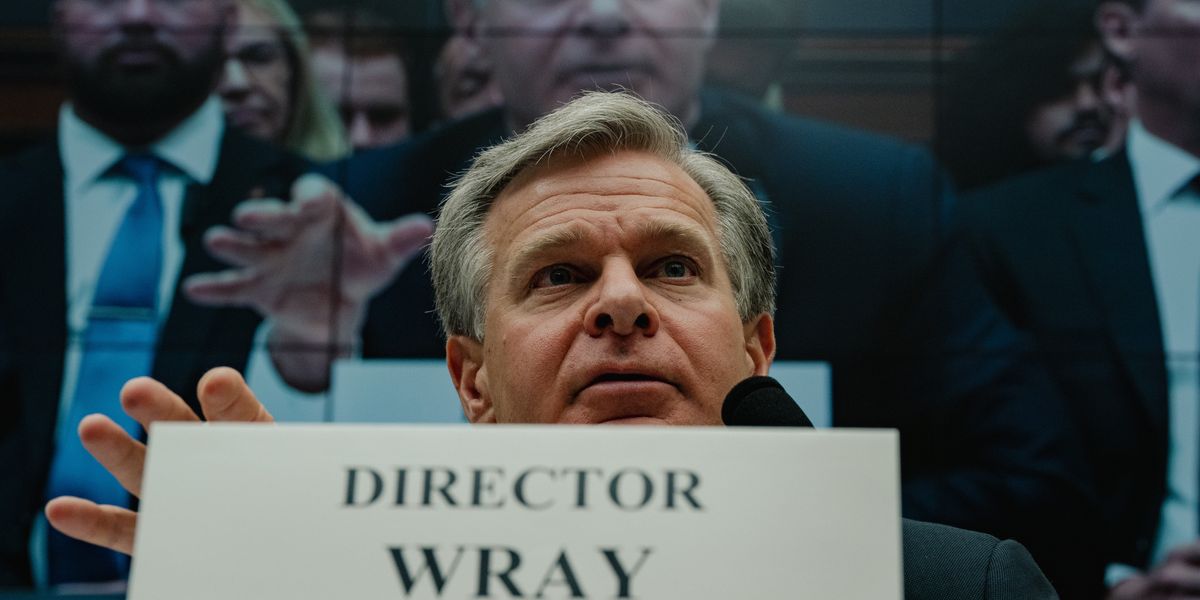 Privacy advocates renewed calls for swift congressional action to rein in warrantless spying on Americans following the Friday release of documents showing U.S. law enforcement's further misuse of a powerful surveillance tool.
"These disturbing new revelations show how Section 702 surveillance, a spy program the government claims is focused on foreign adversaries, is routinely used against Americans, immigrants, and people who are not accused of any wrongdoing," said Patrick Toomey, deputy director of the ACLU's National Security Project, in a statement.
The Federal Bureau of Investigation (FBI) "continues to break the rules put in place to protect Americans, running illegal searches on public officials, including a U.S. senator, and it's long past time for Congress to step in," he asserted. "As Congress debates reauthorizing Section 702, these opinions make clear why fundamental reforms are urgently needed."
Before the end of this year, members of Congress must decide whether to reauthorize Section 702 of the Foreign Intelligence Surveillance Act (FISA), which allows the U.S. government to collect the electronic communications of noncitizens who are believed to be located abroad and have specific types of information.
Americans' data swept up by such activities are supposed to be subject to extra protections, but a pair of redacted Foreign Intelligence Surveillance Court (FISC) opinions released in May revealed that in 2020 and early 2021, the FBI misused the Section 702 database over 278,000 times—a figure that experts warn is likely an undercount.
That FBI abuse—including searches for information on crime victims, protesters arrested after the 2020 police killing of George Floyd, donors to a congressional candidate, and people suspected of breaching the U.S. Capitol on January 6, 2021—led to internal reforms at the bureau and additional training for the involved analysts.
On Friday, the Office of the Director of National Intelligence, in consultation with the U.S. Department of Justice, released another redacted FISC opinion and related materials. The April 11, 2023 opinion addresses modifications to National Security Agency procedures as well as updates regarding FBI compliance.
Despite indications that the FBI's remedial measures after the previous abuse "are having the desired effect," compliance issues persist, the opinion details. "Some violations of the querying standard coincided with failure to follow an FBI policy that requires prior deputy director approval to use 'sensitive query terms'—e.g., identifiers of domestic public officials, domestic political candidates, members of the news media, academics, and religious organizations or persons prominent within them."
Additionally, the document notes, "in June 2022, an analyst conducted four queries of Section 702 information using the last names of a U.S. senator and a state senator" supposedly targeted by a foreign intelligence service. The New York Timesreported that "the opinion did not make public the identities of the lawmakers who had been subject to overly broad searches, but the member of Congress was notified, officials told reporters in a background briefing on Friday."
The opinion adds that "on October 25, 2022, a staff operations specialist ran a query using the Social Security number of a state judge who 'had complained to FBI about alleged civil rights violations perpetrated by a municipal chief of police.'" According to the Times, "An official familiar with the matter said it had led to accountability measures but declined to provide further details."
FBI Director Christopher Wray said in a statement Friday that "Section 702 is critical in our fight against foreign adversaries" and the April court opinion "confirms the significant improvement" in the bureau's querying compliance since the reforms.
"We take seriously our role in protecting national security and we take just as seriously our responsibility to be good stewards of our Section 702 authorities," he added. "Compliance is an ongoing endeavor, and we recently announced new additional accountability measures. We will continue to focus on using our Section 702 authorities to protect American lives and keeping our homeland safe, while safeguarding civil rights and liberties."
While Wray wants to work with Congress to continue allowing the FBI access to Section 702 information—and sent a related letter to House Speaker Kevin McCarthy (R-Calif.) on Friday—civil liberties advocates argue that the recent violations are further evidence of the need for serious reforms.
"One warrantless query for Americans' private communications is one too many, and this opinion shows the government is still conducting hundreds of thousands per year, including thousands in violation of their own lax rules," said Jake Laperruque, deputy director of the Center for Democracy & Technology's Security & Surveillance Project, in a Friday statement.
"These new revelations of misconduct show yet again that lack of oversight invites abuse, and that it's impossible to fix FISA 702 without adding a warrant rule for U.S. person queries," Laperruque added. Elizabeth Goitein, co-director of the Brennan Center for Justice's Liberty and National Security Program at New York University School of Law, agreed in a series of Friday tweets.
"Government self-policing will never be an adequate substitute for the Fourth Amendment's warrant requirement," Goitein said. "The newest FISA Court opinion reaffirms that basic truth and underscores the urgent need for sweeping legislative reforms."
As the Times pointed out:
Privacy-minded lawmakers have long sought to impose greater limits on the program. But in previous cycles when Section 702 was about to lapse, they have been outvoted by hawks and centrists of both parties. This time, however, its liberal critics are joined by a faction of Republicans who have aligned themselves with former President Donald J. Trump's hostility to the "deep state" and see the issue as a chance to impose pain on the FBI.[…]

Civil liberty and privacy activists have long pushed to require the government, or at least the FBI, to obtain a court warrant before using Americans' identifiers to search the repository of intercepted communications. They see the present odd-bedfellows alliance with the hard-right Republicans as a unique opportunity to achieve that reform.
U.S. Sen. Ron Wyden (D-Ore.) noted in a Friday statement that "for years, as government officials have provided misleadingly narrow testimony about who is targeted under Section 702, I have pushed to get the government to come clean."
"The revelation that 702 is used against 'foreign governments and related entities' directly impacts Americans' privacy, as American journalists, businesspeople, students, and others all have legitimate reason to communicate with foreign governments," he said. "The fact they can be swept up in 702 collection further highlights the need for reforms to protect their privacy."
"While I commend the administration for these releases," Wyden added, "it remains the case that information the public needs in advance of 702 reauthorization has been unnecessarily redacted."