US officials investigating the explosion at a hospital in Gaza say information gathered so far indicates Israel is "not responsible" for the blast.
The White House National Security Council (NSC) says the "current assessment" was based on analysis of overhead imagery, intercepts and open source information.
"While we continue to collect information, our current assessment, based on analysis of overhead imagery, intercepts and open source information, is that Israel is not responsible for the explosion at the hospital in Gaza yesterday," NSC spokesperson Adrienne Watson told NBC News.
It comes after Joe Biden said the explosion at the al Ahli hospital – which Hamas officials claimed killed hundreds of people and was caused by an Israeli air strike – appeared not to have been caused by Israel but "by the other team".
Follow live: Middle East enters 'dangerous moment'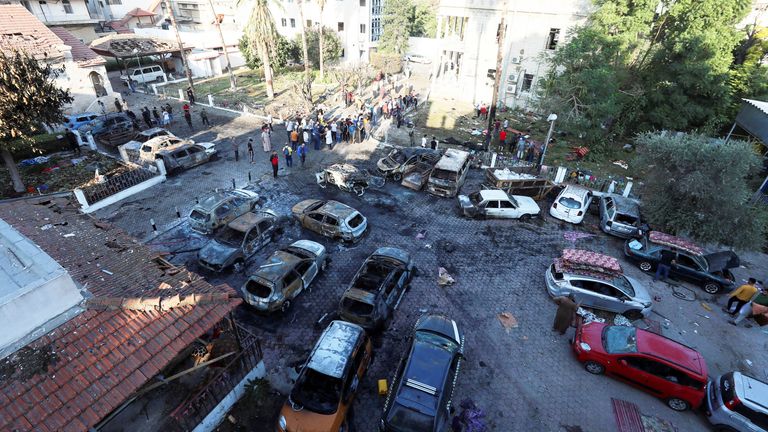 Image: The aftermath of the explosion at the al Ahli hospital in Gaza
The US president was speaking during a high-risk diplomatic mission to Israel – a day after the blast stoked tensions and sparked protest in the region.
Mr Biden held talks with Israeli Prime Minister Benjamin Netanyahu in Tel Aviv on Wednesday – trying to prevent the Israel-Hamas war from spiralling into a broader regional conflict.
Please use Chrome browser for a more accessible video player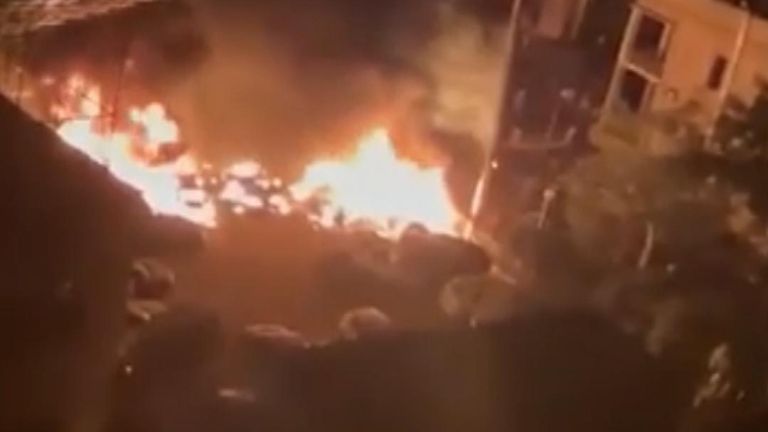 0:26
Gaza City hospital blast caught on camera
"Based on what I've seen, it appears as though it was done by the other team, not you," Mr Biden said.
"But there's a lot of people out there who are not sure, so we have got to overcome a lot of things."
"The world is looking. Israel has a value set like the United States does, and other democracies, and they are looking to see what we are going to do," he added.
Mr Biden said he was "sad and outraged" by the strike in Gaza which Hamas said killed up to 500 people at the al Ahli hospital – triggering worldwide protests.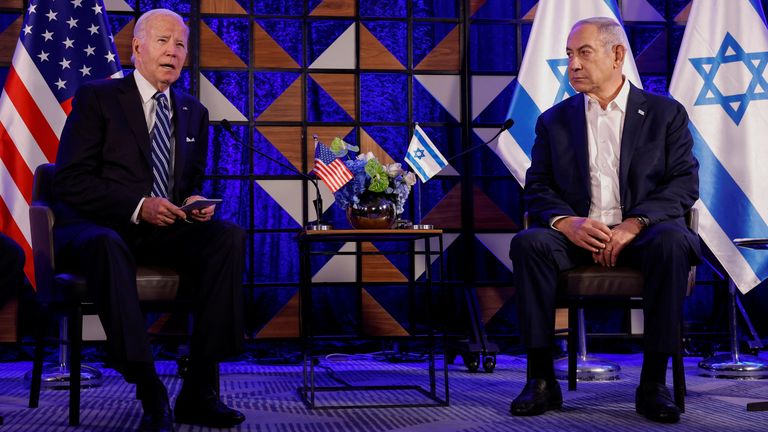 Image: US President Joe Biden with Israeli Prime Minister Benjamin Netanyahu in Tel Aviv
Hamas called the explosion a "crime of genocide" and has blamed it on Israel.
Israel has denied any involvement and said the blast was caused by a misfired rocket launched by the Palestinian Islamic Jihad (PIJ) group – an Islamist militant group based in Gaza which is smaller than Hamas but shares a similar ideology.
However, it too has rejected responsibility for the explosion.
UK intelligence also assessing explosion
Rishi Sunak, meanwhile, urged for a "calm and cool" approach in response to the blast and urged people: "Don't rush to premature judgments."
He told broadcasters: "It is important in this instance not to jump to conclusions, we have to establish the facts and premature speculation, I think, would be wrong, that's not the right thing.
"This is a very heightened, sensitive situation, so we just need calm heads."
Mr Sunak said UK intelligence was also assessing the explosion at the hospital.
The blast happened just before the US president arrived in Israel on Wednesday on a desperate diplomatic mission to prevent the Israel-Hamas war from spiralling into a broader regional conflict.
What we know about the al Ahli hospital blast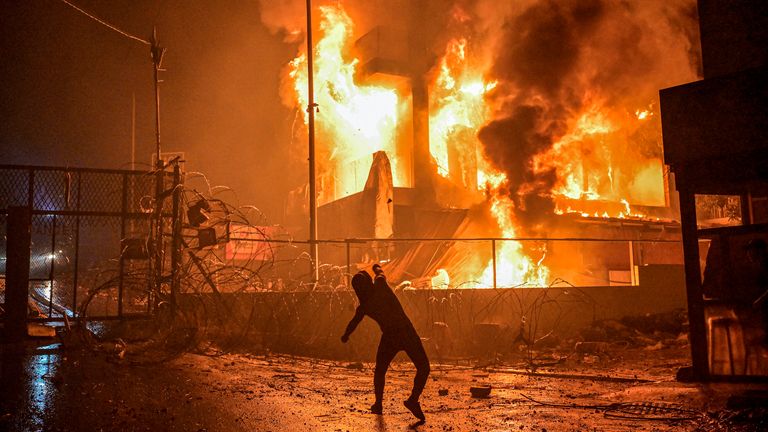 Image: A protester throws stones at a burning building outside the US embassy in Lebanon following the bombing of a Gaza hospital. Pic: DPA/AP
He said Washington would provide Israel with everything it needs to defend itself against the militant faction of Hamas.
In a press conference, he reiterated his government's support for Israel and warned other pro-Hamas groups and nations in the region to stay out of the conflict.
He said: "My message to any state, or any other hostile actor, thinking about attacking Israel remains what it was a week ago: 'Don't, don't, don't'."
Mr Biden also pledged $100m of new US funding for humanitarian aid to Gaza and the West Bank and said an agreement had been reached to allow aid to come into the Gaza Strip from Egypt.
Mr Netanyahu thanked his US counterpart for his "unequivocal support".
The US leader is in Tel Aviv to show Israel the US's support for its war against Hamas.
However, the second half of his visit to the Middle East – a summit between himself and Palestinian, Jordanian and Egyptian leaders in Amman, which would have focused on getting humanitarian assistance into Gaza while working towards calming tensions in the region – was cancelled following the bombing.
Read more:
Number of displaced in Gaza reaches new high
Rishi Sunak could visit Israel as soon as Thursday
The fireball that engulfed the hospital delivered some of the most harrowing images yet from the ongoing 12-day war.
About 350 casualties were rushed from the blast site to Gaza City's main hospital, al Shifa, already overwhelmed with those injured from other strikes, said its director, Mohammed Abu Selmia.
Israel's military released what it claimed was evidence – including drone footage and an intercepted conversation – which it said proves an Islamist militant group was responsible for the bombing and not an Israeli airstrike.
Spreaker
This content is provided by

Spreaker

, which may be using cookies and other technologies. To show you this content, we need your permission to use cookies. You can use the buttons below to amend your preferences to enable

Spreaker

cookies or to allow those cookies just once. You can change your settings at any time via the Privacy Options.
Unfortunately we have been unable to verify if you have consented to

Spreaker

cookies. To view this content you can use the button below to allow

Spreaker

cookies for this session only.
Click to subscribe to the Sky News Daily wherever you get your podcasts
It has not been possible to independently verify the audio recording published by the Israeli military of "communication between terrorists talking about rockets misfiring".
It is the deadliest single event of the Israel-Hamas war so far.
After Mr Biden backed the Israeli account, other western leaders also called for caution.
Please use Chrome browser for a more accessible video player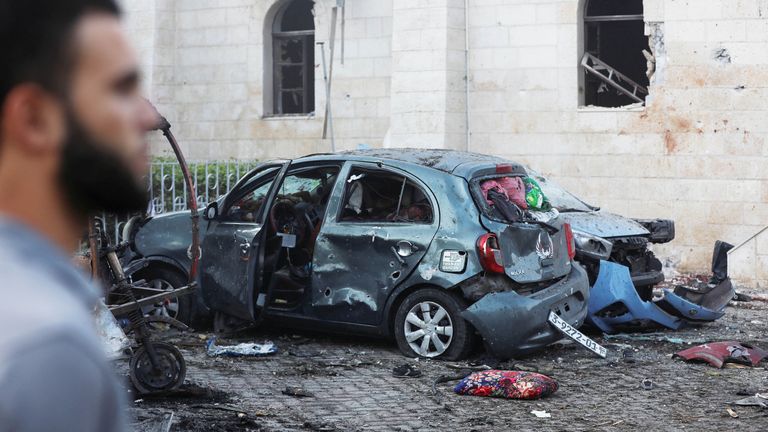 1:14
IDF release 'hospital attack audio'
"Last night, too many jumped to conclusions around the tragic loss of life at Al Ahli hospital," British Foreign Secretary James Cleverly wrote on X, formerly known as Twitter.
"Getting this wrong would put even more lives at risk. Wait for the facts, report them clearly and accurately.
"Cool heads must prevail," he added.
Protests have ignited across the Middle East following the explosion, with hundreds of people taking to the streets in cities in Turkey, Jordan, Lebanon and in the West Bank – where there have been clashes with police.