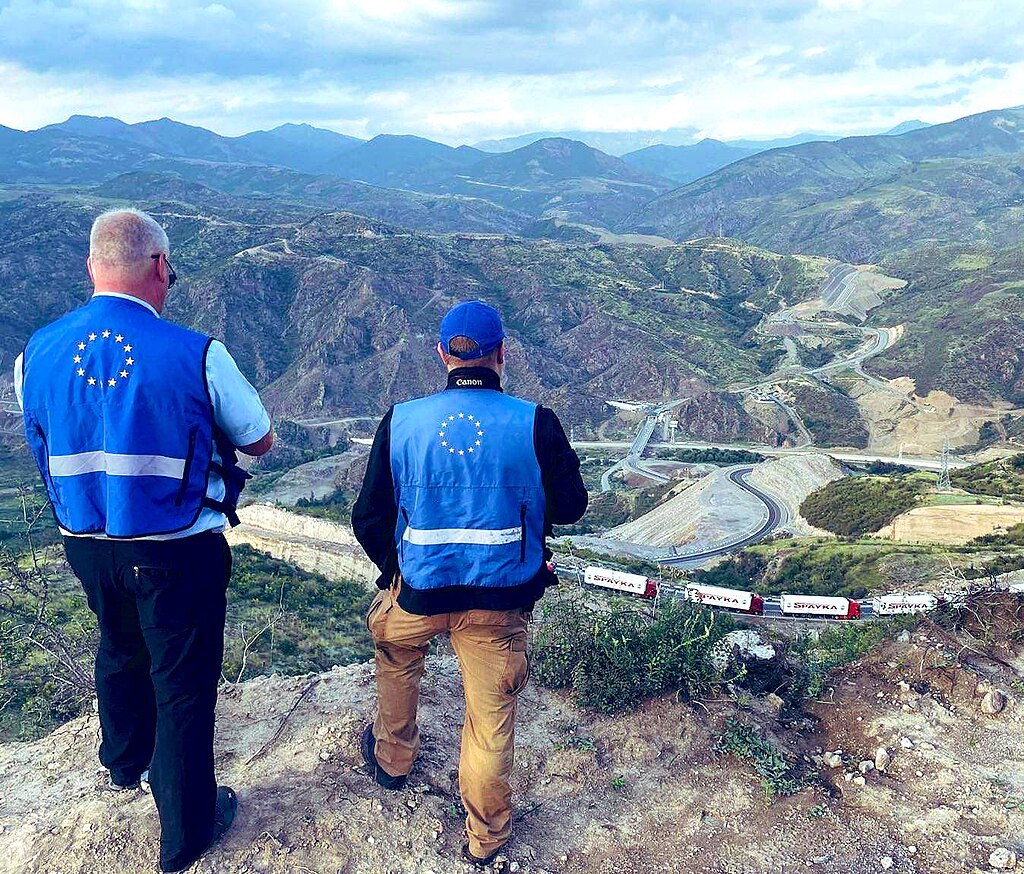 The self-proclaimed Republic of Artsakh – internationally recognized as Azerbaijan's Karabakh region – is facing probably the most difficult period in its 32-year history. Baku seems determined, one way or another, to establish full control over the territory where ethnic Armenians make up the majority of the population, although they refuse to reintegrate into Azerbaijan.
On September 2, 1991, a joint session of the Councils of People's Deputies of the former Nagorno Karabakh Autonomous Oblast and Shahumyan region – at the time both territories being part of the Azerbaijan Soviet Socialist Republic – proclaimed the Republic of Artsakh. To this day, not a single UN member, including Armenia, has recognized Artsakh (the Armenian name for Nagorno-Karabakh) as an independent state.
"After all, Karabakh is Azerbaijan. Does everyone recognize this? Everyone recognizes. Does anyone say it's not? No", Azerbaijani President Ilham Aliyev said on July 23, talking about the humanitarian situation in the region that is still under the Armenian de facto control.
Reports suggest that a humanitarian disaster is unfolding in Nagorno-Karabakh. After establishing control over the Lachin Corridor – the only land link between Armenia and the Nagorno-Karabakh – in April 2023, Azerbaijan has cut off all shipments of food, fuel, and other critical supplies to the region from Armenia. As a result, according to local sources, the Karabakh Armenians are facing "mass starvation and total hunger". Baku, however, denies such claims.
"The allegations on the humanitarian situation in the region are completely unfounded", said Jeyhun Bayramov, Azerbaijani Foreign Minister, on July 25.
Baku offered to supply Nagorno-Karabakh via a crossing at the nearby Azerbaijani city of Aghdam. But the Armenians reportedly refuse take food from Azerbaijan, and have blocked the road leading from Aghdam to Nagorno-Karabakh's capital of Stepanakert. The authorities in Baku insist that their refusal to accept aid from Azerbaijan demonstrates that the claims on the humanitarian situation are "political blackmail".
Armenian Prime Minister Nikol Pashinyan, on the other hand, argues that Azerbaijan has "illegally blocked the Lachin Corridor", and that it "should have no control" over the road. Various foreign powers, including Russia, have called on Baku to immediately re-open the Lachin corridor to humanitarian, commercial, and passenger traffic. Quite aware that no major global actor is willing to jeopardize its relations with energy-rich Azerbaijan over the Karabakh Armenians, Aliyev is unlikely to be ready to make any concessions to those he perceives as separatists.
"Why should goods to Karabakh be delivered from another country? This is illogical", Azerbaijani leader stressed.
Baku sees the crisis in the region as an internal matter, and aims to absorb the ethnic Armenian-controlled territory into Azerbaijan. Karabakh Armenians, however, fear that that they have no future in Azerbaijan, emphasizing that "any status for Artsakh within Azerbaijan would be tantamount to ethnic cleansing".
That is why they have repeatedly called for a UN-mandated peacekeeping mission to be deployed to the region as a "security guarantee". In other words, the UN troops would likely replace some 2,000 Russian peacekeepers, who have been stationed in Karabakh since November 2020, which is when Armenia and Azerbaijan signed the Moscow-brokered ceasefire deal that ended the 44-day war the two nations fought over the mountainous region.
Under the 2020 agreement, Russia is supposed to ensure road transport between Armenia and Nagorno-Karabakh, but the Kremlin proved unable to prevent Azerbaijan from blocking the Lachin Corridor. That is why many Armenians want the Russian troops out of the region, and that is one thing they have in common with Azerbaijanis. Baku is impatiently waiting for 2025, which is when the Russian peacekeepers' mandate expires, and is unlikely to be willing to allow any other foreign mission in Karabakh.
Meanwhile, Baku is expected to continue pressuring Karabakh Armenians to either integrate into Azerbaijani society, or to leave the region. For Azerbaijani policy makers, the current crisis in Nagorno-Karabakh is a win-win situation. Some 120,000 Karabakh Armenians would not represent a serious threat to Azerbaijan – a country of around 10 million people – although there is no doubt that many in Baku would also be quite happy without them.
It is, therefore, not surprising that the self-proclaimed Republic of Artsakh's president Arayik Harutyunyan resigned on September 1 as a result of what he described as "unstable geopolitical situation" and "Artsakh's internal political and social environment".
Along with his resignation, Harutyunyan also dismissed Gurgen Nersisyan as state minister, which is the second-highest-ranking executive position in Nagorno-Karabakh. In other words, they seem to have decided to abandon the sinking ship.
Although it is still unclear what effect the change in leadership will have on the situation in the region, there is no doubt that the conditions the Karabakh Armenians are living in will not improve in the foreseeable future, if it all. Sooner or later, Azerbaijan may attempt to break up the blockade of the Aghdam–Stepanakert road, even though such a move could lead to an escalation of the conflict.
But even with Armenia's help, the self-proclaimed Artsakh Defense Army has zero chance against the Azerbaijani Armed Forces – one of the strongest militaries in the post-Soviet space. Quite aware of that, Pashinyan will almost certainly seek to avoid any large-scale confrontation with Azerbaijan. Instead, he may try to find a way to de facto abandon Nagorno-Karabakh, although in such a way that would allow him to safe face.
Image: EUMAs monitor within Armenia looking at Azerbaijan's military checkpoint on the Lachin corridor and the blocked humanitarian convoy of trucks that was sent to Artsakh (Nagorno-Karabakh) by EU Mission in Armenia (EUMA), an entity of the European-Commission