Israel has declared a "complete siege" of Gaza, cutting off water, food and power supplies, as Hamas militants threatened to start killing Israeli civilian hostages if the bombing of civilian areas in the enclave continued without prior warning.
Palestinian militants abducted more than 100 people during a surprise multi-front attack in which they killed more than 700 – making Saturday the deadliest day in Israel's history. Israeli media said on Monday the death toll had climbed to 900.
In response to the attack, Israel has launched strikes from the air and sea, which medics said had killed more than 680 Palestinians in Gaza, an area home to 2.3 million people with nowhere to flee.
Separately, about 120 miles to the north of Gaza, Israel said its forces had fought off gunmen crossing from Lebanon – an incident that raises the spectre of a second front in the unfolding war.
Israel's prime minister, Benjamin Netanyahu, called on the political opposition to join a government of national unity and said the offensive had "only started".
In a televised address late on Monday, Netanyahu pledged to "eliminate terrorists" still present in Israel and said: "What we will do to our enemies in the coming days will reverberate with them for generations."
Israel formally declared war on Sunday and called up 300,000 reservists for duty, signalling a possible ground assault into Gaza – a move that in the past has always brought further bloodshed. However, Israeli forces face the unprecedented task of fighting an urban war while dozens of hostages are likely to be hidden in tunnels and basements across the Gaza Strip.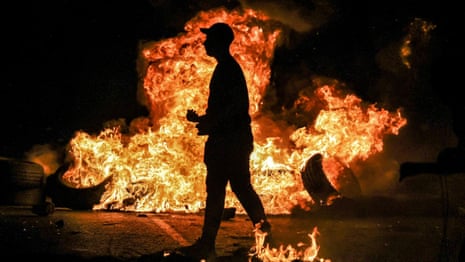 Why the Israeli-Palestinian conflict is so complicated – video explainer
Abu Ubaida, a spokesperson for the armed wing of Hamas, claimed on Monday that Israeli bombardment had already killed "four of the enemy's captives and their captors".
Later, he said Hamas would kill an Israeli civilian captive in return for any new Israeli bombing of civilian homes "without prior warning".
In an audio statement, Ubaida said there had been intense strikes by Israel on civilian areas in Gaza in which apartments were destroyed over people's heads.
"We have decided to put an end to this and as of now, and we declare that any targeting of our people in their homes without prior warning will be regrettably faced with the execution of one of the hostages of civilians we are holding," he said.
In previous rounds of fighting, Israel has sometimes warned civilians in Gaza of impending attacks on residential buildings. It has done this either by text messages or phone calls to Palestinians. It has also fired low-yield munition warning strikes, which locals call "roof knocks", on targets before bombing them. These measures have given civilians several minutes to clear the structure before it is destroyed, although in practice in built-up areas, many civilians have still been killed.
In a joint statement on Monday night, Joe Biden, the US president; Rishi Sunak, the UK prime miniser; Emmanuel Macron, the French president; the German chancellor, Olaf Scholz; and the Italian prime minister, Giorgia Meloni, released a joint statement promising their "steadfast and united support to the state of Israel, and our unequivocal condemnation of Hamas and its appalling acts of terrorism".
They said: "We make clear that the terrorist actions of Hamas have no justification, no legitimacy, and must be universally condemned. There is never any justification for terrorism.
Israeli media reported on Monday that in the current round of fighting, the military was not always warning civilians of the attacks. This was not confirmed by the military.
Qatar's foreign ministry said it was in mediation talks with Hamas and Israeli officials, including over a possible prisoner swap, and a state-run newspaper in Egypt reported that the Egyptian government was negotiating a release of female detainees held by both sides. Neither Israel nor Hamas confirmed they were talking.
The captives are known to include civilians including women, children and older adults – mostly Israelis but also people of other nationalities – and soldiers. Israel's ambassador to the UN, Gilad Erdan, has said dozens of American citizens, largely dual nationals, are among those held captive.
Hamas's attack, in which assailants rampaged through the heavily fortified frontier and shot unarmed civilians as they encountered them, has left the Israeli military scrambling to regain control of its territory. Palestinian militants have continued to fire hundreds of rockets deep into Israel.
It was only on Monday morning that Israel's army declared its forces were in control of towns and villages in its southern territory, although a spokesperson acknowledged that militants could still be hiding inside Israel.
"We are in control of the communities," said the chief military spokesperson, R Adm Daniel Hagari, adding that there still might be "terrorists" in the area.
As Israeli troops were massing in the south, Israel said it had thwarted an infiltration attempt by gunmen operating out of Lebanon to the north. The armed wing of Palestinian Islamic Jihad, which operates out of Gaza and Lebanon, claimed responsibility for the attack.
In a sign of how easily the conflict could spiral out of control, Israel responded to the infiltration attempt by carrying out helicopter strikes on Lebanese territory, which were reported to have killed a member of the powerful Hezbollah group. If Hezbollah, which has fought conflicts with Israel to devastating effect, were to further enter the war, Israel could be fighting on two fronts.
The Israeli defence minister, Yoav Gallant, said he had instructed the military to put Gaza under siege, a word rarely uttered in public by Israeli officials.
"I have ordered a complete siege on the Gaza Strip. There will be no electricity, no food, no water, no fuel, everything is closed," Gallant said. "We are fighting human animals and we are acting accordingly."
It was not immediately clear if Egypt, which shares a southern border with Gaza, would keep its land crossing open. Inhabitants of Gaza require permission to enter Egypt, which can sometimes take days or even weeks to be approved.
The UN secretary general, António Guterres, condemned the Hamas attacks as "acts of terror" and said he was "deeply distressed" by the Israeli government's plan for a "complete siege".
"The humanitarian situation in Gaza was extremely dire before these hostilities. Now it will only deteriorate exponentially," Guterres said.
"This most recent violence does not come in a vacuum. The reality is that it grows out of a longstanding conflict, with a 56-year long occupation and no political end in sight. While I recognise Israel's legitimate security concerns, I also remind Israel that military operations must be conducted in strict accordance with international humanitarian law."
Guterres began his speech by expressing "utter condemnation of the abhorrent attacks by Hamas and others against Israeli towns and villages in the Gaza periphery".
He said: "I recognise the legitimate grievances of the Palestinian people. But nothing can justify these acts of terror and the killing, maiming and abduction of civilians."
Saturday's attack caught Israel's vaunted military and intelligence apparatus off guard, bringing gun battles to Israel's streets for the first time in decades and shaking the country to its core. Once across the frontier, militants moved several miles into Israel and killed civilians indiscriminately.
Zaka, an Israeli rescue service, said it had retrieved at least 260 bodies from the site of the Supernova music festival near the kibbutz of Re'im, close to the Israel-Gaza border. Images and video from the site showed festivalgoers running across open fields as Hamas gunmen targeted them.
Early on Monday, Lt Col Jonathan Conricus, an Israel Defence Forces (IDF) spokesperson, said the situation in Israel was dire. "It is by far the worst day in Israeli history. Never before have so many Israelis been killed by one single thing on one day."
Conricus said a significant number of Israeli civilians and military personnel had been taken hostage and moved into Gaza. Later, the Israeli foreign minister, Eli Cohen, confirmed more than 100 people had been taken captive by Hamas.
Gaza has been sealed off by a 16-year Israeli blockade after the election of Hamas in 2006, as well as by routine closures on the southern border with Egypt.
Conricus said the IDF response would make sure that at the end of the war "Hamas will not be able to govern the Gaza Strip".
Speaking to troops near the frontier with Gaza, the IDF chief of staff, Lt Gen Herzi Halevi, said that after "a rough start, we are shaping the line of engagement".
He said: "We will finish purging the area so that we do not have terrorists here, and at the same time we are already on the offensive. It started badly, and will end very badly on the other side."