On 7 October, hours after the surprise offensive by Hamas that left 1,400 Israelis dead, the Israeli prime minister, Benjamin Netanyahu, took to the airwaves to declare war on Hamas and issue a warning to Palestinians in Gaza: "leave now". The question of where 2.3 million Palestinians, the vast majority of them refugees who have lived under a brutal siege and blockade for the past 16 years, should go to was left unsaid.
Israel proceeded to unleash an unprecedented aerial assault, dropping 6,000 bombs on the densely populated enclave in the first five days alone. Then came the order: a directive for the 1.1 million people in northern Gaza to evacuate to the south within 24 hours.
Maps showing evacuation corridors along which Palestinians were told to flee appeared as manifestations of colonial fantasy: two long arrows pointing southward, away from Palestine towards the Egyptian border.
Egypt, the only country other than Israel to share a border with Gaza, is being pressed by the US and other western states to open the gates and accept a flood of Palestinians fleeing the relentless assault and humanitarian crisis. In an interview on Sky News, Israel's former ambassador to the US, Danny Ayalon, said: "The people of Gaza should evacuate and go to the vast expanses on the other side of Rafah at the Sinai border in Egypt … and Egypt will have to accept them."
Instead of putting pressure on Israel to halt its bombing campaign, protect civilian life and allow in aid, various western governments have instead tried to broker a deal with Egypt by offering economic incentives for them to let in Palestinians, according to the Egyptian news site Mada Masr.
Egypt has said it will allow foreigners and Palestinian dual nationals through the Rafah crossing on the condition that Israel allows humanitarian aid in. Thousands of tonnes of food, fuel, water, medicine and other lifesaving aid packed into a long convoy of trucks have been idling on the Egyptian side of Rafah for days. On Wednesday, Israel said that it will allow Egypt to deliver limited humanitarian aid to Gaza, though the flow of relief is expected to fall short of what is needed, and the deal remains fragile.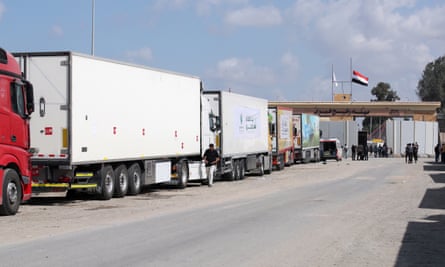 'Hundreds of tonnes of food, fuel, water, medicine and other lifesaving aid packed into a long convoy of trucks have been idling on the Egyptian side of Rafah for days.' Photograph: Khaled Elfiqi/EPA
However, Egypt has remained steadfast in its refusal to allow for the mass resettlement of Palestinians in North Sinai. "We reject the displacement of Palestinians from their land," the Egyptian president, Abdel Fatah al-Sisi, said on Wednesday, stressing that "the Palestinian cause is the mother of all causes and has a significant impact on security and stability". He also warned that Egypt could then become a new base of Palestinian attacks against Israel. Meanwhile, Egypt's foreign minister, Sameh Shoukry, speaking on CNN, warned that the forcible resettling of Palestinians into Egypt might constitute a war crime.
While rejecting a policy that essentially amounts to a second Nakba (the mass displacement of Palestinians during the 1948 Arab-Israeli war) is laudable, Cairo's rhetoric invoking the Palestinian cause rings hollow. Egypt's decisions are ultimately driven by national security concerns and avoiding what it would consider a nightmare scenario of a mass Palestinian refugee population to contend with on its own territory.
For years, Egypt has been complicit in the siege on Gaza, helping to enforce the blockade, destroying tunnels that provided a lifeline to the strip, and coordinating with Israel on security, including allowing Israeli drones, helicopters and warplanes to carry out a covert air campaign in Sinai. Egypt's treatment of Palestinians entering and exiting Gaza is notorious for its indignity – the latest iteration being Palestinians who tried to enter Gaza only to find the border closed on 7 October, stranding them in North Sinai; they are being hosted by families who are under strict security instructions not to allow them to leave the neighbourhoods where they reside.
Egypt has erected barricades at the border to contain more tightly any mass exodus – should it come. Meanwhile, Israel has bombed the Rafah crossing four times, most recently slamming a missile right by the concrete barrier on Egyptian territory.
As it stands, the situation in Gaza is at a catastrophic impasse. Food and water are running out. Medicines and other critical supplies have been exhausted, with doctors performing surgery on floors, often without anaesthetics. There is little to no fuel or electricity. Even colour has been obliterated, with entire neighbourhoods now reduced to rubble, encased in grey concrete dust.
As of Thursday, the death toll in Gaza stood at 3,478, including more than a thousand children, according to the health ministry in Gaza. Another 1,300 people are believed to be buried under the rubble, alive or dead. About a million have been displaced. And many more untold horrors we have yet to discover.
Mohammed Ghalayini, the son of an acquaintance, fled his home in Gaza City to Khan Yunis, in the south of Gaza. He told me on Wednesday: "I think Israel's endgame is for Palestinians to be pushed out of Gaza into Egypt: 100% that's their gameplan. I think this is ethnic cleansing and genocide all wrapped into one."
The idea of resettling Palestinians in Gaza to Sinai is not new. In the mid-1950s, the UN devised a plan to transfer thousands of Palestinian refugees in Gaza to Sinai's north-western region, a project that was met with popular outrage and crushed in a mass uprising. After the Naksa of 1967 (the six-day war, in which Israeli forces captured East Jerusalem and the Palestinian territories, including Gaza), the Allon plan, drafted by Israeli politician Yigal Allon, envisioned the Gaza Strip being annexed to Israel. In 1971, about 400 Palestinian families displaced by the Israeli army were relocated to Arish, while 12,000 relatives of suspected Palestinian guerrillas were deported to detention camps in the Sinai desert and were only able to return to Gaza two decades later after significant international pressure.
Israel is seizing the moment. As western governments cheer them on, they are driving Palestinians in Gaza to the very brink. They might be trying to drive them out of Gaza altogether, to extend the arrows on the maps further outward.
Sharif Abdel Kouddous is an independent journalist based in New York and Cairo. He has reported multiple times from Gaza and across Palestine since 2011

Do you have an opinion on the issues raised in this article? If you would like to submit a response of up to 300 words by email to be considered for publication in our letters section, please click here.