In the past few years, there has been a marked increase in American Jews who report experiencing harassment. But do we experience more online harassment than others do?
Not according to survey results. But the likely reason why is deeply troubling.
Vitriol, conspiracy and hate speech, including antisemitic tropes and rhetoric, have long been rampant on social media. In the past few years, things have only gotten worse — and so has the level of harassment we all face.
According to an ADL report released on June 28, 44% of American Jewish adults surveyed say they've experienced online harassment. And 31% report having experienced severe harassment, which includes physical threats, sustained harassment, stalking, sexual harassment, doxxing and swatting.
Per ADL, "Jewish respondents were also more likely than non-Jews (28% vs. 23%) to worry about future harassment and more likely to worry about being harassed for their religion, 80% compared to 41% for non-Jews."
But something else is also happening: Self-reported rates of harassment among Jews, despite these very real fears, are significantly lower than what the average American reports experiencing, both in the past year and overall.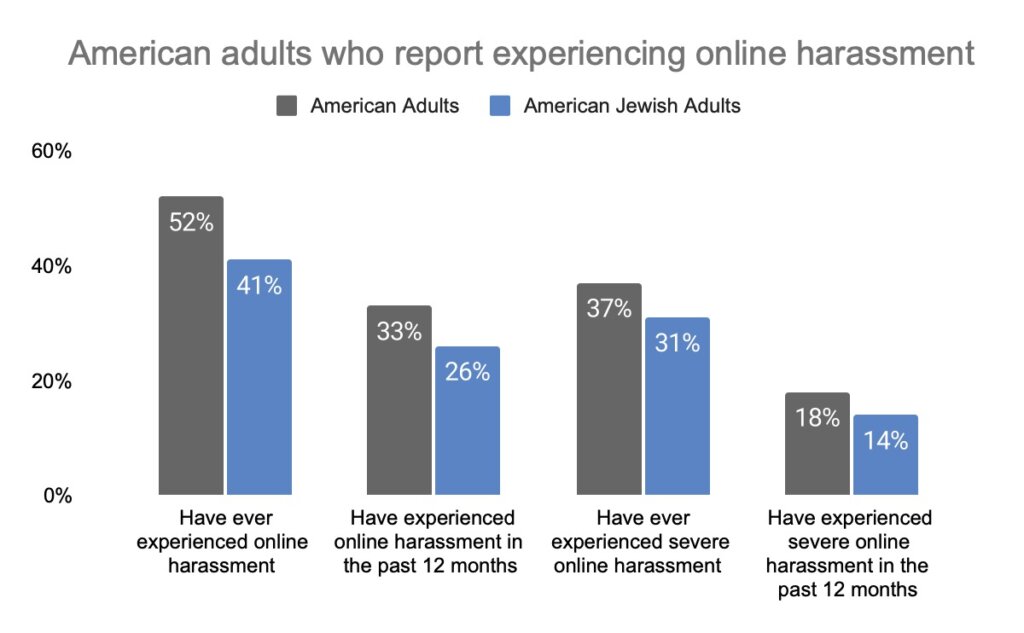 American adults who report experiencing online harassment, per ADL survey "Online Hate and Harassment: The American Experience 2023" Graphic by Laura E. Adkins
How can that be? 
Survey data can only show us some of what is happening, not why it occurs. But from speaking to ADL researchers, and my own analysis of other survey data of Jewish Americans, it's possible that Jews online are experiencing less harassment because they are taking steps to stop visibly identifying as Jewish.
1 in 4 Jews hide their Jewishness online
In the United States, when antisemitism turns violent, visibly Orthodox Jews are most often the victims. Unlike members of most other minority groups, many of us are identifiable as Jews only if we choose to be. And since the deadly 2018 Pittsburgh shooting, it's felt like an increasingly dangerous choice.
Today, a significant percentage of American Jews hide their Jewishness. About 1 in 4 self-monitor and modify their behavior, online and offline, out of fear of antisemitism.
Online, 27% of Jews surveyed by the American Jewish Committee in 2022 reported they had "avoided posting content online that would identify you as a Jew or reveal your views on Jewish issues out of fear of antisemitism." The most recent ADL survey found a similar percentage of American Jews (25%) "avoid identifying themselves as Jewish, including on social media."
In the public sphere, another 23% told AJC researchers that they "avoided publicly wearing, carrying, or displaying things that might help people identify you as a Jew out of fear of antisemitism." And 16% "avoided certain places, events, or situations out of concern for your safety or comfort as a Jew out of fear of antisemitism."
These numbers have remained fairly consistent since the AJC introduced these questions in 2019, following the deadly attack on the Tree of Life synagogues that left 11 dead and permanently changed the psychic state of American Jews.
In the absence of accountability from social media platforms, these survey results are disappointing on all fronts: Most Americans, of all ages, are being harassed online. And there's very little, aside from hiding essential parts of ourselves, that we as individuals seem to be able to do about it.
Listen to That Jewish News Show, a smart and thoughtful look at the week in Jewish news from the journalists at the Forward, now available on Apple and Spotify:
The post Jews are safer online than other Americans. Is it because we can hide our identity? appeared first on The Forward.