It's been dubbed Kleztronica. Essentially electronic dance music with klezmer elements, the year-old genre is made to a large degree with samplers and synthesizers, though old-school instruments that don't have to be plugged in are also used in live performances. Kaia Berman-Peters, a 22 year-old New York grad student, takes credit for founding it and called Kleztronica "the first of its kind."
To which Josh Dolgin, who has been called the Godfather of Klezmer Hip Hop, responds: "Anyone under a certain age thinks they invented everything."
Dolgin, the Montreal-based musician who performs as Socalled, is widely acknowledged as a trailblazer integrating samples into klezmer music. During a recent visit to New York he met with Berman-Peters and is convinced there is now a Kleztronica "scene."
So far, Berman-Peters has organized four Kleztronica events, beginning with an afterparty at Yiddish New York in December. Two gatherings took place in March — one drew 500 people to a Purim party in Boston; the other took place at Trans Pecos, a Queens venue devoted to electronic music. That evening is a collaboration with Clear the Floor, a Boston-based BIPOC rave collective that has curated four of the evening's nine acts.
The other five acts were selected by Berman-Peters. Three of them feature performers who use they/them pronouns: Batya Levine, who performs as Diva Nigun and grew up Modern Orthodox; Abbie Goldberg, who performs in drag as Chava GoodTime; and Beila Ungar, a former ballet dancer who described themself online as "a queer, white, Ashkenazi Jew." Howard Ungar, a klezmer trumpeter in Washington, D.C., is the father of the younger Ungar. Berman-Peters described the Kleztronica scene as "a very queer space." She'll also perform, using her stage name Chaia.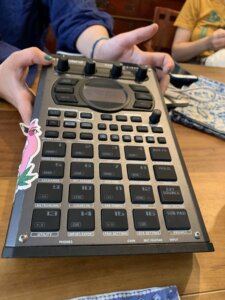 Berman-Peters' main "instrument" is a Roland SP 404 MKII, a $500 sampler the size of a hardcover book. Courtesy of Kaia Berman-Peters
The fifth Kleztronica act on the 20th will be Brooklyn multi-instrumentalist Eleonore Weill, who'll be playing a thousand year-old instrument called the hurdy-gurdy. Though the medieval instrument has strings that are played by turning a crank, its output will be run through the kind of effects processors that guitar players control with a foot pedal, giving Weill the ability to add reverb, vibrato, tremolo, and wah-wah to the sound. Weill refers to it as her space gurdy because it sounds like there are "20 aliens playing together."
"It's very raw and intense," she said. "It's like a stringed bagpipe. A lot of people can't handle it."
The same might also be said for Kleztronica, with its pounding disco beat appropriated from house music, the genre created in the 1980s by African American music producers in Chicago. House is known for its so-called four-on-the-floor rhythm, in which the bass drum is hit on every beat. Kleztronica's beat and synthesized orchestration may strike some klezmer fans as too machine-made.
But there are human touches to the Kleztronica performances. Berman-Peters has been known to sing along with the music she's playing from her sampler and has a lovely voice. 
"Creating home in the diaspora is a really important thing for me and Kleztronica is my version of what that looks like," Berman-Peters told me.
Berman-Peters is currently on leave from a music program offered jointly by Harvard University and the New England Conservatory of Music. She plans to record her first Kleztronica album this summer. But she doesn't just play electronic klezmer; she sings with Mama Liga, a Boston klezmer ensemble, and is a member of Levyosn, a Boston-based klezmer trio.
"She's a wonderful musician," said Jeff Warschauer, the cantor and veteran klezmer musician who met Berman-Peters when she was 14 and joined the Columbia University klezmer band, which he directs.
Her main "instrument" is a Roland SP 404 MKII, a $500 sampler the size of a hardcover book. Although she's only worked with it for a little more than a year, because she plays the accordion, she's become adept at pressing the 17 pads on the device used to play samples and beats. 
In addition to the synthesized instrument sounds the sampler generates, samples of speech and singing are used. In one piece she begins a few bars of Hatikvah then distorts it in what appears to be an editorial comment more than a creative flourish. Some of the talk is unintelligible and not just because it's in a language other than English.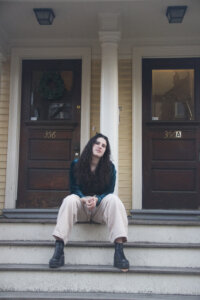 "Creating home in the diaspora is a really important thing for me and Kleztronica is my version of what that looks like," Berman-Peters said. Courtesy of Kaia Berman-Peters
In "Shpil, Klezmer, Shpil!" a nearly 12-minute long piece on her Soundcloud page, she uses samples of a Holocaust survivor reciting some of the Purim shpiel he performed "door to door" in Eastern Europe. The sound was part of her performance at the New England Conservatory of Music in May 2022.
In her eight-plus-minute track "Utzu Ietza," she includes spoken word recordings of such artists and activists as Emma Goldman, Jenny Romaine, Molly Picon and Mikhl Yashinsky holding forth on topics including gay politics and the treatment of Palestinians. (Berman-Peters said she is committed to addressing "the trauma of Zionism" in her musical compositions and at live performances.)
The pianist Anthony Coleman, who has worked with Berman-Peters in his capacity as a faculty member at the conservatory, said he admired the "Utzu Ietza" track and likened it to the work of Public Enemy in that it engages with what is "happening on the street." Berman-Peters' Kleztronica tracks are also reminiscent of some of the radio mixes heard on left-leaning stations such like WBAI, where news actualities and pop music are combined to comment on the politics of the day. Both straddle the fine line between agitprop and art.
Coleman has a long history of exploring Jewish music with his groups Sephardic Tinge and the Selfhaters. It was Coleman who created the samples for his friend David Krakauer's 1995 Klezmer Madness! album. But he eventually abandoned sampling technology, frustrated in his efforts to utilize abstract sounds that still had a trace of a connection to Jewishness. Coleman noted that the sampling technology of 2023 is light-years ahead of where it was when he did sampling.
"The technical level that we worked with in the '90s is nothing compared to what you have if you're working with sampling now," said Coleman. "There's no comparison. We had to work with such limited memory. And now you have all these things at the tip of your fingers. So now that it's so simple, what are you doing with it?"
When he was teaching a course at the conservatory titled "Issues and Trends in American Music," Coleman spent some time listening to some of the successful Electronic Dance Music artists, including a couple of Americans known as Diplo and Skrillex. Coleman said the music in Diplo's recordings "sounded pretty much all the same to me."
But Hankus Netsky, who co-chairs the Contemporary Musical Arts Department at the New England Conservatory of Music and is one of Berman-Peters' mentors, believes that despite the shortcomings of electronic music, Kleztronica is appealing to young people looking for ways to connect to their ethnic roots. And this is something, Netsky said, that the mainstream Jewish community has overlooked.
"Kaia is a kind of ideal person to do what she's doing," Netsky said. "She comes from a very strong Jewish background. She's very much steeped in a level of Jewish mysticism that you just don't find out there very much."
Another mentor, Basya Schechter, has known Berman-Peters since she was a child. Schechter, a cantor best known as the founder and lead singer of the world music band Pharaoh's Daughter, remembers Kaia as a little girl sitting in her father's lap, taking in the Jewish mysticism classes he conducted at the family home. 
"She's forging a new movement in klezmer and really taking it to the 21st century," said Schechter. "It's not just a genre. It's a way to bring people together of a certain generation. She's creating a scene around it."
Berman-Peters' 20- and 30-something peers, of course, are not the first klezmorim to employ samples. That goes back at least 30 years.
Frank London, The Klezmatics' trumpeter, used samples in his klezmer score for the 1993 documentary The Shvitz. The following year samples were part of the mix on the band's Jews With Horns album. London is finishing a new album for the Borscht Beat label composed of recordings that have been sitting on his hard drives for more than 10 years. It promises to expand the frontier of Jewish electronic dance music, according to Aaron Bendich, the label's CEO. The guitarist Sam Day Harmet, who is responsible for wiring up Eleonore Weill's space gurdy, has a hand in the mix for the forthcoming album.
Krakauer has played along with samples since his Klezmer Madness! recording, which became the first CD released on Tzadik Records' Radical Jewish Culture imprint. More samples were deployed on Krakauer's follow-up recording, Klezmer, NY in 1998.
If you want to hear an example of how samples can impressively blend the old with the new, give Wally Brill's 1997 album The Covenant a listen. It features scratchy cantorial samples from the 1920s, '30s and '40s added to synthesizer-heavy dance grooves.
Although they didn't come onto the scene until the mid-2000s, Balkan Beatbox has had a major influence on the incorporation of sampling and hip hop in the klezmer realm.
But no one who is performing regularly on the klezmer scene has used sampling as effectively as Dolgin, who found his way into klezmer from hip-hop.
In either 1999 or 2000 Dolgin reluctantly attended the first Klez Kanada. He didn't encounter the nerdy scene he was expecting and ended up using his mini-disc recorder to grab samples of some of the great klezmer performers in attendance, including Krakauer, the late Pete Sokolow and the Philadelphia drummer Elaine Hoffman Watts.
"That was absolutely key to me starting to do what I do because her beat was so funky and so unique but eminently loopable and sampleable," Dolgin said of the late drummer.
In the 20-plus years since then, Dolgin has recorded numerous albums, toured with the top klezmer acts and written musicals. His status as a mover and shaker in the klezmer scene is such that McGill University has hired him to teach a course on Jewish music.
"The thing I'm most surprised about is that [the use of sampling in klezmer] didn't happen more after I did it," said Dolgin. "Nobody picked up the gauntlet, really, until now. So, now it feels like this new generation maybe does have the tools and the literacy of the old music and new types of dance music to be making this Kleztronica scene. It is actually turning out to be a bit of a scene."
The next Kleztronica is scheduled to take place at Trans Pecos on July 20.
The post How a 22-year-old with a sampler and a vision is pioneering a new genre in music appeared first on The Forward.