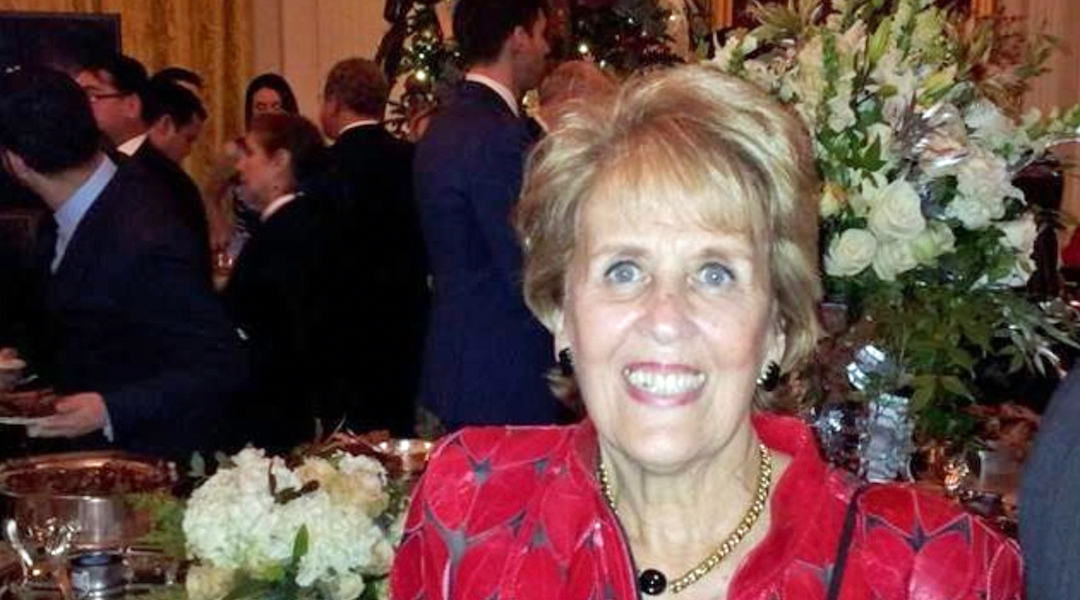 (Jewish News of Greater Phoenix via JTA) — In a June 8 interview with Jewish News of Greater Phoenix for an article on the 75th anniversary of the Arizona weekly, Leni Reiss spoke candidly about her then nine-month battle with pancreatic cancer.
"I'm getting wonderful treatment and have wonderful doctors and I'm not letting myself be sad," said Reiss, the former longtime editor of Jewish News. "I'm not bringing anybody down with me."
She also expressed how "unbelievably wonderful" her family and friends had been since her diagnosis.
Reiss died on Sept. 6, after turning 84 on Aug. 25.
Between her work editing and writing for Jewish News and her lay leadership roles in a range of organizations — including Hadassah, the Jewish National Fund and the Jewish Federation of Greater Phoenix — Reiss was a fixture in the Phoenix Jewish community for six decades, noted for her outgoing personality, quick wit, creative ideas and flair, along with a wide network of friends and colleagues.
On the national level, for many years she directed Do The Right Thing, a mentoring program for college journalists that originated at the New York Jewish Week and was sponsored by the Jewish federation network. From 2005 to 2019, she was associate program director of The Conversation, a North American annual retreat for leaders and emerging leaders in Jewish life, sponsored by  the New York Jewish Week.
She was also a member of the board of the Jewish Investigative Journalism Fund, sponsored by the Andrea and Charles Bronfman Foundation Philanthropies, in the 1980s and '90s.
"Leni brought enthusiasm, compassion, curiosity and humor to her interactions with people," said Gary Rosenblatt, the former editor and publisher of the New York Jewish Week. "She was as thoroughly professional in her journalism — reporting and editing — as she was thoroughly charming in her personal life."
Over the years, Reiss was invited on more than a dozen press trips to Israel and traveled to Lebanon right after the 1982 war there. She told of how she and fellow journalists were on a road outside of Beirut where they had to watch where they walked because of landmines, and how she investigated a cave used by the Palestine Liberation Organization, where there was still ammunition lying on the ground. During that trip, she met professional colleagues whom she kept in touch with for decades.
Raised in New York, Reiss attended Ohio State University, where she got a degree in education and met her husband, Barry, who was from Newark, New Jersey. She joined him in Arizona ("under great duress," she would say) in August 1961 with their six-month-old son, Mitchell.
Settling into her new home, she joined the Jewish Community Center and met other young mothers there. Reiss then joined Hadassah and became involved with the Jewish Federation of Greater Phoenix's young leadership group.
"My Jewish life really took off and never stopped," she said during a 2008 interview for the Arizona Jewish Historical Society's Arizona Memory Project. "I credit the Jewish community here with a very full and wonderful family life."
Reiss started at Jewish News in 1976, working as a columnist and staff writer under then-owners Pearl and Cecil Newmark. She was promoted to managing editor when the Newmarks' daughter, Flo Eckstein and her husband, Paul, bought the paper in 1981. Reiss worked as managing editor until May 1994.
"I valued her friendship, energy, creativity, commitment to the Jewish community and devotion to getting the facts right in every story," said Eckstein in an email to Jewish News. Under her leadership, wrote Eckstein, Jewish News won numerous reporting and editing awards from the American Jewish Press Association. "She and I nearly always participated in our association's annual meetings to accept them in person," she said.
Reiss was a winner of the Joseph Polakoff Award for Distinguished Service to Jewish Journalism, cited for her career at Jewish News and for chairing several of the AJPA's editorial workshops.
Rae Janvey, a senior consultant to The Conversation who worked closely with Leni, noted: "The world has lost a warm, loving, generous and larger than life heart-full human being. It was a gift to partner with Leni in our group for all these years. She was a linchpin to the joy we all felt."
When Reiss left Jewish News, she continued writing for various local and national publications as a freelancer. Locally, she also volunteered her time to Book Pals, a public school literacy program.
During her career, she interviewed prime ministers, politicians and was invited to the White House twice. The second time, President Barack Obama and First Lady Michelle Obama invited her to the White House Hanukkah party.
But her first White House visit was much more memorable.
Then-Vice President George H.W. Bush was getting ready to run for president and had just returned from a trip to the Middle East and wanted press coverage, so he invited a handful of journalists from Jewish newspapers across the country to the White House.
Her flight leaving Phoenix was six hours late and through a "series of misadventures," she arrived in Philadelphia in the middle of the night to a closed terminal. At 6 a.m., when the ticket window opened, she got on a flight to Washington, D.C., without her luggage.
She called White House Press Secretary Marlin Fitzwater and explained the situation. "I'm wearing jeans, sneakers and a Western shirt. I don't want to in any way seem disrespectful, but I want to come to the White House," she said.
Fitzwater told her to come, so she took a cab to the White House. When Bush entered the room, he asked, "Which one of you is the young woman from Phoenix?" Reiss said, "Oh, that would be me," and stood up. He came over to her, and taking her hands in his, told her, "I'm so sorry for what you had to go through."
Perhaps her favorite story was about her off-the-cuff interview with Sammy Davis Jr. on board a flight to Israel during the Lebanon War. En route to entertain the Israeli troops, he came down from the first-class upper deck of the plane, and Leni introduced herself and convinced him to sit and talk with her for a few minutes. Soon, a crowd of passengers gathered around them, taking pictures. At that point, Leni turned and commented to the star: "Don't worry, Sammy, this happens to me wherever I go."
Reiss is survived by her husband, Barry; children Mitchell (Elissa) Reiss and Andrean Maron (Scott Weiss); grandchildren Jasmine, Ethan, Brooke, Isaac and Jory Weiss and Matana, Eden and Shai Maron.
A version of this article appeared in Jewish News of Greater Phoenix.
This article originally appeared on JTA.org.
The post Leni Reiss, longtime editor of Arizona Jewish weekly, dies at 84 appeared first on The Forward.