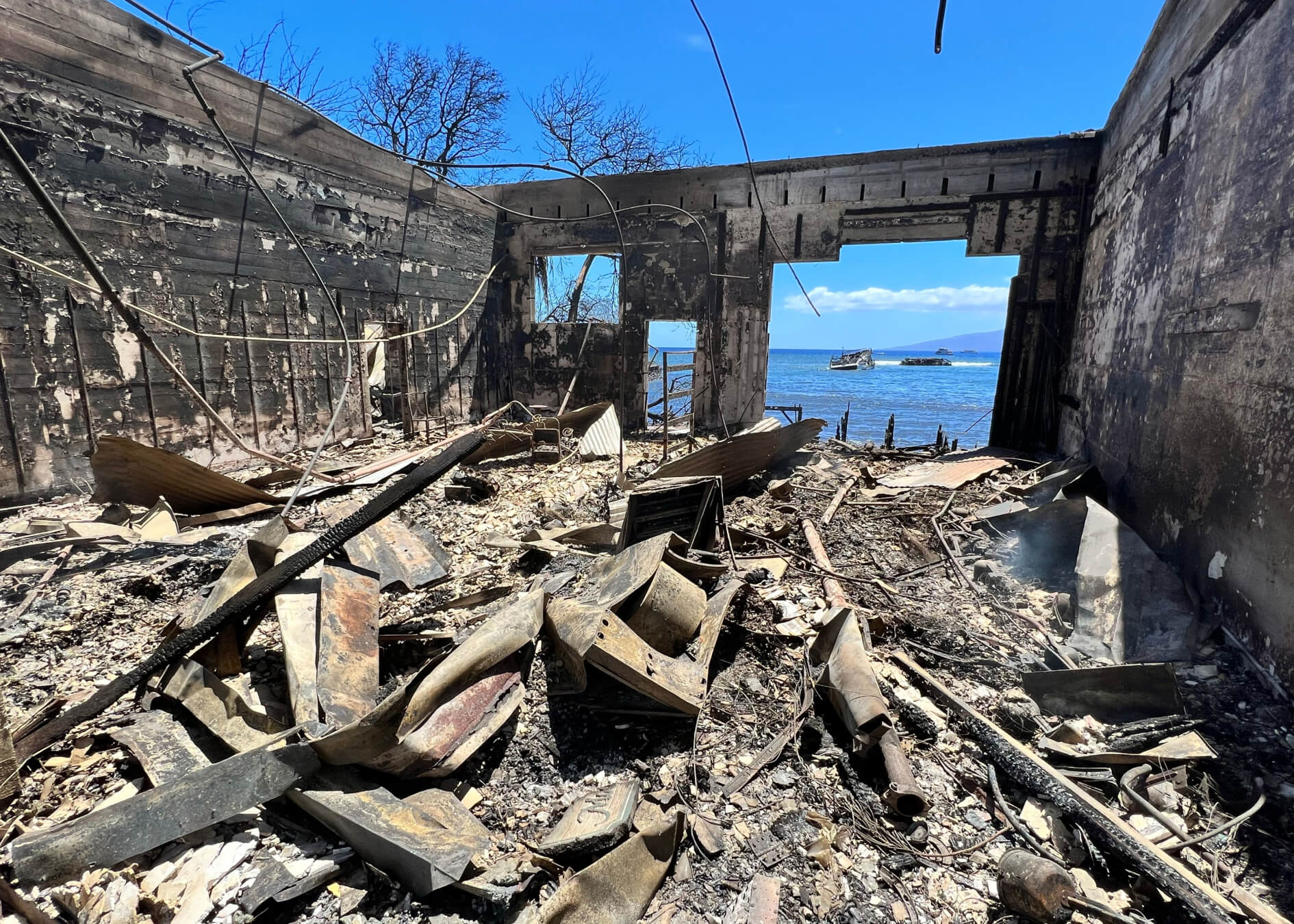 When their resort in West Maui lost electricity due to high winds on Tuesday, the Andron family headed inland to Maui Kosher Farm, a Jewish cultural center and retreat run by a Chabad couple. 
"We figured okay, let's go do something on the other side of the island, where we have power," Michelle Andron, a Jewish day school principal from Los Angeles, said in a phone interview Friday.
They never made it back to the resort. A vicious wildfire, which experts say is fueled by climate change, swept through West Maui cutting off their route back. They returned to the farm, where Rabbi Mendel Zirkind and his wife put them up in a cabin. The Androns were soon joined by three other Jewish families who lost their homes in the blaze but were lucky to escape with their lives.
The Maui fire, 85% contained as of Saturday morning, has killed dozens and laid waste to some 1,700 structures. It ravaged the historic town of Lahaina, a tourist attraction on the water, nearly beyond recognition.
A refuge
On the other side of the West Maui Mountain, protected from the inferno, lies Zirkind's farm. It has an orchard, livestock and enough kosher food to feed a small army. Now it serves as a shelter for dozens of displaced Jews. Thursday night, Zirkind said, he hosted 50 people for dinner. On Friday morning 75 people came for breakfast.
Meanwhile, the rabbi has been making trips back and forth from the farm to the fire zone, dropping off emergency supplies like gasoline and food to Jewish families who are still without power. 
Zirkind described the scene in an interview Friday. Many of the families staying at the farm, he said, have lost everything.
"Some people are just walking around aimlessly, not knowing, like, what do I do?," he said. "They have nowhere to go. There's no business. There's no house. There's no clothing. There's no pictures. There's nothing."
The Jews of Maui
Most estimates put the number of Jews on the island at between 2,000 and 3,500, and Lahaina has a small but bustling Jewish population, largely Israeli. Before the fire, Zirkind said he made regular trips to the area to drop off Shabbat kits to Jewish shop owners and workers.
Now he is worried about their future.
A few months ago, he hung mezuzahs at the home of a Jewish woman who had bought a fixer-upper house in West Maui and borrowed thousands of dollars to renovate it.
"It's gone," he said. "Their house is a pile of ash. There's nothing there. And she said to me, 'Rabbi, Mendel, where do I go from here?'" He started a fund to get survivors back on their feet.
One person living in the fire zone, he said, feared his insulin would go bad without refrigeration. Zirkind was able to find him and deliver a 50-pound bag of ice. To another he brought a canister of fuel for a generator.
 'On the front lines'
And on one of his trips, he swung by the resort where the Androns had just begun their vacation when the fire broke out. It was unscathed, so he gathered their belongings for them.
With Shabbat approaching, the Androns — Michelle, her husband and their five children — were volunteering in various capacities around the farm: washing dishes, collecting eggs from the chicken coop and helping Rebbetzin Chana Zirkind bake challah. Joseph Andron, who graduated high school this year, built a swing.
"This is not the vacation we planned," she said. "But everything we wanted for this vacation to be in terms of family bonding and being able to have an experience of a lifetime we got and beyond. We've been given the opportunity to be on the front lines, helping."
The post 'They have nowhere to go': On Maui, a Chabad outpost gives safe harbor to dozens of Jews  appeared first on The Forward.