Former Rep. Mondaire Jones deleted a social media post Wednesday that some deemed insulting to Orthodox Jews but that Jones said was misinterpreted.
The post appeared on X, formerly known as Twitter, moments after the ouster of Republican House Speaker Kevin McCarthy on Tuesday.
"Well this was a waste of everyone's time," Jones wrote, sharing a photo of the former Republican leader's March meeting with Rabbi David Twersky, the 82-year-old spiritual leader known as the Skverer Rebbe in Rockland County, alongside freshman Rep. Mike Lawler.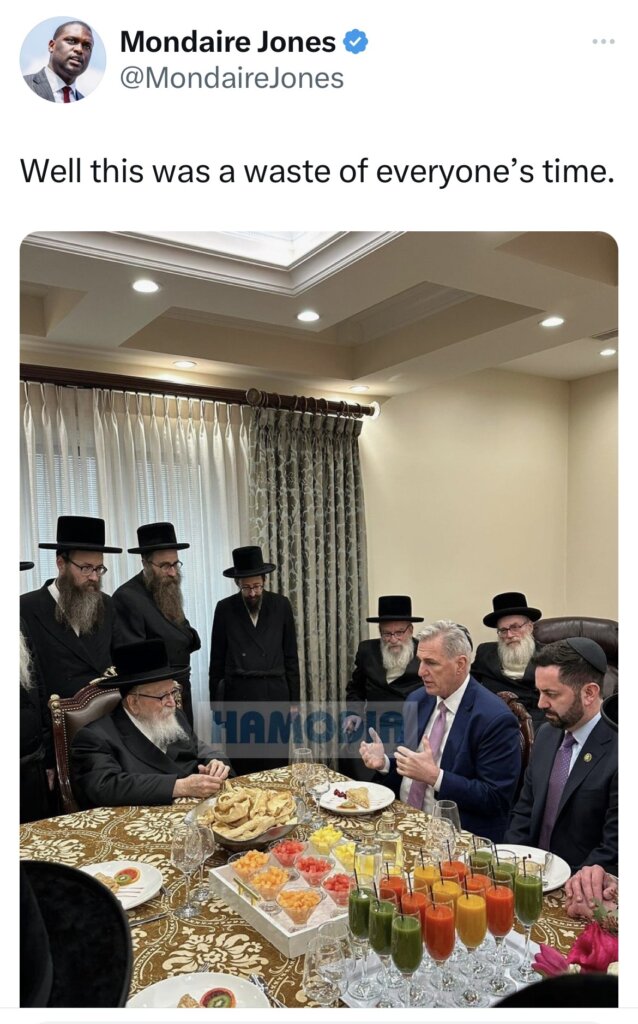 Mondaire Jones' now-deleted tweet on Oct. 3, 2023 Photo by Screenshot/Twitter
Jones, a Democrat who represented the Hudson Valley district from 2020-2022 and lost his reelection bid in another district, is challenging Lawler in 2024. 
Many criticized the tweet as disrespectful to the Jewish community. Some compared it to an antisemitic dog whistle. Jones said the tweet was a commentary on McCarthy, not the Orthodox Jews with whom he met.
"This disgusting post is insulting to Jewish people and every person of faith," Rep. Josh Gotthiemer, a Jewish Democrat from New Jersey, said. "This antisemitic rhetoric is deeply concerning." Freshman Democratic Rep. Jared Moskowitz of Florida said he "doubted" whether Jones' choice to highlight Jewish people in the post "was coincidental." 
Misinterpreted?
Jones initially defended the tweet on Tuesday evening. "Kevin McCarthy has repeatedly wasted the time of Hasidic leaders in the Lower Hudson Valley," he said in a statement. "He has never delivered for communities in Rockland and will continue to fail to deliver for Rocklanders because he's no longer Speaker." 
He later deleted the post, explaining that it "was too open to misinterpretation." 
The photo Jones shared was from McCarthy's visit to Hasidic neighborhoods in Monsey and New Square in March. Rockland's sprawling Hasidic communities make it the county with the largest Jewish population per capita in the nation. The village of New Square — with some 3,000 votes — has been courted in the past by both Democratic and Republican officials.
McCarthy, who made the trip for a fundraiser for Lawler, met with the rabbi despite the fact that Twersky chose to endorse former Rep. Sean Patrick Maloney, a Democrat who was running for reelection in the redrawn Hudson Valley district. McCarthy was unable to get the rabbi to change his mind, but he nonetheless promised to return for a visit as speaker.
Lawler ultimately defeated Maloney by a slim 2,000-vote margin that included Orthodox voters in other Rockland neighborhoods. "I could only be speaker if Mike Lawler became a congressman," McCarthy said in the New Square welcome ceremony. "Many didn't know if that'd be true. But New Square made it happen."
Touting a record of fighting antisemitism
Jones was elected to Congress in 2020 in a crowded race for the Hudson Valley seat long held by Jewish Rep. Nita Lowey. The district included Rockland County and Westchester County, which also includes a sizable Jewish population. He moved to Manhattan last year to avoid an incumbent-vs.-incumbent race against Rep. Sean Patrick Maloney. He came in third place with 18% in the Democratic primary for the 10th District, which includes the Borough Park and Park Slope neighborhoods in Brooklyn and the Lower East Side and East Village in Manhattan.
"I am proud of my record of combating antisemitism in Congress and after Congress," Jones said in his statement on Wednesday. "In a time of rising antisemitism, we must be crystal clear where we stand: I continue to be a strong ally of our diverse Jewish communities." 
Lawler, who is one of the five vulnerable New York Republicans facing a tough reelection bid, said the tweet was "disqualifying" and accused his Democratic rival of associating himself with "antisemites," mentioning progressive Democrats who are critical of Israel. Lawler was a key ally of McCarthy, whose chaotic ouster may not bode well for Lawler's reelection bid. 
Moments before he deleted the post, Liz Whitmer Gereghty, a top primary challenger to Jones, said in a statement, "If Mondaire Jones didn't realize that his tweet could be viewed as antisemitic and elicit vile comments in response, I would question his judgment."
The post Democratic House candidate clarifies 'regrettable' tweet about McCarthy and Hasidic leaders appeared first on The Forward.