Jacob Chansley, known as the "QAnon Shaman," claimed the Federal Bureau of Investigations (FBI) knew that an alleged Ukrainian spy participated in the riot at the United States Capitol on January 6, 2021.
Chansley, who was sentenced to 41 months in prison over his involvement in the January 6 riot but was released earlier this year, said in an interview with conservative activist Laura Loomer that the FBI questioned him about the presence of Sergai Dybynyn, an alleged Ukrainian spy with reported ties to the neo-Nazi Azov Battalion, which has risen to prominence amid the Russia-Ukraine war.
The FBI has not confirmed Chansley's statement, which could not be independently verified. Newsweek reached out to the FBI via email for comment.
Conservatives such as Loomer have raised concerns about the Department of Justice's treatment of January 6 rioters, who violently protested the 2020 presidential election over former President Donald Trump's unfounded claims that widespread voter fraud was to blame for his loss in November 2020. Many responded to her post by questioning why Dybynyn had not been charged like other participants if he attended the riot.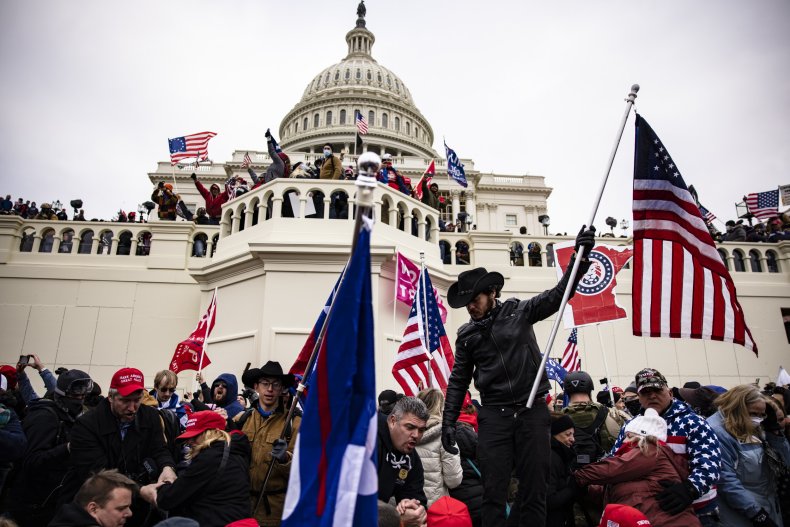 Above: Trump supporters riot at the U.S. Capitol on January 6, 2021. Jacob Chansely, the "QAnon Shaman," said he was questioned about an alleged Ukrainian spy's participation in the riot.
Samuel Corum/Getty Images
"During their private interview with @AmericaShaman, the @FBI asked him how he knew a Ukrainian operative who took a photo with him the day of J6 2021. Chansley didn't know the guy, and FBI confirmed that the Ukrainian Sergai Dybynyn was a Ukrainian spy who is affiliated with the Nazi Azov Battalion," Loomer wrote on social media platform X, formerly Twitter.
Loomer's allegations that Dybynyn is affiliated with the Azov Battalion could not be verified. The Azov Regiment is a far-right military group with neo-Nazi ties that has fought in Ukraine, though analysts previously told Newsweek that the battalion may not be fully in line with the Ukrainian government.
Chansley, who was allegedly pictured with Dybynyn at the riot, reshared Loomer's post, questioning why federal authorities have not arrested Dybynyn.
"The FBI knew Sergai Dybynyn was a spy & asked if I knew him. I said that I did not & was just posing for a photo with him. Why is he allowed to walk free?" he asked.
Loomer wrote that Chansley being questioned about the spy means that "the US Capitol was penetrated by Ukrainian spies and the US Government and FBI have still not arrested these people or made the public aware of foreign penetration."
Her post sparked calls for Republicans who control the House of Representatives to launch investigations about whether Dybynyn was at the riot and why he was not arrested.
"@LauraLoomer may have just uncovered an *act of war* on the United States by Ukrainian intelligence assets on J6 This was never disclosed to the public Why are we funding a country that helped coordinate J6?! How deep does this go? Hey GOP – time to INVESTIGATE!" wrote conservative commentator and lawyer Rogan O'Handley on X.
Dybynyn's alleged ties to January 6 were reported as far back as February 2021 by right-wing outlet The Gateway Pundit, though his involvement in either the riot or with Ukraine has never been confirmed by U.S. officials.
Photographs of Dybynyn at the riot have been used by some conservatives to push conspiracy theories about January 6, though these theories have not been proven and have been dismissed by many experts.