Russian authorities accidentally revealed the addresses of the country's secret military buildings, institutions, and spy homes, in Moscow and in St. Petersburg, an investigative site found.
The Dossier Center, a project launched by Russian opposition figure Mikhail Khodorkovsky, found the addresses listed in a 434-page document titled "Special Group", which was published on the Moscow City Hall website. The document listed properties where there must be "no blackouts."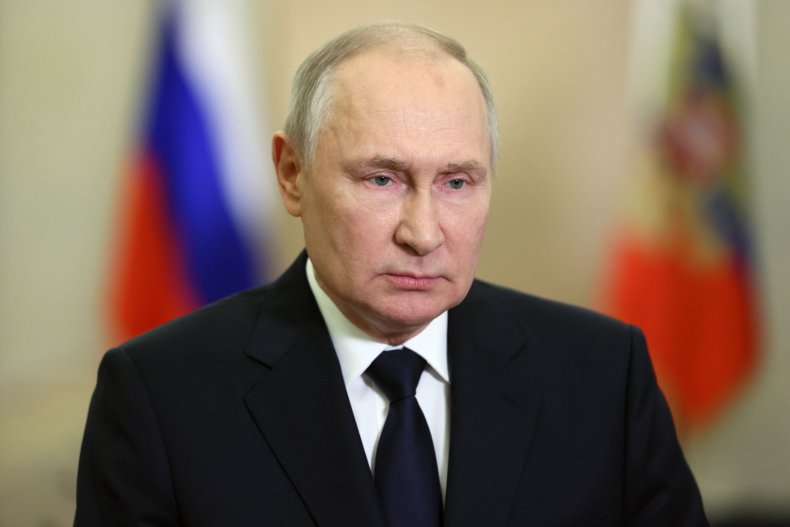 Vladimir Putin delivers a televised address to the nation in Moscow on September 30, 2023. The addresses of the Russian leader's secret service have accidentally been published.
MIKHAIL METZEL/POOL/AFP
The list reportedly included a range of top-secret government facilities, homes belonging to GRU (the Main Directorate of the General Staff of the Armed Forces of the Russian Federation) officers and President Vladimir Putin's secret service, an ammunition depot, and more.
The document was signed by Vyacheslav Torsunov, the head of the housing and communal services department, and Andrey Kovalev, the director of Mosenergosbyt, which sells electric energy to subscribers in the Moscow region. It was approved by the mayor of Moscow, Sergey Sobyanin.
The list also included the details of two apartments associated with Russia's Foreign Intelligence Service, which are either inhabited by department employees or used for conducting special operations.
The Dossier Center said that such details are considered state secrets by law.
Newsweek has contacted Russia's Foreign Ministry for comment via email.
The largest concentration of such facilities and buildings are in Serebryany Bor, a large park area in northwest Moscow. It's a protected natural area in the Moscow district of Khoroshevo-Mnevniki, according to the investigative project, which said that prominent and wealthy Russians, including the head of the Russian Orthodox Patriarch Kirill, own mansions there.
The Dossier Center said that while law enforcement agencies owning property in these areas was not a secret, the 434-page document approved by Sobyanin states which buildings in the park are connected with intelligence or counterintelligence.
A small building at Leningradsky Avenue, in Moscow, that was rumored to be occupied by intelligence officers is listed under military unit 28178 in the document. The Dossier Center said this means it is connected with Russia's Foreign Intelligence Service.
The list also includes the location of an ammunition depot in the Leningrad Region.
The website where the document was published couldn't be accessed by Newsweek. Independent Russian news outlet Meduza reported that the document is currently unavailable.
Do you have a tip on a world news story that Newsweek should be covering? Do you have a question about the Russia-Ukraine war? Let us know via worldnews@newsweek.com.
Update: 10/02/23, 7:36 a.m. ET: This article was updated with additional information.