The U.S. will designate the Russian mercenary Wagner Group as a "significant transnational criminal organization" and impose further sanctions against the organization and its support network next week, the White House said Friday. 
"These actions recognize the transcontinental threat that Wagner poses, including through its ongoing pattern of serious criminal activity," White House National Security Council spokesperson John Kirby told reporters Friday. 
The U.S. "will work relentlessly to identify, disrupt, expose, and target those who are assisting Wagner," said Kirby, which he accused of "committing widespread atrocities and human rights abuses." 
Kirby also said that the White House would release declassified images of Russian railcars receiving shipments from North Korea in November. He said the U.S. believes it was a delivery of infantry rockets and missiles for use by the Wagner Group. 
Kirby said the U.S. did not believe the amount of material delivered to Wagner would change the battlefield dynamics in Ukraine. "We do expect that it will continue to receive North Korean weapons systems," he said.
He added that the arms transfers defied United Nations Security Council resolutions. 
In December, the Biden administration designated Wagner a military end user, which makes it more difficult for it to buy equipment that is based on U.S. technology or production. 
The Wagner Group is headed by Yevgeny Prigozhin, a longtime ally of Russian President Vladimir Putin. The millionaire former restaurateur earned the nickname "Putin's chef" for catering state events.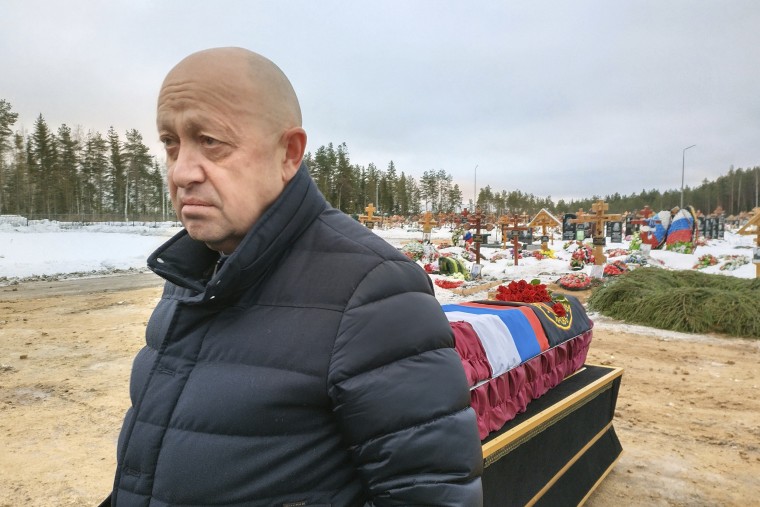 Yevgeny Prigozhin at the funeral of Wagner group fighter Dmitry Menshikov, in St. Petersburg, Russia, last month.
Aleksey Smagin / Sipa USA via AP file
The group has provided assistance to the Russian military during conflicts in Syria and Libya, and has recruited former prisoners as soldiers for hire in Russia's war on Ukraine, promising bounties and pardons in exchange for service. 
Despite longstanding ties to the Kremlin, Prigozhin has recently been at odds with the Russian military, which he accused of "constantly trying to steal Wagner's victory" last week after the country's Defense Ministry claimed a military victory in Soledar without crediting his company.
In the news conference Friday, Kirby said intelligence showed divisions between the mercenary group and Moscow had widened, even as Putin increasingly turned to the organization for critical support. 
"Wagner is becoming a rival power center to the Russian military and other Russian ministries," Kirby said, adding that Prigozhin was trying to advance his personal interests in Ukraine and that the Wagner group "is making military decisions largely — largely — on what they will generate for Prigozhin, in terms of positive publicity." 
Kirby estimated that Wagner mercenaries currently fighting in Ukraine consisted of 10,000 contractors and 40,000 convicts.
When Reuters asked Prigozhin about the new U.S. designation, he said Wagner "and Americans are colleagues. From now on, our relationship can be called "a battle of criminal clans."
Russia's Defense Ministry has not commented on the video.
The assessment came after a former member of Wagner claimed asylum in Norway last week.
In a video released Monday, Andrei Medvedev said he had formerly commanded a squad of paramilitary forces in eastern Ukraine where he witnessed the abuse and execution of former prisoners who refused to fight. He said his own contract was forcibly extended.
He said the group "stopped considering us as people and began to practically treat us like cannon fodder" and worried that Wagner was pursuing him and that he was "in danger of death."
He added he had escaped border patrol dogs and guards' bullets at the Russian border and ran through a forest and over an icy lake to escape into Norway.
The Wagner Group did not comment on his allegations.