By Faris Tanyos, Brian Dakss
Updated on: August 24, 2023 / 7:26 AM / CBS News
Witness recounts mass shooting at historic biker bar, Cook's Corner
Witness recounts mass shooting at historic biker bar, Cook's Corner 07:06
At least three people were killed and six more wounded in a shooting at an iconic biker bar in Southern California's Orange County Wednesday evening, authorities said. The gunman is also dead.
He was killed by "multiple" deputies who confronted him minutes after they arrived, Orange County Sheriff's Department Undersheriff Jeff Hallock told reporters at a late night briefing. At least one weapon was recovered, he said.
The gunman and the three others who were fatally shot were pronounced dead at the scene, Orange County Fire Authority Chief Brian Fennessy said at the briefing.
Fennessy said five of the six who were hospitalized were suffering from gunshot wounds and two were in critical condition, adding that the others were listed in stable condition.
The sheriff's department said no deputies were hurt during the incident.  
The shooting occurred at the historic Cook's Corner bar in the Trabuco Canyon community at about 7 p.m. local time.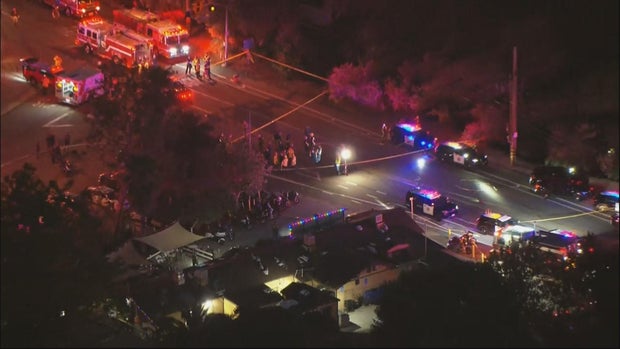 An aerial view of the scene of a shooting at the Cook's Corner bar in the Trabuco Canyon area of Orange County, California. on August 23, 2023.  CBS News Los Angeles
The circumstances leading up to the shooting weren't immediately known. A law enforcement source told CBS News Los Angeles the situation may have started as a domestic incident between a retired law enforcement officer and his wife. Hallock said authorities were getting similar information but it was way too early to confirm those reports.
He said dispatchers could hear gunfire in the background from deputies' radios when they arrived at the scene.
CBS News Los Angeles' Michele Gile spoke to a man who said he lost a friend who was shot in the back as the two tried to flee. He said he thought his friend had only tripped but found out later that the friend had been killed.
He said he barricaded himself in the kitchen along with a man he described as a cook who'd been shot it the arm. The man armed himself with a frying pan and they waited there until it was safe to come out.
The man also told Gile about a woman the gunman had allowed to escape. The man said the woman, who worked at the bar, told him she pleaded with the gunman, "Please don't shoot me, I'm 5 months pregnant." The gunman allegedly told her to "get out of here," and she did.
Orange County Supervisor Katrina Foley posted on X, the site formerly known as Twitter, that she was "Heartbroken to hear of another senseless mass shooting, this time in our own backyard."
Motorcyclist on his way to Cook's Corner talks about his experience 00:40
The Cook's Corner website says the bar is "considered to be one of the most famous biker bar & restaurant in Southern California." 
"We've experienced major earthquakes, forest fires, floods, recessions and other disasters," the bar says on the site. "We've gotten through all of them and came out stronger."
The bar was hosting a spaghetti night special between 4 p.m. and 8 p.m. Deputies estimated that there were 30-40 people inside when the gunman started shooting. 
Wendy Koro, Operations Manager for Russ Brown Motorcycle Attorneys, told CBS News Los Angeles Cook's Corner is a "legendary landmark."
"The public, in general, might have the wrong impression that this is a rough and tumble place where there is a lot of hard drinking and hard partying and you know, decent people don't go there," said Koro. "It really couldn't be further from the truth."
Koro added that the venue is the "heart of the Orange County riding community." 
Trabuco Canyon is about 55 miles south of Los Angeles.
. 
First published on August 23, 2023 / 11:32 PM
© 2023 CBS Interactive Inc. All Rights Reserved.