The man who shot and killed three Black people at a Jacksonville, Florida, convenience store Saturday evening was armed with a handgun emblazoned with swastikas, police said.
The Jacksonville Sheriff's Department shared an image of the gun, which appeared to have the swastikas drawn on it with silver marker alongside mostly illegible text.
Sheriff T.K. Waters described the shooter, who killed himself, as a "maniac who decided he wanted to take lives," according to the Florida Times-Union.
Police identified the suspect as a white man in his 20s who lived in the area with his parents. The victims included two men and a woman.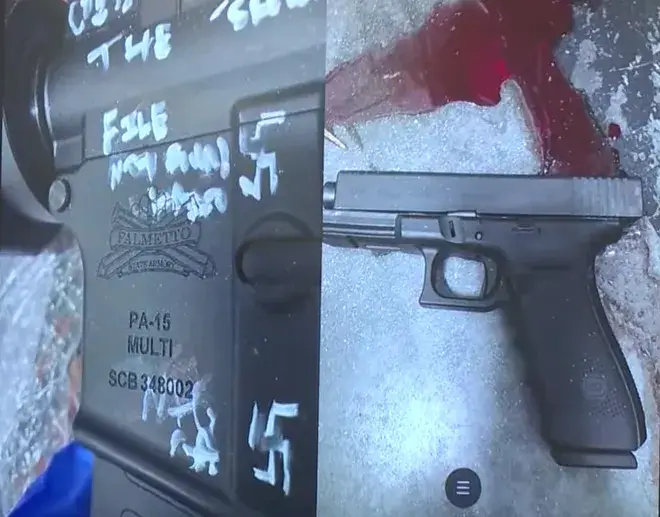 Police in Jacksonville released this image of a gun painted with swastikas carried by the suspect in what police are calling a racially-motivated shooting at a local Dollar General store. Photo by Jacksonville Sheriff's Department
"This type of hate — you see the swastikas on the gun — we must do everything that we can to dissuade this type of hate," said Jacksonville Mayor Donna Deegan.
Manifesto discovered
The killer circulated a manifesto before the shooting, according to police, but its contents were not immediately released to the public.
The Jacksonville massacre appears to be the latest in a trend of racially motivated shootings. In May, a 33-year-old man killed eight people in a mall outside Dallas, Texas, after posting an antisemitic screed on social media, in which he also railed against women and other groups, according to the Anti-Defamation League.
The white supremacist who killed 10 people at a Buffalo grocery store in 2022 sought out Black victims and left behind a manifesto filled with antisemitism and racism.
Florida faces a growing problem with white supremacy and extremism, according to experts.
Jacksonville was at the epicenter of a series of antisemitic stunts by the Goyim Defense League and NatSoc Florida last fall and winter when the hate groups projected Nazi imagery and messages on buildings around the city.
"This was a hate-filled crime and we just shouldn't have that kind of hate in Jacksonville," Deegan said of Saturday's shooting.
The post Swastikas drawn on gun used in racially motivated Jacksonville shooting appeared first on The Forward.