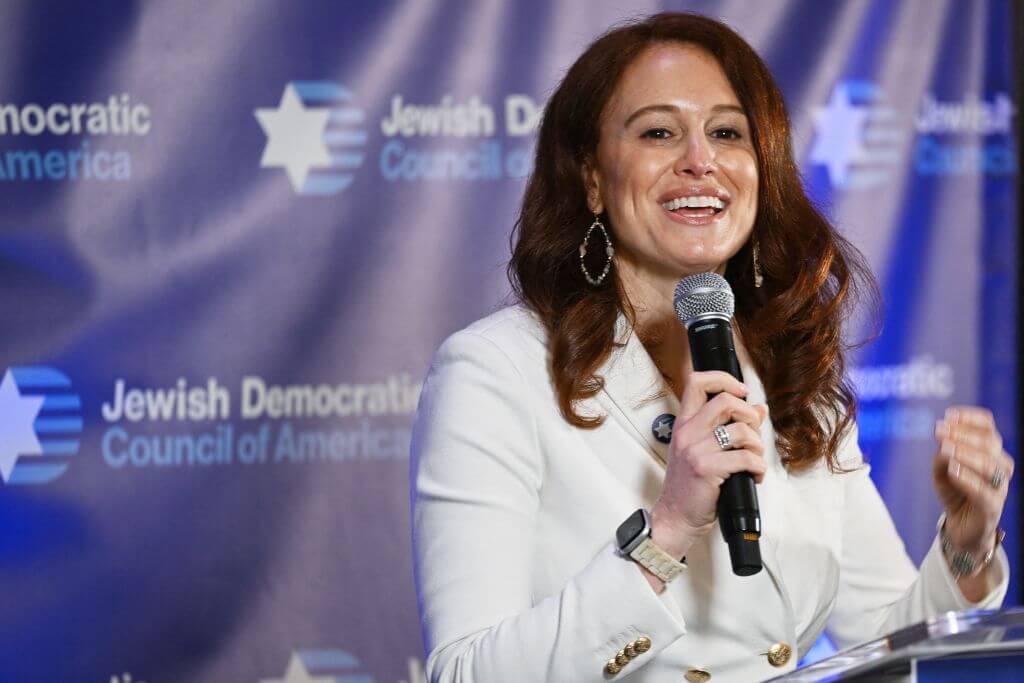 This article originally appeared on Haaretz, and was reprinted here with permission. Sign up here to get Haaretz's free Daily Brief newsletter delivered to your inbox.
When Amy Spitalnick was a senior in college, she attended a Hillel panel discussion where her question on Israel was summarily dismissed due to her age.
"Someone said to me 'You're young, you don't understand.' It sticks with me so deliberately as a way in which younger and more diverse voices have been treated in institutional Jewish spaces," she recalls.
In the 15 years since that dismissive put-down, Spitalnick has become a central figure in the U.S. Jewish community, most notably successfully spearheading a multimillion-dollar lawsuit against the white supremacists behind the infamous Charlottesville "Unite the Right" rally in August 2017.
Earlier this year, she was tapped as the new CEO for the Jewish Council for Public Affairs – the nearly 80-year-old legacy organization that has traditionally been defined by its efforts to be driven by consensus.
The hire of Spitalnick – who went viral earlier this year after clashing with Rep. Marjorie Taylor Greene during a congressional hearing – undoubtedly represents the JCPA adopting a more activist, progressive approach toward the issues that are of most pressing concern to American Jews.
It is also, however, the latest instance of a young woman taking the reins of a key Jewish institution and helping steer the community, often bogged down by leadership abiding by an "old boy network" mentality, into a more diverse and inclusive environment that better reflects the community itself.
This new mode of thinking also extends to Israel, where women leaders have become increasingly emboldened in voicing their criticism of Prime Minister Benjamin Netanyahu's far-right government. This includes speaking at rallies aimed directly at visiting Israeli ministers, lending the protest movement support from the highest levels of the American-Jewish community.
Rabbi Jill Jacobs, CEO of T'ruah: The Rabbinic Call for Human Rights, recalls the disparity when she first entered the field after concluding rabbinical school 20 years ago.
"The leadership was largely male. Certainly in the broader Jewish community, but even in the social justice sector the leadership was more male with a few exceptions," she says, flagging people like then-Jewish Community Relations Council of Boston Executive Director Nancy Kaufman and then-American Jewish World Service CEO Ruth Messinger.
Jacobs believes the Jewish community is in "a much better place right now," noting that there are more women CEOs than men within organizations that are part of the Jewish Social Justice Roundtable, though men still outflank women within mainstream Jewish organizations.
"That's slowly changing, but it's still a place where the Jewish community is very much playing catch-up to getting to a place where it's at least 50-50," she says.
This slow shift was experienced firsthand by Jewish Democratic Council of America CEO Halie Soifer, who spent nearly two decades working as a foreign policy staffer for members of Congress and the Obama administration before segueing to the Jewish professional world.
"When I was hired as the first employee of JDCA in mid-2018, there were too few women leading Jewish organizations," she recounts. "Research from that time published by Leading Edge identified a sizable gender gap among Jewish nonprofits: Women made up the majority of the workforce, but the CEOs were overwhelmingly men."
Soifer points to the progress made in dual areas: the fact that women previously holding the title of executive director are now serving as CEOs; and that a greater number of women are serving in a range of leadership roles at Jewish organizations, including those not focused exclusively on women's issues.
"To be clear, no one wants to be selected for these roles solely because of their gender – leaders should be selected because they're the best person for the job – but qualified women should not be overlooked for leadership positions," she says.
These efforts have tangible implications within the organizations themselves, particularly considering organizational culture.
"It used to be assumed that organizations were run by a man working 24 hours a day and traveling 200 days a year and never seeing his family. That 100 percent still exists in many organizations, but that culture is changing and the expectations of always being available and being able to get in the airplane at any moment are changing," Jacobs says.
This has also resulted in a cultural shift of sorts, moving away from models of top-down management and outmoded norms of communication toward resembling an environment that better captures what people want from their workplace.
Another result is fair pay as organizations institute salary bands with explicitly clear guidelines on how one can move within these levels.
"I certainly had the experience early in my career of finding out that men who were at the exact same level as me had negotiated for tens of thousands of dollars more," Jacobs recounts. "They knew that they were allowed to negotiate, and there's a lot of survey data showing leaders are more willing to hear hard negotiation from men. We wanted to disrupt that pattern," she adds.
Soifer stresses that "for too long, Jewish legacy organizations were overwhelmingly led by a homogeneous group of men. While that has started to change, there's more work to be done at every level to further diversify Jewish communal leadership – and I have no doubt that additional diversity will benefit Jewish organizations."
Behind the times
This leadership shift has immediate and wide-ranging implications both within the organizations and the Jewish establishment, as well the policies for which the Jewish world outwardly advocates.
One such example is parental and family leave policy initiatives, which was spearheaded by Advancing Women Professionals and the Jewish Community founder Shifra Bronznick and strategist Rabbi Joanna Samuels.
"When I came into the field, it was very unusual to have any parental leave policy whatsoever, and certainly the ones that existed tended to be very short or not really thought out," says Jacobs.
A 2009 survey from the Better Work, Better Life Campaign found that only 35 percent of Jewish organizations offered paid leave and flexibility on an ad hoc basis, with many citing budget constraints and work ethic questions. Within six years, at least 100 organizations committed to adopting better policies.
This extends to issues that may not necessarily be traditionally considered "women's issues" such as mass incarceration, but are approached by organizations like T'ruah with a gender-focused lens.
Yet despite all the positive momentum of recent years, all the leaders remain conscious of the work still needed.
"The majority of Jewish nonprofit professionals are women, but the majority of Jewish nonprofit CEOs are men. This disparity often means that Jewish organizations are not sufficiently set up for women to thrive at all levels of the organization. Ensuring equal pay, paid family leave, proper pumping rooms and access, and more, is essential to recruiting and keeping women in the workplace," says National Council of Jewish Women CEO Sheila Katz.
Katz, who assumed control of her organization in 2019 after spending more than a decade at Hillel International, has since become a leading Jewish voice for women-centric issues at a time when they have been under unprecedented attack from the U.S. government – culminating with last year's Supreme Court decision to overturn the constitutional right to an abortion.
"There are more women in Jewish leadership roles and community roles than ever before, and yet there is still so much progress to make. The major roles in the mainstream Jewish leadership landscape are still overwhelmingly occupied by older white men, who make significantly more money than the women in similar positions and who get hired when organizations are thriving rather than in crisis," Katz says.
Katz decries how the majority of Jewish media and mainstream organizations "continue to pander to the old boys club," which she says maintains an agenda benefiting the status quo.
She says the Jewish communal landscape desperately needs a transformation that centers the needs of the whole Jewish community, citing Pew Research Center survey data depicting the Jewish community's significant and widely agreed-upon views on issues like reproductive rights, even though they are not always labeled as Jewish issues.
"Jewish women's organizations continue to receive less than 2 percent of all organized giving, consistent with women's organizations in the United States and across the globe," Katz notes. "Even those organizations that raise funds specifically from women often allocate those resources for priorities set by men."
Progressive values under threat
These discrepancies capture a greater ongoing battle: the evolving understanding that Jewish organizations are behind the times with issues fundamentally impacting American Jews.
"We've seen a recognition that Jewish safety is deeply entangled with the safety of so many other communities and the vibrancy and health of our democracy," says JCPA's Spitalnick. "In so many ways, it's forced a reckoning in terms of the priorities that we hold in terms of the voices who are speaking on behalf of the community. We're now at a moment where we need to ensure legacy Jewish organizations and this communal space catches up with this reality."
To that end, Spitalnick argues that the Supreme Court's abortion ruling is part of a larger rise in antidemocratic extremism that is inherently at odds with the values held by the majority of American Jews. "The broader progressive values that underpin everything this community generally stands for are under threat," she says.
"It's no surprise that younger women leaders have been particularly motivated to step into this space and to fight for these values. All of it connects directly to our safety and the safety of our community," Spitalnick adds.
The leaders interviewed all cited how this illustrates the need to include Jewish voices currently facing compounding levels of discrimination, citing Jewish women of color, older women, queer women and diverse candidates across the spectrum of age, identity and experience.
The post The American women shaking up the Jewish old boys' club appeared first on The Forward.