In 1975, James J. "Whitey" Bulger, a notorious Boston gangster and member of the powerful and deadly "Winter Hill" organized crime gang, [1] met with a Boston FBI agent and agreed to provide information about Winter Hill's primary competitor in crime, the Boston La Cosa Nostra (LCN).
This arrangement proved fruitful for the FBI because Bulger and his Winter Hill gang associate, Stevie Flemmi, already a long-time FBI informant, provided information over several years that assisted the FBI in dismantling, in separate time periods, two leadership tiers of the Boston LCN. Among those convicted was Raymond Patriarca Jr., the boss of the New England LCN based in Providence, Rhode Island. [2]
Bulger also informed his FBI handler that Angelo "Sonny" Mecurio, a made member of the Boston LCN was disgruntled and ripe to become an informant. Mecurio subsequently became an informant and in October 1989 provided the FBI with the historic opportunity to bug an actual LCN new member induction ceremony. [3]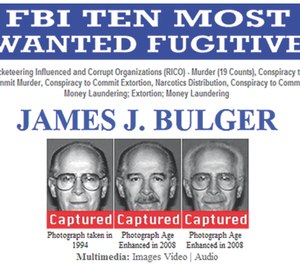 The potential for successful case outcomes must be carefully weighed against the significant risks involved in developing long-term relationships with individuals with violent organized crime past histories. (FBI)
Bulger and Flemmi eventually rose to undisputed leadership roles in the Winter Hill gang and in the early 1990s entered into an agreement with Frank Salemme, the new head of the New England LCN, to peacefully split control of organized crime activities in and around Boston. [4] Winter Hill and the LCN controlled virtually all Boston area organized crime until December 1994.
At that time, the Boston U.S. Attorney's Office, with primary investigative assistance from the Massachusetts State Police and the Federal Drug Enforcement Administration, was about to indict Bulger, Flemmi and Salemme for racketeering, involving extortion, gambling, and loan sharking. [5] Bulger was allegedly tipped off to the coming 1995 indictment by the now-retired FBI agent who originally recruited him and immediately took off and became a fugitive. [6]
For the next 16 years, Bulger eluded capture and settled under an alias alongside his longtime girlfriend Catherine Grieg in an apartment in Santa Monica, California. During his time on the run, Bulger was placed on the FBI's Top Ten most wanted fugitive list with a $2M reward offered for his capture.
In the spring of 2011, an FBI agent and a Deputy U.S. Marshal working together on the Bulger Fugitive Task Force decided to focus their efforts on Catherine Grieg. This strategy paid dividends and resulted in an acquaintance of Grieg recognizing her in a news publicity blitz and contacting the FBI. The Task Force deputy marshal recognized the significance of the tip and alerted his FBI supervisor. The tip resulted in Bulger's capture by FBI agents in Santa Monica shortly thereafter and his return to Boston to face trial. [7]
Bulger was charged in a superseding federal indictment with racketeering involving 19 murders. He was convicted in a Boston federal court in August 2013 of racketeering involving 11 of the 19 murders originally charged and sentenced to two consecutive life terms plus 5 years.
Bulger's federal prison transfer, placement in general population and immediate murder
In April 2018, officials at the FBP Coleman facility in Sumter County, Florida attempted to transfer Bulger to another FBP institution. The transfer request indicated that Bulger needed a higher level of medical care (i.e. Level Four Medical Care).
The Fourth Circuit court opinion in the lawsuit reported that "[b]ecause his high care level (level four) limited the number of institutions where Bulger could be designated, the April request was denied. In October 2018, Coleman officials resubmitted their transfer request, this time indicating that Bulger was a medical care level two. The [FBP] approved Bulger's transfer to Hazelton, [8] a medical care level two institution. At the time of his transfer, Bulger was 89 years old and utilized a wheelchair for long-distance mobility."
According to the court, on "[t]he night of his arrival at Hazelton, Bulger was placed in the general population. The following morning at 8:20 a.m. – less than 14 hours after his arrival – [FBP] staff found Bulger unresponsive in his cell.
Bulger's 2018 murder in federal prison resulted in a lawsuit filed against various Federal Bureau of Prisons (FBP) officials and the United States by Bulger's brother.
According to the (lawsuit) complaint, "within hours of [that] placement," inmates "believed" to be from New England and loyal to the mafia killed Bulger using a "lock in a sock" bludgeoning weapon."
The Bulger family lawsuit
William Bulger [9], Administrator of James Bulger's Estate, sued the United States and several FBP staff members in federal court. He alleged that FBP officials violated his brother's Eighth Amendment rights by improperly transferring him to Hazelton, placing him in general population and failing to protect him from attack at Hazelton. He also sued the United States pursuant to the Federal Tort Claims Act (FTCA). 28 U.S.C. §1346 (b), alleging prison officials were negligent in failing to intervene and protect Bulger. The federal district court dismissed the lawsuit in its entirety and Bulger appealed.
The opinion of the Fourth Circuit [10]
The Fourth Circuit affirmed the dismissal of the lawsuit, including the Eighth Amendment constitutional claims and the FTCA negligence claims.
The court observed that Bulger brought the Eighth Amendment claims against individual FBP officials in their personal capacity pursuant to the Supreme Court's 1971 decision in Bivens v. Six Unknown Named Agents of the Federal Bureau of Narcotics. [11] The court observed further that, "In Bivens, the Supreme Court held that an 'implied' cause of action under the Fourth Amendment entitled plaintiffs to sue federal officials for money damages arising from unreasonable searches and seizures. … [T]he Court found that no 'explicit congressional declaration' forbade such a remedy and inferred a cause of action from general principles of federal jurisdiction to 'use any available remedy to make good the wrong done.'" [12]
The Fourth Circuit noted that in recent years the Supreme Court has consistently rebuffed attempts to expand "implied" Bivens actions. The court explained, "The Supreme Court has continued to caution lower courts to beware of 'arrogating legislative power.' [13] Because 'creating a cause of action is a legislative endeavor,' the Court warned that 'the Judiciary's authority to [create causes of action under the Constitution] is, at best, uncertain.'" [14] "And in Ziglar, [15] the (Supreme) Court explained: '[I]t is a significant step under separation-of-powers principles for a court to determine that it has the authority, under the judicial power, to create and enforce a cause of action for damages against federal officials in order to remedy a constitutional violation.'"
Based upon its review of recent Supreme Court commentary on its hesitancy and reluctance to extend Bivens to other alleged constitutional violations, the Fourth Circuit agreed with the lower court not to allow a Bivens-style cause of action to proceed regarding Bulger's alleged Eighth Amendment improper transfer, placement in general population and failure to protect claims. [16]
The Fourth Circuit likewise affirmed the lower court's decision to dismiss Bulger's Federal Tort Claims Act (FTCA) negligence allegations against the United States. The court noted that the FTCA involves a limited waiver by Congress of the sovereign immunity of the United States. The waiver of sovereign immunity includes permitting individuals wronged by negligent actions of federal government officials to sue the United States for monetary damages. However, the FTCA contains an exception to the congressional waiver of sovereign immunity, known as the "discretionary function" exception.
The court observed that the statutory language of the exception bars any lawsuit "'based upon the exercise or performance or the failure to exercise or perform a discretionary function or duty on the part of a federal agency or an employee of the Government, whether or not the discretion involved be abused.'" [17] The court explained that particular actions by federal employees involve discretion when they involve "'an element of judgement or choice.'" [18] The court further explained that "[c]onduct involves an element of judgment or choice unless a 'federal statute, regulation, or policy specifically prescribes a course of action for an employee to follow.'" [19]
The court determined that "there was no federal statute, regulation, or policy that 'specifically prescribe[d] a course of action' with respect to the challenged conduct." [20] The court concluded by ruling that the FBP official's decisions regarding Bulger, including assessing his medical condition, transferring him to Hazelton, placing him in general population etc., involved judgment and discretion and fall within the discretionary function exception.
Lessons learned
Recruiting and operating organized crime gang members and bosses as long-term confidential criminal informants is a dangerous game for law enforcement officers. The potential for successful case outcomes must be carefully weighed against the significant risks involved in developing long-term relationships with individuals with violent organized crime past histories.
Law enforcement informant handlers and their superiors should be acutely aware that potential long-term organized crime informants have almost certainly murdered others in the past and will do so again on their own or upon orders to do so. Absent special circumstances, recruiting them as informants may be a bridge too far.
If operating this type of individual is essential and deemed necessary, extreme caution is indicated. Often, the informant will eventually be charged with murder or other serious crimes while working for law enforcement. Accusations from the informant and others that the law enforcement officer was aware of the crime, approved of it before it happened, or ratified it after the fact are sure to follow. Such accusations, even if false, can destroy the reputation of the officer, and seriously damage the reputation of the involved law enforcement agency.
Based upon recent Supreme Court opinions reflecting hesitancy and reluctance to extend Bivens-style constitutional claims against federal officials beyond the parameters of the Fourth Amendment, lower federal courts are likely to reject Eighth Amendment and other constitutional claims against FBP officials.
The discretionary function exception to a congressional waiver of sovereign immunity pertaining to negligence claims directed at the United States under the Federal Tort Claims Act will likely bar those claims from being successful when the alleged negligent decisions of federal officials involve deliberation and judgment.
References
1. Bulger's early life of crime included bank robbery for which he was arrested by FBI agents, tried and convicted in federal court and sentenced to serve time in various federal prisons, including Alcatraz.  Upon his release from prison, he returned to his home in South Boston and eventually rose to a leadership role in a South Boston organized criminal gang.  From there he joined the Winter Hill gang, located in Somerville, Massachusetts.
2. Patriarca Jr. became the boss of the New England LCN after his father Raymond Patriarca Sr. died in 1984.  Patriarca's father ruled as the ruthless and feared boss of the New England LCN for 30 years before his death.  Patriarca Jr. was indicted in 1990, along with twenty other LCN members, by a federal grand jury and charged with racketeering involving murder, extortion, gambling and narcotics.  He plead guilty in 1992 and was sentenced to eight years in prison.
3. Kevin Cullen and Shelley Murphy, "Whitey Bulger," W.W. Norton & Company, and the Globe Newspaper Company Inc. 294-295 (2013). The FBI bugging of the LCN induction ceremony in Medford, Massachusetts was the first time this was ever done and was used by federal prosecutors in other prosecutions of LCN members to establish the existence of the LCN as a criminal organization.
4. Salemme and Flemmi were long-time trusted criminal associates, and their past association made this agreement easy to pull off.
5. Although these men were suspects in several gangland-style murders, the original indictment did not charge anyone with murder.  Murder charges came later in other indictments.
6. The retired FBI agent was eventually arrested by the FBI and convicted by a federal jury for, inter alia, tipping off Bulger to the pending indictment. 
7. California FBI agents moved quickly on the tip. They confirmed Bulger and Grieg's presence in a Santa Monica apartment building and lured him to the garage under his apartment on a ruse.  When Bulger entered the garage, he was arrested at gunpoint.
8. FBP Hazelton is located in Bruceton Mills, West Virginia.
9. William Bulger was formerly President of the Massachusetts State Senate and later served as the President of the University of Massachusetts.
10. William M. Bulger v. Hugh Hurwitz, Federal Bureau of Prisons, et. al; United States of America, (No. 22-1106) (4th Cir. 3/3/2023).
11. 403 U.S. 388.
12. In effect, the Supreme Court in Bivens created a Fourth Amendment constitutional cause of action against federal officers in their personal capacity for alleged violation of constitutional rules regarding search and seizure.  This was done by the Supreme Court without Congressional Authorization.
13. See, Hernandez v. Mesa, 140 S. Ct. 735, 741 (2020).
14. See, Egbert v. Boule. 142 S.Ct. 1793, 1802-03 (2022).
15. Ziglar v. Abbasi, 137 S. Ct. 1843, 1856 (2017)
16. Federal correctional officials should be aware that prior to the Supreme Court's reluctance to extend judicially created constitutional remedies pursuant to Bivens, the court decided Carlson v. Green, 446 U.S. 14 in 1980. This case applies to federal prison officials and according to the Fourth Circuit, "the Court held that an inmate's estate could proceed on a claim for money damages against prison officials for allegedly violating the inmate's Eighth Amendment right to be free from deliberate indifference to his serious medical needs by failing to treat the inmate's asthma, leading to his death. Carlson, 446 U.S. at 24–25."
17. See, 28 U.S.C. § 2680(a).
18. Rich v. United States, 811 F.3d 140, 144 (4th Cir. 2015).
19. Berkovitz ex rel. Berkovitz v. United States, 486 U.S. 531, 536 (1988).
20. Berkovitz, 486 U.S. at 536.