Former Attorney General Bill Barr believes that Special Counsel Jack Smith will bring forward more charges against Donald Trump to try and prove the former president was well aware he lost the 2020 election.
Barr, who resigned as attorney general in December 2020 after Trump continued to push false voter fraud claims even after the Department of Justice said there was no evidence, told CNN's Kaitlan Collins that the four charges Trump is accused of in the former president's latest indictment are just the "tip of the iceberg" and that Smith has "a lot more evidence" against him.
Trump was indicted for the third time this year under Smith's investigation into the events which led up to the January 6 attack, and is due to be arraigned at a Washington, D.C. federal courthouse on Thursday on charges of conspiracy to obstruct an official proceeding, obstruction of, and attempt to obstruct, an official proceeding and conspiracy against rights.
Trump has denied all wrongdoing and continues to falsely claim the last election was "rigged" against him. The frontrunner in the 2024 GOP presidential primary also has accused Smith of "election interference" with his federal investigation.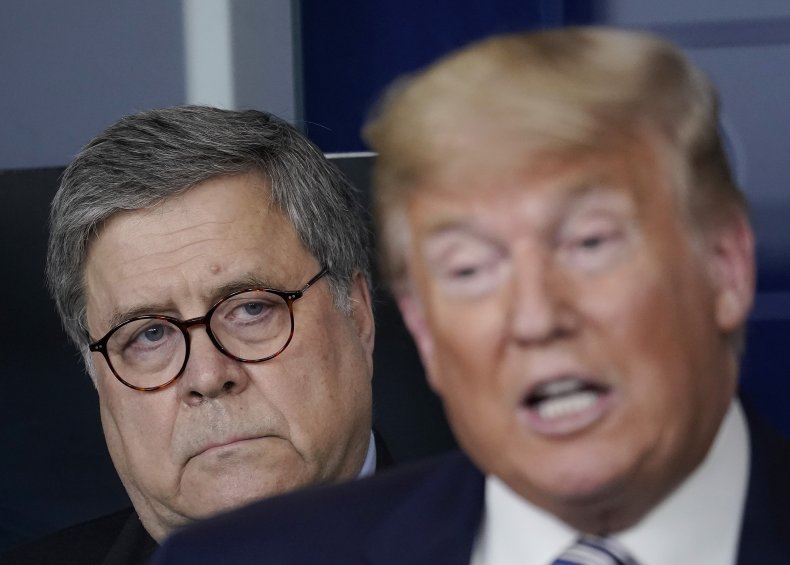 William Barr (L), listens to Donald Trump speak at the daily coronavirus briefing at the White House on March 23, 2020 in Washington, DC. Barr believes that Special Counsel Jack Smith will bring forward more charges against the former president in his January 6 probe.
Drew Angerer/Getty Images
When asked by Collins if he believes that Trump was well aware that he had lost the 2020 election to Joe Biden fairly—a key part of the prosecution's case against the former president—Barr replied: "At first, I wasn't sure, but I have come to believe that he knew well that he had lost the election.
"What I think is important is that the government has assumed the burden of proving that. The government, in their indictment, takes the position that he had actual knowledge that he had lost the election and the election wasn't stolen through fraud. And they're going to have to prove that beyond a reasonable doubt, it's a high bar.
"Now that leads me to believe that they were only seeing the tip of the iceberg. That's one of the things that impressed me about the indictment. It was very spare, and there are a lot of things [Smith] could have said in there. And I think there's a lot more to come and I think they have a lot more evidence as to President Trump's state of mind."
Trump's legal team has been contacted for comment via email.
Legal experts have suggested that federal prosecutors may have a difficult time in proving Trump is guilty unless they can show criminal intent and that Trump was aware he was taking part in a conspiracy or committing fraud with his words and actions.
"The prosecution even says in the indictment every American has a right to speak publicly about an election and to make claims that might not be true. But what they're saying is that Trump took that a step too far," Joshua Ritter, a Los Angeles criminal defense attorney, told Newsweek.
"They'll have to prove what was happening in Trump's own mind, and that's very difficult, short of an incriminating statement of motive coming out of his own mouth."
Trump's own lawyer, John Lauro, said that Trump had every right to dispute the election results under the First Amendment and therefore cannot face prosecution over it.
That claim was dismissed by Barr during his CNN interview.
"I really don't think that's a valid argument," Barr told Collins. "As the indictment says, they're not attacking his First Amendment right. He can say whatever he wants. He can even lie. He can even tell people that the election was stolen when he knew better.
"But that does not protect you from entering into a conspiracy," he added. "All conspiracies involve speech, and all fraud involves speech. Free speech doesn't give you the right to engage in a fraudulent conspiracy."
A similar First Amendment defense was made by Trump in a post on Truth Social. "The Radical Left wants to Criminalize Free Speech!" he wrote.