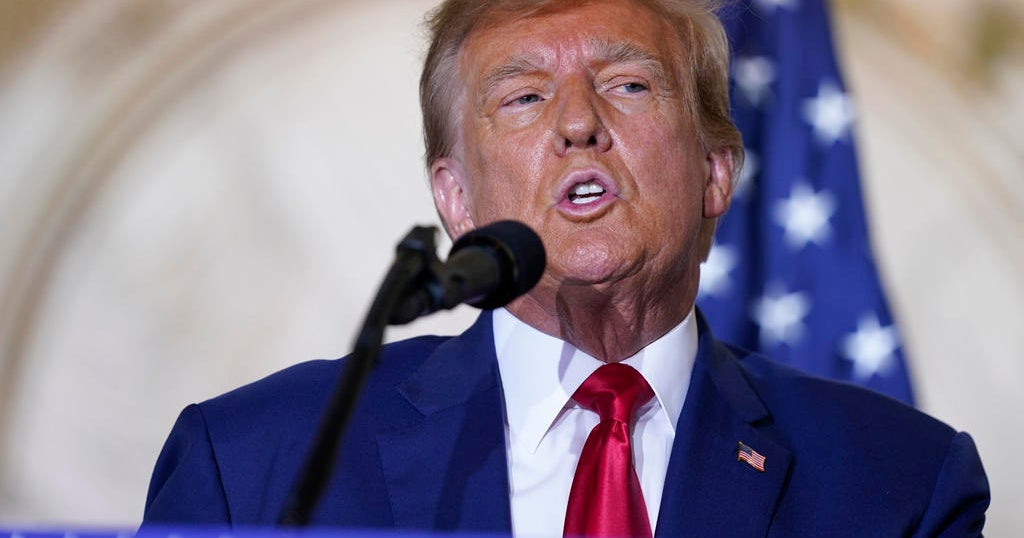 Washington — Former President Donald Trump has been indicted on charges stemming from the federal investigation into his handling of sensitive government documents after he left the White House, a historic move that is likely to roil the ongoing 2024 presidential race. Two U.S. officials confirmed the charges to CBS News, as did Trump's attorney. 
In three posts to his account on Truth Social, Trump said attorneys with the Justice Department informed him he was indicted over the "boxes hoax" and he has been called to appear at the federal courthouse in Miami on Tuesday. Two sources familiar with the matter confirmed the arraignment to CBS News.
"I never thought it possible that such a thing could happen to a former President of the United States, who received far more votes than any sitting President in the History of our Country, and is currently leading, by far, all Candidates, both Democrat and Republican, in Polls of the 2024 Presidential Election. I AM AN INNOCENT MAN!" he claimed.
U.S. Secret Service officials will meet Friday with Trump's staff, security officers and Secret Service assigned to the former president's detail to develop a plan for his travel and appearance in federal court, a law enforcement official said.
Trump charged with seven counts  
The exact nature of the charges, the first to arise from special counsel Jack Smith's investigations, was not immediately clear. But three sources familiar with the case said the former president has been charged in a seven-count indictment involving the retention of national defense information, conspiracy and obstruction.
Smith, appointed in November 2022 by Attorney General Merrick Garland to oversee the probes, is also examining efforts to thwart the transfer of presidential power after the 2020 presidential election and the events surrounding the Jan. 6, 2021, assault on the U.S. Capitol.
Trump frustrated with what source says was "too much happy talk"
Trump is frustrated not just with the indictment but with people in his inner circle who reassured him for months that it was very unlikely to happen. As a source close to Trump put it, there was "too much happy talk for way too long" about what could happen. 
Trump's legal team strategizes
A second source close to Trump notes that one of his lawyers, Jim Trusty, "knows the special counsel" and is expected to try to work with attorneys John Rowley and Todd Blanche on the next step, a move to dismiss the charges and possibly a formal attempt to question Smith and the Justice Department's chief of counterintelligence, Jay Bratt, who was one of the government's key lawyers trying to recover boxes of documents from Trump's team at Mar-a-Lago. 
The Florida factor threw members of Trump's team for a loop, but at the same time, they believe the Justice Department has been looking hard at jurisdictional challenges, since the documents at issue were in Florida, rather than in Washington, D.C. 
An unprecedented step by the Justice Department  
The decision to pursue an indictment of Trump is a remarkable and unprecedented step, marking the first time the Justice Department has brought federal charges against a former president. Trump's attorneys met with Justice Department officials, including Smith, on Monday and discussed concerns about prosecutors' efforts in the inquiry.
The charges sparked a fierce backlash from the former president's Republican allies, who accused Garland of targeting Trump ahead of the 2024 presidential election. Trump is currently the front-runner in the GOP primary contest to square off against President Biden. Shortly after revealing he had been charged, Trump made the indictment the center of a fundraising appeal to his supporters.
The indictment adds to the legal peril hanging over the former president amid his third bid for the White House. Trump is also facing 34 felony counts of falsifying business records in New York state court, and a trial in that case is set to begin March 25, 2024, in the thick of the presidential campaign. He pleaded not guilty to the charges brought by Manhattan District Attorney Alvin Bragg.
The chief prosecutor in Fulton County, Georgia, is also expected to announce this summer whether Trump or any of his allies will be charged following her investigation into efforts to reverse the outcome of the 2020 presidential election in Georgia.
The former president has denied any wrongdoing in connection with all of the investigations.
Regarding his handling of government documents, he has claimed at times that he declassified the sensitive documents discovered at Mar-a-Lago. Trump has also asserted the materials he kept were "personal" and therefore didn't have to be turned over to the National Archives and Records Administration when he left office, and were shielded by executive privilege.
The records at Mar-a-Lago
The new criminal charges stem from a 15-month-long effort by the federal government to retrieve records Trump had at his South Florida residence, Mar-a-Lago, after his presidency ended in January 2021. While wrangling between Trump and the National Archives initially took place behind the scenes with secret subpoenas for the records and security camera footage, the dispute burst into public view on Aug. 8, 2022, when the FBI conducted a court-authorized search of the property.
Federal investigators seized 33 boxes of material, 13 of which contained just over 100 documents marked classified. Records made public following the FBI's search, including the affidavit used to justify the search warrant and the warrant itself, indicated Trump was under investigation for the alleged removal or destruction of records, obstruction of justice and potentially violating a provision of the Espionage Act related to gathering, transmitting or losing defense information.
Before the batch of roughly 100 sensitive records was discovered, the National Archives retrieved 15 boxes containing presidential records from Mar-a-Lago in January 2022. Those boxes included 184 documents with classification markings, totaling over 700 pages. 
The National Archives first attempted to recover what it considered to be sensitive government records before referring the matter to the Justice Department, and informed Trump's lawyers at the outset that they were missing correspondence between Trump and both North Korean leader Kim Jong Un and former President Barack Obama. It is unclear if those missing items were recovered in any of the searches and collections. 
Representatives for Trump also handed over to Justice Department investigators in early June 2022 a folder containing 38 records marked classified after receiving a subpoena for "any and all" documents bearing classification markings that were in Trump's possession at Mar-a-Lago. 
In all, roughly 300 documents marked classified were recovered by federal investigators from the South Florida property after Trump left office. Director of National Intelligence Avril Haines said at the time her office was conducting a damage assessment to determine what national harm, if any, was incurred by the retention of the records.  
The Justice Department's investigation
The FBI's search of Mar-a-Lago sparked a legal battle mounted by Trump against the Justice Department over investigators' access to the materials seized from his property, and the former president requested a special master, or independent third party, be named to review the documents.
That dispute limited the Justice Department's probe for months after a special master was named and federal prosecutors sought access only to the roughly 100 documents with classification markings retrieved from Mar-a-Lago. The court fight landed before the Supreme Court, which in October declined to intervene in the dispute. A federal appeals court ordered an end to the special master's review process in December. 
The legal proceedings opened a normally secretive investigative process to the public, allowing prosecutors to detail the evidence they had collected in public court filings. 
As part of the investigation into Trump's alleged mishandling of sensitive government records, a federal grand jury heard testimony from numerous people close to the former president, including his lawyers Evan Corcoran and Timothy Parlatore. Parlatore, who left Trump's legal team in May, ordered searches of the former president's other properties for government documents, which yielded a handful of additional records.
Attorneys for Trump told the Justice Department they were unable to locate a classified document related to Iran that was sought by investigators, two people with knowledge of the situation confirmed to CBS News in early June. The document was discussed during a recorded meeting.
Another key witness, Trump aide and former White House valet Walt Nauta, told investigators last year he moved boxes inside Mar-a-Lago at Trump's direction both before and after the subpoena was issued to hand over all documents with classification markings. 
Multiple sources close to the investigation told CBS News that prosecutors focused on Nauta's interactions with the boxes, but talks between his legal team and the Justice Department stalled after prosecutors took a more aggressive approach. 
Several former and current U.S. Secret Service officials, including security officials from the Mar-a-Lago resort, also answered questions before the grand jury.
The wide scope of people who were called by investigators in Smith's office to testify included numerous Trump aides and allies, current and former Mar-a-Lago employees, White House staffers and attorneys. Numerous grand juries convened in the federal courthouse in Washington collected evidence for months about Mar-a-Lago's structure, Trump's transition from the White House and conversations with his own lawyer, Corcoran, that a federal judge deemed were not covered by attorney-client privilege. 
Amid the Justice Department's investigation into the records found at Mar-a-Lago, it was revealed that documents bearing classification markings had been found at President Joe Biden's former office and his Wilmington, Delaware, home.
The records dated back to Mr. Biden's time as vice president and in the Senate, and Garland appointed a special counsel, Robert Hur, to oversee an investigation into the handling of the documents. The number of the documents discovered in Mr. Biden's possession is far smaller than those recovered from Mar-a-Lago: the total number of known classified documents found since November is between 25 and 30. Additionally, the president's lawyers, who found the materials, immediately notified the Archives and Justice Department of their discovery.
Mr. Biden also consented to searches of his Wilmington and Rehoboth Beach, Delaware, homes.
A "small number" of documents marked classified were also discovered at the Indiana home of former Vice President Mike Pence in January and turned over to the FBI. The Justice Department investigated the matter and spoke with several aides as part of its probe, as well as Pence. Officials closed the inquiry without bringing criminal charges. 
— Graham Kates, Fin Gomez, and Jeff Pegues contributed to this report.