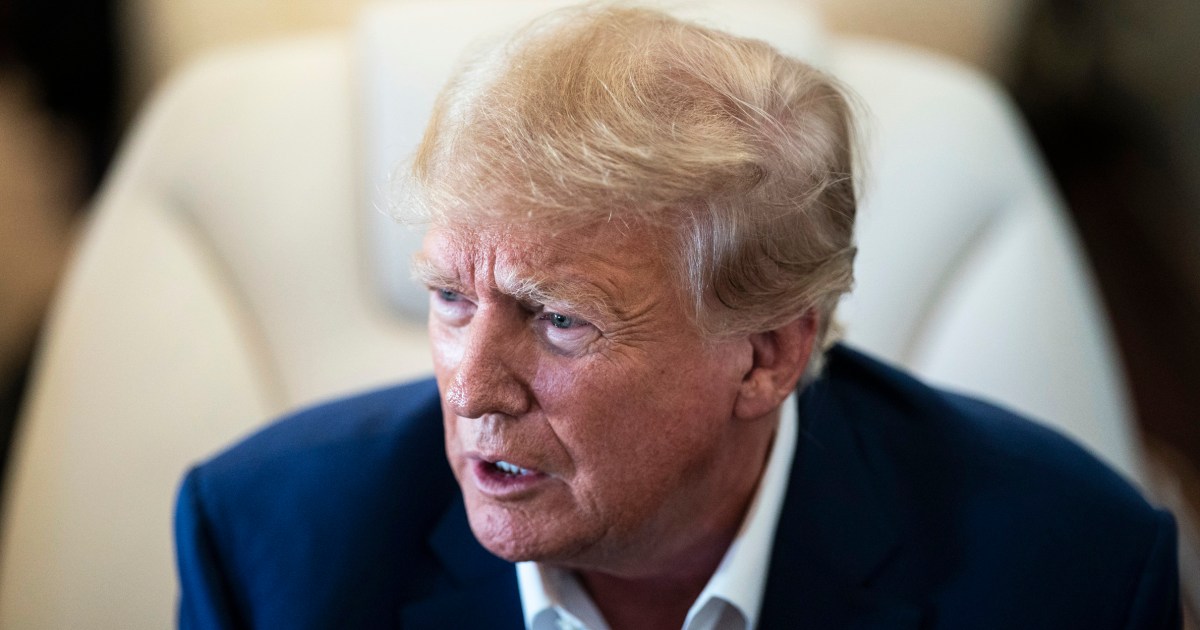 Former President Donald Trump routinely overstated his personal net worth to financial institutions, by as much as $2.2 billion one year, New York Attorney General Letitia James' office alleged in a filing Wednesday.
The figures, tucked into a 100-page motion for partial summary judgment, are the latest details in the sweeping $250 million civil lawsuit James brought against Trump, some of his eldest children and the Trump Organization last year. The lawsuit alleges efforts spanning 10 years to inflate Trump's personal net worth to attract favorable loan agreements.
In court papers filed Wednesday in state Supreme Court, prosecutors asked the court to rule in favor of the attorney general's office on only the first cause of action they brought against Trump last year, which argued that the former president and some Trump Organization employees used financial statements as a "vehicle" to fraudulently inflate his net worth by billions of dollars annually from 2011 to 2021.
Prosecutors said in Wednesday's filing that defendants had "falsely inflated by billions of dollars" the value of various assets listed on Trump's annual statement of financial condition — his own personal financial report card — which falsely puffed up his overall net worth.
According to calculations submitted by prosecutors, Trump routinely overstated his personal financial condition from 2011 to 2021, and he overstated his personal financial condition by comparable levels while he was in office.
"Correcting for these and other blatant and obvious deceptive practices engaged in by Defendants reduces Mr. Trump's net worth by between 17-39% in each year, or between $812 million to $2.2 billion, depending on the year," the filing said.
During his first year in office, prosecutors allege, Trump overstated his personal wealth by over $1.1 billion and then overstated his financial condition by $1.9 billion in 2018.
Trump, and at times trustees of his revocable trust, repeatedly provided those statements to financial institutions to secure and maintain more favorable loans and insurance, "reaping hundreds of millions of dollars in ill-gotten savings and profits," prosecutors wrote.
They urged the court to consider "two simple and straightforward questions," specifically whether Trump's statements of financial conditions from 2011 to 2021 were "false or misleading" and whether defendants "repeatedly or persistently" used the documents to conduct business transactions.
Prosecutors argue that answering yes to both questions should prompt the court to resolve the matter in their favor before trial.
The filing details how Trump overstated his wealth by valuing properties at amounts that "significantly exceeded professional appraisals of which his employees were aware and chose to ignore."
In one instance, they argue, Trump valued undeveloped land at his golf course in Aberdeen, Scotland, based on an assumption that he could build and sell more residential homes than approved by local authorities.
Meanwhile, in the case of his leased property at 40 Wall St. in New York City, Trump at times valued it "at more than twice the appraised value," they wrote.
Trump also inflated the value of his triplex apartment at Trump Tower by nearly tripling its actual square footage, an error that they argue "inflated the apartment's value by approximately $100-$200 million each year from 2012 to 2016."
An attorney for Trump did not immediately respond to a request for comment Wednesday. Trump has denied wrongdoing in the case, calling it a "witch hunt."
The civil trial on the other counts is scheduled to begin in October.
CORRECTION (Aug. 30, 2023, 10:49 p.m. ET): A previous version of this article misstated that Trump is accused of having "overstated" his net worth by as much as 38.5% in a given year. Prosecutors allege in the court filing that the true worth of his properties in a given year was as much as 38.5% less than what he asserted. The incorrect paraphrasing has been replaced with a direct quotation from the filing.
Lisa Rubin, Adam Reiss and Jonathan Dienst contributed.