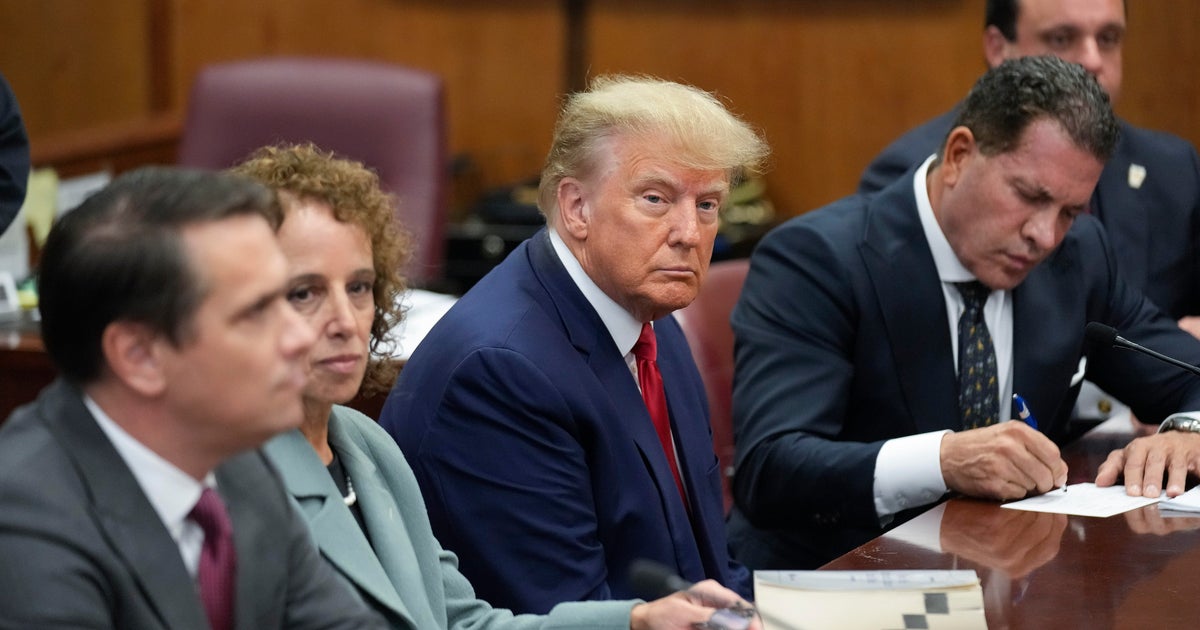 Former President Donald Trump pleaded not guilty to 34 criminal counts, including felony charges of falsifying business records, in a Manhattan courtroom on Tuesday, when he became the first former president in U.S. history to face criminal prosecution.
The charges were handed down by a grand jury convened by Manhattan District Attorney Alvin Bragg. Bragg's office has been investigating the circumstances surrounding a payment made on Trump's behalf to an adult film star in 2016 in exchange for her silence about an alleged affair, which Trump has denied.
The arraignment capped a day of spectacle that played out before and during Trump's surrender at Manhattan Criminal Court. His Secret Service motorcade left Trump Tower in midtown Manhattan for the courthouse shortly after 1 p.m., cutting through New York traffic with a police escort as spectators looked on. When his motorcade arrived, Trump waved to cameras and the gathered crowd before entering the courthouse to turn himself in. He was expected to have his fingerprints taken while in custody, but didn't have his mug shot taken and wasn't placed in handcuffs.
More than an hour after arriving, Trump entered the courtroom where a judge was overseeing his arraignment hearing. No video recording was allowed in the courtroom, but a handful of photographers were briefly permitted to take pictures. One photo showed Trump seated at the defense table, flanked by his attorneys. He was in the courtroom for another hour before swiftly departing in his motorcade.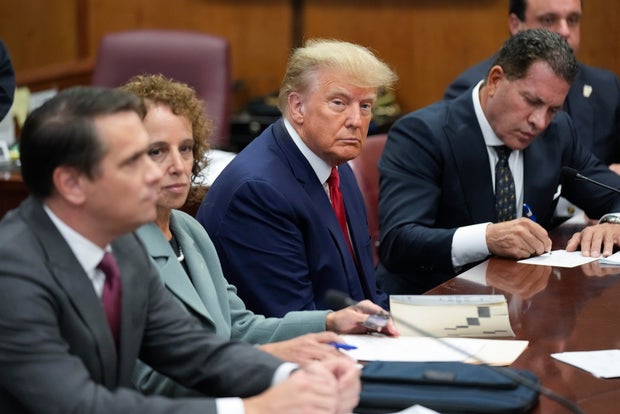 Former President Donald Trump sits at the defense table with his defense team in a Manhattan court on April 4, 2023 in New York City.  Seth Wenig / Getty Images
Trump became the first former president in U.S. history to be charged with a crime, and the case could have serious ramifications for his ongoing bid for the White House as it unfolds over the coming months. He has maintained his innocence and denounced the Manhattan district attorney's probe as a politically motivated "witch hunt." 
The former president is expected to then be released and return home to Florida, where he is set to deliver remarks to supporters at his Mar-a-Lago resort on Tuesday evening. 
6m ago
60m ago
Trump has pleaded not guilty to 34 felony counts of falsifying business records included in the indictment, according to CBS News' Scott MacFarlane, who was in the courthouse for the arraignment.
Trump left the courtroom shortly before 3:30 p.m. and quickly departed the courthouse in his motorcade.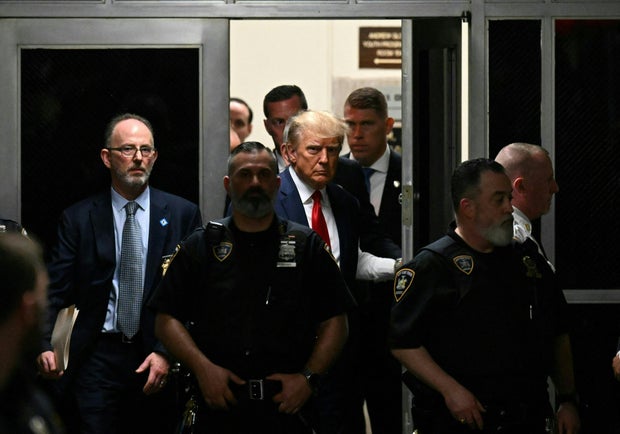 Former President Donald Trump makes his way inside the Manhattan Criminal Courthouse in New York on April 4, 2023.
ED JONES/AFP via Getty Images
After being processed, cameras spotted the former president, free of any handcuffs, somberly making his way into the courtroom where his arraignment is being held. He didn't speak to reporters gathered in the hallway.
After being processed, Trump is set to appear in court before Judge Juan Merchan, who is overseeing his arraignment. At the hearing, a court clerk will read the charges against Trump, at which point the indictment will be unsealed. Trump's attorneys could ask the judge to pause the proceedings to review the charges. He will then plead not guilty, according to his lawyers.
All of this will play out behind closed doors, since Merchan ruled that no video recordings would be permitted. A handful of still photographers will be allowed to take pictures briefly before the proceedings.
The former president will not be in handcuffs, and he is almost certain to be released at the end of the hearing given the nature of the expected charges. There are currently no plans for Trump to speak until this evening when he is back in Florida, but that could change.
Manhattan District Attorney Alvin Bragg is set to speak about the case at a press conference after Trump's arraignment.
Trump appeared to post on his social media platform Truth Social as he headed downtown to face criminal charges. He left Trump Tower shortly before 1:15 p.m. ET, and posted on Truth Social at 1:22 p.m. He arrived at the courthouse a few minutes later.
"Heading to Lower Manhattan, the Courthouse," the post said. "Seems so SURREAL — WOW, they are going to ARREST ME. Can't believe this is happening in America. MAGA!"
Trump's motorcade arrived at the courthouse in lower Manhattan, where he is surrendering to authorities for processing. He is due in court at 2:15 p.m. for arraignment, when the charges against him will be unveiled.
News helicopters captured his motorcade cutting through mostly empty New York streets as it made its way to the courthouse, a few miles south of Trump Tower. Cameras spotted Trump getting out of his SUV and waving to the crowd as he went into the building.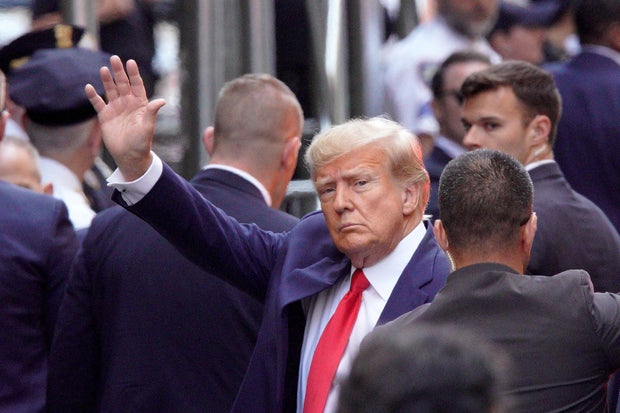 Former President Donald Trump arrives at Manhattan Criminal Courthouse in New York City on April 4, 2023. EDUARDO MUNOZ / REUTERS
Trump was set to be brought to the seventh floor so he will be read his rights and fingerprinted.
At arraignment, CBS News legal analyst Rikki Klieman noted that Trump's team might want to pause the proceedings to read the charge or charges against him before entering a plea.
News cameras spotted Trump leaving Trump Tower and getting into an SUV. His Secret Service motorcade then departed for the courthouse in lower Manhattan, where he will be taken into custody and processed on criminal charges before his first court appearance.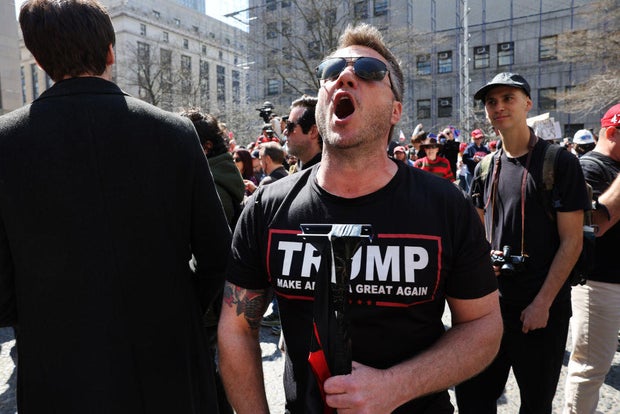 Supporters of former President Donald Trump gather outside of the Manhattan Criminal Court before his arraignment on April 4, 2023, in New York City.
Spencer Platt/Getty Images
A small park built on a site that was once a swampy, sewage-filled pond is ground zero for the frenzy surrounding Trump's expected surrender.
Hundreds of onlookers, protesters, journalists and a few attention-seeking politicians swarmed into the confines of Collect Pond Park, which sits across the street from the criminal courthouse where Trump was to be arraigned.
The crowd is small, by the standards of New York City protests, which routinely draw thousands. And fears that unruly mobs might force police to shut down swaths of the city proved to be unfounded, with security measures mostly disappearing within a couple of blocks.
But within the park and the surrounding sidewalks, there was plenty of chaos.
Metal barricades separated Trump supporters from anti-Trump protesters, and police stepped in to break up small skirmishes. Journalists, some of whom had taken turns waiting in line all night to reserve a coveted seat in the courtroom, pressed in on notable figures who appeared.
Whistles and jeers from anti-Trump protesters nearly drowned out remarks by Rep. Marjorie Taylor Greene, a Georgia Republican, who had come to support Trump. But she drew cheers from the pro-Trump contingent before making a fast exit as journalists jostled for position around her.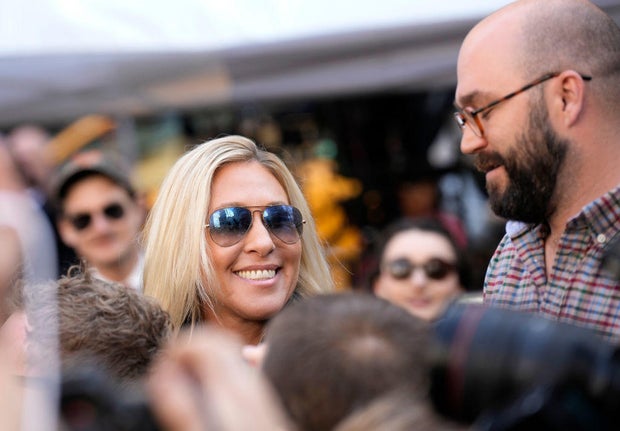 Rep. Marjorie Taylor Greene walks through the crowd gathered outside the courthouse where former President Donald Trump will arrive for his arraignment on April 4, 2023, in New York City. Drew Angerer/Getty Images
Also on hand to support Trump was Rep. George Santos, the besieged Republican congressman facing multiple investigations into lies about his biography that he told while running for office.
"I'm not here for the cameras," he insisted to reporters. "I want to support the president, just because I think this is unprecedented, and it's a bad day for democracy."
A view from above looking out onto the Collect Pond Park, west of the courthouse in Manhattan, shows the size of the crowd that has gathered ahead of Trump's arrival. The group on the north side, at the bottom of the photo, is primarily made up of anti-Trump protesters, who are separated by police barricades from pro-Trump demonstrators on the south side: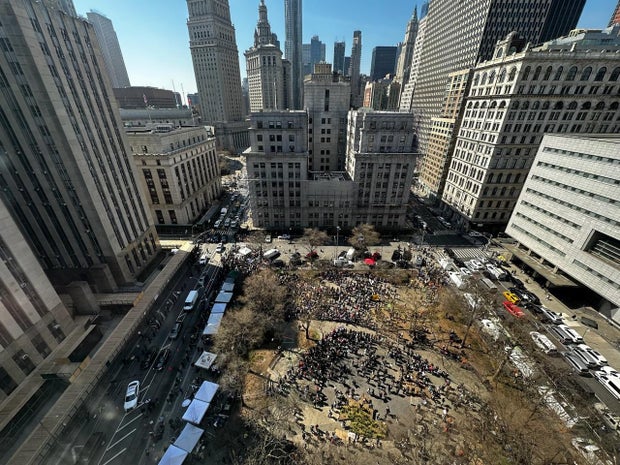 Demonstrators gather in Collect Pond Park across the street from the Manhattan courthouse on Tuesday, April 4, 2023. CBS News / Graham Kates
Trump is not expected to have his mug shot taken when he is processed later Tuesday, according to two sources familiar with the plans for his arrest. Trump is also not expected to be placed in handcuffs, since he will be surrounded by federal agents and police officers.
— Graham Kates and Jessica Moore
A Trump fundraising email with the subject line "My last email before my arrest" mourned the "loss of justice in America" ahead of his surrender.
"As I will be out of commission for the next few hours, I want to take this moment to THANK YOU for all of your support," the email said. "I was blown away by all of the donations, support, and prayers we have received. It's sad to see what's happening — not for myself, but for our country. This is not the America you and I once knew." 
The fundraising email went on to say, "there is no doubt in my mind that we will prevail once again and WIN the White House in 2024," before asking people to chip in and "please make a contribution peacefully to SAVE AMERICA." 
The email was sent by a joint fundraising committee supporting Trump's 2024 presidential run. Jason Miller, a top Trump aide, said Monday that the campaign had raised more than $8 million in the four days since news of the indictment broke.
New York City ramps up security ahead of Trump arraignment
05:14
The NYPD has implemented strict security measures around both Trump Tower in midtown Manhattan, where the former president stayed overnight, and the courthouse in lower Manhattan, about four miles south. "Dozens upon dozens" of Secret Service agents will be on hand to protect Trump as he makes his way to the arraignment later in the day, one law enforcement source said.
The area around the courthouse was crowded but mostly calm in the morning, with barricades around the building and a throng of media members camped out across the street. Police on the scene said they expected the crowd to be manageable given the confined nature of the space.
A smattering of Trump supporters were present at a nearby park ahead of a planned protest led by GOP Rep. Marjorie Taylor Greene several hours before Trump was due to turn himself in.
Former NYPD Commissioner Bill Bratton said he expects the day "to go off quite well," noting that a "minimum number" of demonstrations are planned across the city.
"I think both the police and the media will outnumber any demonstrators down there for Mr. Trump or against him," Bratton told CBS News.
The former president's first court appearance is scheduled for 2:15 p.m. ET. Judge Juan Merchan, who oversaw the grand jury's investigation, is presiding over the arraignment. 
In a typical arraignment in New York, the clerk reads the charges aloud, and the defendant enters a plea of guilty or not guilty on each count. No electronics are allowed in the courtroom, but reporters will be on hand to witness the proceedings and relay the charges when they are read.
Trump will likely be released from custody after the hearing.
Merchan oversaw the successful prosecution of two Trump Organization entities that were convicted of tax fraud in December 2022. He is also overseeing an ongoing criminal case against Steve Bannon, Trump's former White House adviser.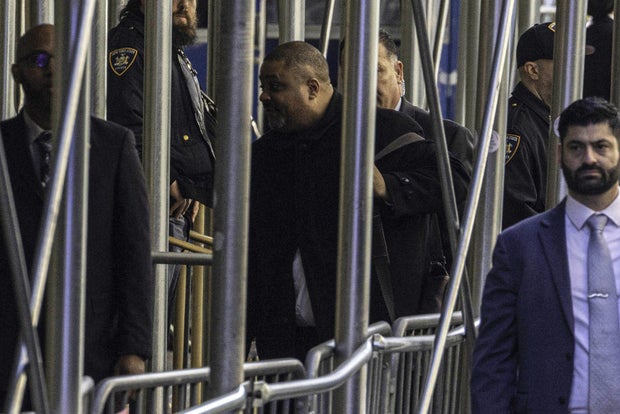 Manhattan District Attorney Alvin Bragg arrives at the courthouse in lower Manhattan on Tuesday, April 4, 2023. 
Alex Kent/Bloomberg via Getty Images
Manhattan District Attorney Alvin Bragg will be holding a press conference following Trump's arraignment, his office announced on Monday night. Bragg arrived at the courthouse Tuesday morning.
The charge or charges against Trump were still sealed on Tuesday morning ahead of the arraignment. The indictment will be unsealed at the arraignment where he will be formally charged. 
Press lined up overnight to access Trump's arraignment
01:42
Since there will be a limited number of journalists allowed in the courtroom, reporters and other members of the news media have been lined up outside the courthouse at 100 Centre St. overnight. 
There will be no video cameras allowed in the court, just five still photographers. 
Read more at CBS New York. 
Judge Juan Merchan ruled Monday night that video recording of the proceedings would not be allowed. Several media organizations, including CBS News, had petitioned to allow video and photo coverage of Trump's arraignment, but New York has one of the strictest policies in the country against cameras in the courtroom, according to The Fund for Modern Courts, a nonpartisan nonprofit. 
Merchan ruled that five photographers would be allowed in the courtroom to take still photos "for several minutes" before the arraignment begins. After that, "No further photography will be permitted in the courtroom." Electronic devices, including cellphones and laptops, will also not be permitted.
Cameras will be allowed in the hallways of the courthouse, Merchan ruled.
Trump's legal team wanted cameras kept out of the courtroom, saying they would "create a circus-like atmosphere," "raise unique security concerns" and are "inconsistent with President Trump's presumption of innocence."
Read more here.
The prospect of Trump being found guilty of a crime has raised an intriguing question about his bid to retake the White House: could he still become president if he's convicted?
The short answer, from a legal perspective, is yes, according to experts. 
While charges against a former president and leading contender for a major party's presidential nomination are unprecedented, there is nothing in the Constitution that prevents someone who has been charged or convicted from seeking or taking office. 
"It's pretty widely accepted that the list of qualifications in the Constitution is exclusive — that is, Congress or states can't add qualifications to those listed in the Constitution," said Derek Muller, a law professor at the University of Iowa, before Trump's indictment. "It's something that really doesn't affect your ability to run as a candidate, to appear on the ballot, or to even win the election."
Read more here.
A person familiar with the matter told CBS News over the weekend that Trump is being charged with falsifying business records in the first degree, a felony in New York state.
The charge stems from alleged hush money paid in 2016 to adult film star Stormy Daniels to buy her silence regarding an affair she claimed to have had with Trump. 
In total, there are approximately 30 counts in the indictment, two sources confirmed to CBS News last week.
Read more here.