The Lincoln Project has taken shots at Donald Trump over the FBI raid of his Mar-a-Lago estate, suggesting that someone in his inner circle had betrayed him.
As the fallout from the search on Monday of Trump's family home in Florida continues, the conservative CPAC, whose raison d'etre is to target the former president, released a 60-second video that started by asking: "Who was it Donald? Who gave you up to the Feds?"
Accompanied by a narrator whose whispered tone is drenched in subterfuge, the video shows newsreel footage of the search.
"Who told them what you kept in a safe in Mar-a-Lago," the female narrator said. "No, not that stuff," she added.
This referred to images of hand-written notes in a toilet, which relate to claims by New York Times reporter Maggie Haberman of how Trump disposed of sensitive documents.
"The classified documents; 15 boxes of top secret files," the narrator said, "that's naughty Donald."
"But who leaked?" the narrator asks, as an image of Trump beside children Donald Trump Jr. and Tiffany Trump flashes up on screen.
These segued into images of son Eric Trump, daughter Ivanka Trump and son-in-law Jared Kushner, as well as the former president walking next to former First Lady Melania Trump.
Each name is mentioned followed by an insult. "Was it Jared?—ungrateful." "Ivanka?—they're backing away from you." "Don Jr?—your own son." "Eric?—do you even care?"
"Melania?—She wants to escape."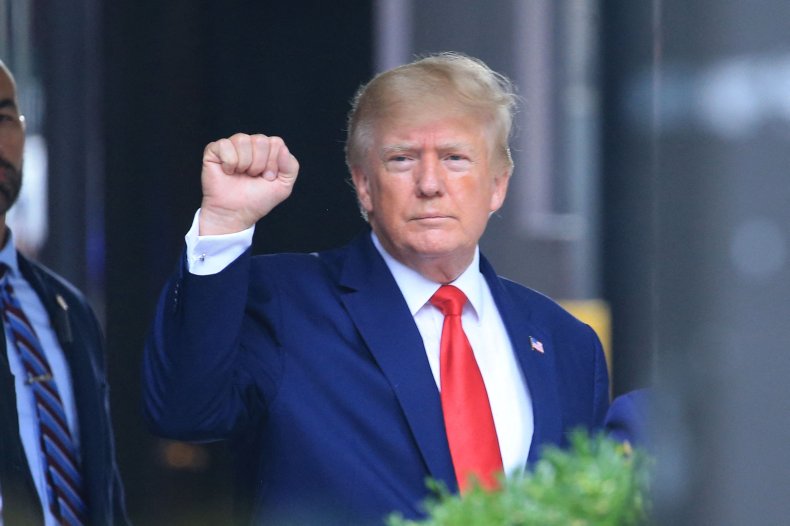 Former US President Donald Trump raises his fist while walking to a vehicle outside of Trump Tower in New York City on August 10, 2022. The Lincoln Project PAC has released a video suggesting that someone in the former president's inner circle tipped off the FBI ahead of a raid on his Mar-a-Lago estate.
Getty Images
Then the former chief of staff Mark Meadows is mentioned as the narrator notes that "all your old Washington friends are talking" to the Jan. 6 Committee investigating the U.S. Capitol riots.
"Maybe it was someone closer, someone you trusted," she said. "Someone who you trusted betrayed you," the ad states. "Now you're the first president to have his home raided by the FBI."
"It's bad Donald, your father would be ashamed and there's no one you can trust."
As exclusively reported by Newsweek, two senior government sources have said that the FBI's warrant to search Mar-a-Lago was based on information from a confidential human source who could "identify what classified documents former President Trump was still hiding."
Regarding the video, which as of Thursday morning had been seen more than 1.7 million times, Lincoln Project co-founder Reed Galen said: "The rats are jumping ship and Donald is realizing he can't trust even his own family."
According to Florida Politics, Galen said "he knows the calls are coming from inside the house and he's running out of time to figure out who it is."
Trump's team, which Newsweek has contacted for comment, has reacted to the raid with anger. The former president suggested on Truth Social on Wednesday that those involved in the search may have planted evidence.