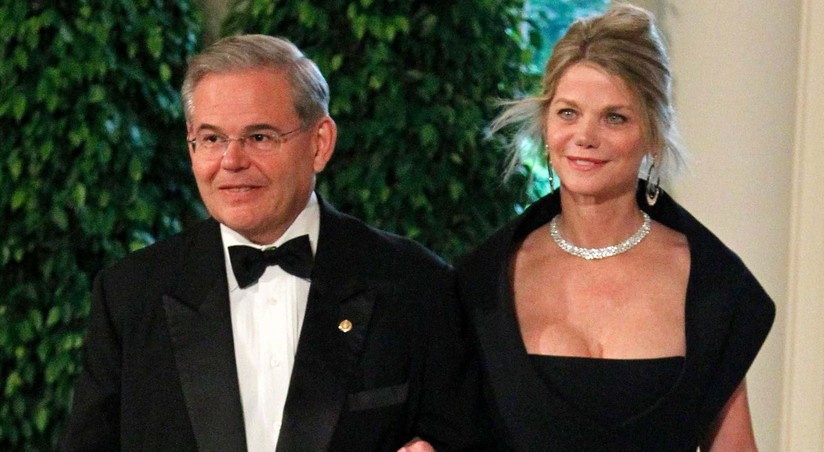 The Wall Street Journal journalists Corinne Ramey and James Fanelli write that the wife of US Senator Bob Menendez, Nadine Arslanian, is drawing scrutiny in a federal probe, Report informs.
Investigators are examining whether Nadine Arslanian received gifts or services from individuals who sought favors from New Jersey's senior senator.
Armenianophile and Turkophob Bob Menendez has been a US senator since 2006 and serves as chair of the Senate Foreign Relations Committee.
The US attorney's office for the Southern District of New York has subpoenaed associates of Menendez's wife, Nadine Arslanian, whom he married in 2020, the WSJ writes. Subpoenas issued in recent months have asked for information about both Arslanian and Menendez, according to the sources.
The probe is separate from a 2015 public-corruption case prosecutors brought against Menendez, which led to a mistrial.
The probe dates back to at least 2019. Late that year, court records show, federal investigators executed search warrants at the home and office of Wael Hana, the founder of IS EG Halal, an Edgewater, N.J., company that was designated the only business allowed to certify halal meat being exported to Egypt. Hana is an associate of Arslanian, according to the people familiar with the matter.
Prosecutors were investigating possible undisclosed foreign lobbying in the US and other potential violations of federal law, according to court documents filed in 2020 by Lawrence Lustberg, a lawyer for Hana, who was seeking the return of property seized by the government.
Prosecutors in recent months also subpoenaed New Jersey lawyer Antranig Aslanian, a longtime friend of Nadine Arslanian who has represented Wael Hana. Antranig Aslanian said that when prosecutors questioned him about Arslanian, he told them that he had known her for 25 years and that they were both Armenian.
Aslanian said he had no idea what prosecutors were looking for.
Menendez and Arslanian live in Englewood Cliffs, N.J. Media reports about the couple's engagement and wedding identify Arslanian as an international businesswoman.
She attended New York University and studied international politics, she said in a 2020 interview posted on YouTube.
State business records show Arslanian is the president of Strategic International Business Consultants LLC, a holding company that was incorporated in New Jersey in 2019. The senator's financial disclosure forms showed she worked for Fusion Diagnostics Laboratories, a New Jersey medical testing company. She worked for a short time in sales and marketing, Fusion's chief executive, Moataz Abdalla, said.
In the 2015 public-corruption case against Menendez, federal prosecutors alleged he accepted about $1 million in gifts—including flights on a private jet and vacations—from a Florida ophthalmologist.
Senator Menendez has been considered one of the prominent lobbyists of the Armenian diaspora in the US for many years. As we can see in the case of Florida ophthalmologist Salomon Melgen, he did not do it for free. Since 1995, Menendez has been one of the most active functionaries of the so-called Congressional Caucus on Armenian Issues.
Menendez blocked a resolution allowing the US to sell helicopters to Azerbaijan, as well as the appointment of Matthew Bryza as US ambassador to Azerbaijan.
Besides, he blocked US military assistance to Azerbaijan and the sale of F-16 fighter jets and components to Turkiye.