Ukrainian aquatic drones which may have been used to target the strategically key Kerch Bridge from Crimea to Russia are difficult for Russian defenses to detect, experts have told Newsweek, with Ukraine likely to double down on the cheap uncrewed technology to target Moscow's forces and infrastructure.
Russia's National Anti-Terrorism Committee said on Monday that two Ukrainian unmanned surface vehicles (USV) targeted the bridge just after 3 a.m. local time (8 p.m. ET). The Gray Zone Telegram channel, linked to the Wagner Group of mercenaries, said there were two strikes on the bridge, the first at 3:04 a.m. and the second around 3:20 a.m., but Newsweek could not independently verify this. Kyiv has not claimed responsibility for the attack.
The road bridge, rather than the rail crossing, was damaged, the committee said, adding that two adults had been killed and one child injured.
The 12-mile-long Kerch bridge is a crucial route connecting mainland Russia to the annexed Crimean peninsula, which Russia has controlled since 2014. Ukraine has repeatedly said it aims to recover the peninsula, and experts have predicted its ongoing counteroffensive could target the bridge.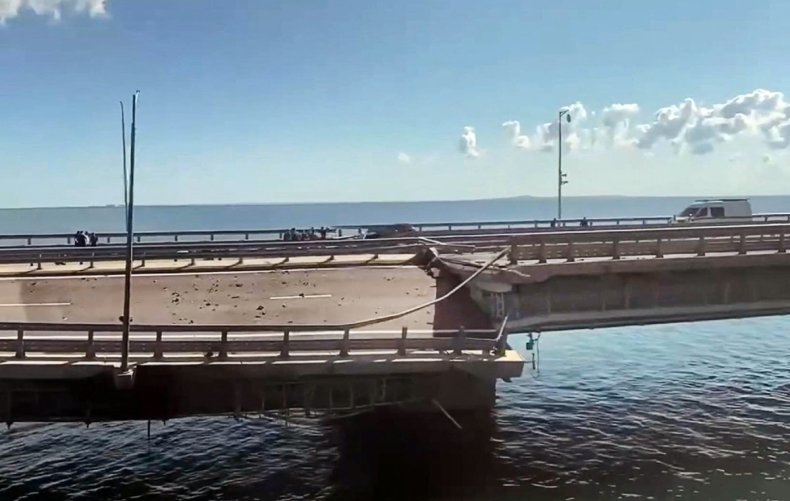 A video grab taken from a Crimea24TV footage on July 17, 2023 shows the damaged Kerch bridge, linking Crimea to Russia, which was heavily damaged following an attack. It is very difficult for Russia to protect the length of the bridge from Ukrainian surface drones that are hard to detect until shortly before they reach their target, experts suggested to Newsweek on Monday.
Crimea24TV/AFP via Getty Images
It is very difficult for Russia to protect the length of the bridge from Ukrainian surface drones, which are very hard to detect until shortly before they reach their target, experts suggested to Newsweek on Monday.
In October 2022, the Kerch Bridge was damaged in an explosion that Moscow blamed on Ukraine, although Kyiv has never officially claimed responsibility for the blast.
In a post to Twitter, Mykhailo Podolyak, an adviser to the head of Ukrainian President Volodymyr Zelensky's office, appeared to refer to the Kerch Bridge, tweeting: "Any illegal structures used to deliver Russian instruments of mass murder are necessarily short-lived."
Oleksiy Goncharenko, a member of Ukraine's parliament, wrote on Telegram on Monday that the damage to the bridge was a "huge success for Ukraine," adding: "Everyone involved in this should be presented with the highest state awards."
Russian Foreign Ministry spokesperson, Maria Zakharova, wrote on Telegram that Kyiv was responsible, adding in a post that "decisions are made by Ukrainian officials and the military with the direct participation of American and British intelligence agencies and politicians."
Newsweek reached out to the Russian and Ukrainian Defense Ministries for comment via email on Monday.
Although few details are confirmed about any attacking USVs allegedly operated by Ukraine, Kyiv has previously used several types to target Russian forces, according to military and defense expert, David Hambling. Currently, experts cannot be sure what these uncrewed vehicles even look like, added Samuel Bendett, of the Center for Naval Analyses think tank.
Russia has repeatedly said Ukraine targeted military bases in Crimea with naval drones, including Russia's Black Sea base at Sevastopol. On Sunday, Russia said it had "thwarted" a Ukrainian attack of seven airborne drones and two unmanned underwater vehicles on the port city.
Ukraine has used USVs in the past that measure less than 20 feet long, with a top speed of around 50 miles per hour, Hambling told Newsweek on Monday. Carrying around 400 pounds of explosives, these USVs would do less damage than weapons that "would typically be used to attack a structure of this size," he said, referring to the Kerch Bridge explosion.
However, they would still be able to "do significant damage" and it may be that larger boats have been used without being detected, he said. Although there are sensors and cameras attached to the bridge, it is difficult to monitor the maritime and aerial environment surrounding it, Bendett told Newsweek.
Using relatively inexpensive uncrewed vessels, Ukraine is able to wreak some havoc on Russian operations, he said. Ukraine has succeeded in creating "cheap, expendable, one-way attack boats."
Experts say Ukrainian attack USVs lie very close to the water, and with their small size, they are very difficult for Russian forces to spot visually or with radar and sonar. They can "be obscured by waves until they are extremely close" to their target, Hambling said.
Systems such as radar are not designed to pick up such small and unmanned vehicles, Steve Wright, a senior research fellow in avionics and aircraft systems at the University of the West of England, U.K. told Newsweek on Monday.
Ukraine could have distracted Russian forces away from the real attack with more visible vessels, Hambling also argued.
But even if the vessels are spotted, "they are not easy to destroy," Hambling added.
Analysts say large-caliber automatic cannons or heavy machine guns are Russia's best bet for fending off Ukrainian USV attacks. This type of weapon is "ideal for destroying them and have been effective" in the past, Hambling said, but there are ways for Ukrainian USVs to avoid these.
Yet using such weaponry becomes impractical the more USVs are used in an attack, Wright said. Much as airborne drones can attack in swarms, machine guns would likely be overwhelmed in a mass attack using USVs, he said. Russia will need to develop an entirely new set of defensive systems, for example, counterattack USVs, to take on large numbers of the uncrewed vehicles in the future, he predicted.