Ukraine's operation to strangle supply lines in annexed Crimea and make it untenable for occupying Russians is going according to plan, with Kyiv one step closer to an attempt to liberate the Black Sea peninsula, an official said on Thursday.
The peninsula was rocked by explosions on Wednesday and Thursday. Attacks targeted the Russian navy's Black Sea fleet and damaged a large vessel and a submarine at a key naval base in Sevastopol; and a Russian air force S-400 air-defense battery was reportedly destroyed in Western Crimea a day later.
Strikes in Crimea, which is Russia's central logistics hub for its forces in southern Ukraine, have become routine in recent months amid Kyiv's counteroffensive to reclaim territory occupied by Russian forces. Attacks have struck military targets in a push to weaken Moscow's defenses and disrupt Russia from transporting equipment, weapons, and troops from mainland Russia into the peninsula.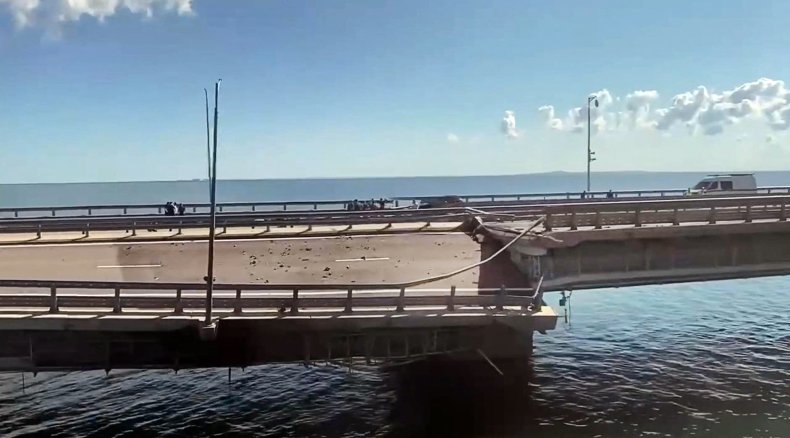 This video grab taken from a Crimea24TV footage on July 17, 2023 shows the damaged Kerch Strait Bridge, linking Crimea to Russia, following an attack. Moscow said two drones had hit the structure in the early hours and blamed the Kyiv regime.
-/Crimea24TV/AFP/Getty Images
Ukrainian President Volodymyr Zelensky has pledged to undo Putin's annexation of Crimea.
While Ukraine didn't immediately claim responsibility for strikes in Crimea's Yevpatoria area on Thursday, Natalia Humeniuk, the spokesperson for the southern military command, appeared to hint at involvement from Kyiv.
"The concentration of military facilities, the presence of an airfield nearby—all this suggests that the work is being carried out absolutely as planned. The goals are legitimate, entirely military," Humeniuk said on national TV.
And the commander of Ukraine's air force, Lieutenant General Mykola Oleshchuk, wrote on his Telegram channel after Wednesday's Sevastopol strikes: "While the occupiers are still recovering from the night-time bombardment in Sevastopol, I would like to thank the pilots of the Ukrainian Air Force for their excellent combat work! To be continued…"
Meanwhile, on Monday, Ukrainian military forces said they had reclaimed control over four strategically vital oil and gas drilling platforms in the Black Sea near Crimea.
This week's developments are just a sliver of a long-term, sophisticated operation by Ukraine to pave the way toward the peninsula's recapture, experts assess.
"Raids on Crimea and oil/gas platforms to eliminate radar, then a complex drone/missile strike against Sevastopol. This is a very sophisticated approach to making Crimea untenable for the Russians," former U.S. General Ben Hodges said on X, formerly Twitter, on Thursday.
Kerch Strait Bridge
Retired Army Lt. General Stephen Twitty, former deputy commander of U.S. European Command, told Newsweek in May that an attempt to retake the peninsula would involve Ukraine taking action to prevent Russia from resupplying from Crimea, whether it be logistics or whether it be troops.
Retired U.S. Marine Corps Colonel Mark Cancian told Newsweek that Ukraine will try to cut Crimea off, take out the strategically vital Kerch Strait Bridge that connects Russia with Crimea, and "just squeeze it over time make it untenable to hold."
Cancian added that there will be an extended siege in a Ukrainian attempt to recapture Crimea.
Ukraine's second strike on the Kerch Strait Bridge on July 17, which damaged its crucial railway, brought those objectives closer to reality, according to Humeniuk. She said last month that the peninsula is increasingly becoming an island in a logistical sense.
Supply of Russian logistics via Crimea has become complicated and slow, Humeniuk added, saying that, while other routes exist for transporting weapons and equipment, these are overloaded because they're also used by civilians.
The Kerch Strait Bridge is a key supply route for Russia's forces and is its sole land link with Crimea. It consists of two main parts—a four-lane roadway for vehicles and a railway bridge with two tracks—and is crucial to sustaining Moscow's military offensives in southern Ukraine.
Importantly, Newsweek found that the July 17 strike on the bridge damaged its crucial railway, contrary to Russian claims that the attack affected only the roadway on spans of the structure.
Data and satellite images sent exclusively to Newsweek by Molfar, a global open-source intelligence agency, dated on July 17 and 23, show damage to railroad parts of the bridge.
While the visible portion of the railroad structure appears stable and is likely able to safely carry passenger cars, a source with knowledge of construction work at the Crimean bridge told Molfar that, as one column has cracks, the movement of freight trains across the bridge is no longer possible.
The railway link between annexed Crimea and Russia had enabled the Russian army to transport heavy equipment swiftly, and troops regularly relied on the railroad to deploy such machinery to Crimea. This will now be hindered due to the damage caused by the explosions on July 17, and could have serious strategic implications for the Russian military presence in the region, Molfar researchers assessed.
Krym.realii, the Crimean project of the Ukrainian service of Radio Liberty, reported on September 6 that the July explosion on the Kerch bridge has greatly affected Russia's military logistics of Russia. It added that its journalists noticed a large convoy of Russian military equipment and armored trucks taking alternative routes this month. Local residents told the publication that Russian military convoys have been moving through the peninsula day and night, creating emergency situations on the roads.
The Washington D.C.-based Institute for the Study of War assessed last month that Ukraine's strikes on key bridges linking Crimea to southern Ukraine and to mainland Russia are impacting Moscow's ability to move resources. The think tank said this was also hampering the Kremlin's efforts to fend off Kyiv's ongoing counteroffensive to reclaim its territory.
Cancian told Newsweek this month that attacks on the Kerch Bridge are important steps for squeezing Crimea.
"I think the Ukrainian characterization is correct; Russian logistics are becoming more complicated and slowing down. The bridge, with its road and rail connections, provided an easy way of getting supplies and equipment from Russia proper to Crimea and on to the western parts of the front," Cancian said.
Fuel Shortages
Elina Beketova, an in-residence fellow with the Democracy Fellowship program at the Center for European Policy Analysis, told Newsweek that Ukraine has been successful in strangling Russia's supply lines and hampering Russia's logistics, particularly with the July 17 strike on the Kerch bridge.
"Since then, the occupying authorities have been closing the Kerch bridge from time to time, and it has less functional capacity to have the same amount of transport on it, as it was before the attack," said Beketova, noting that in recent days, people on local social media have been complaining about the lack of diesel fuel at gas stations or that it is more expensive than in other places.
The occupying authorities of Crimea confirmed that they had interruptions and logistical problems with its delivery and conducted a meeting of the so-called government on the topic of the deficit of fuel on September 11, said Beketova.
"According to the local occupying authorities, as of September 12, they had fuel reserves for four days, and their main task was to support agricultural producers during fieldwork," she said. "But even after it, people complained that they would still have problems finding the fuel or that it was expensive."
Newsweek has contacted Russia's foreign ministry for comment via email.
Do you have a tip on a world news story that Newsweek should be covering? Do you have a question about the Russia-Ukraine war? Let us know via worldnews@newsweek.com.
Update 09/14/23, 10:08 a.m. ET: This article was updated with quotes from Elina Beketova.