Raid took place in Valencia in Carabobo state on Sunday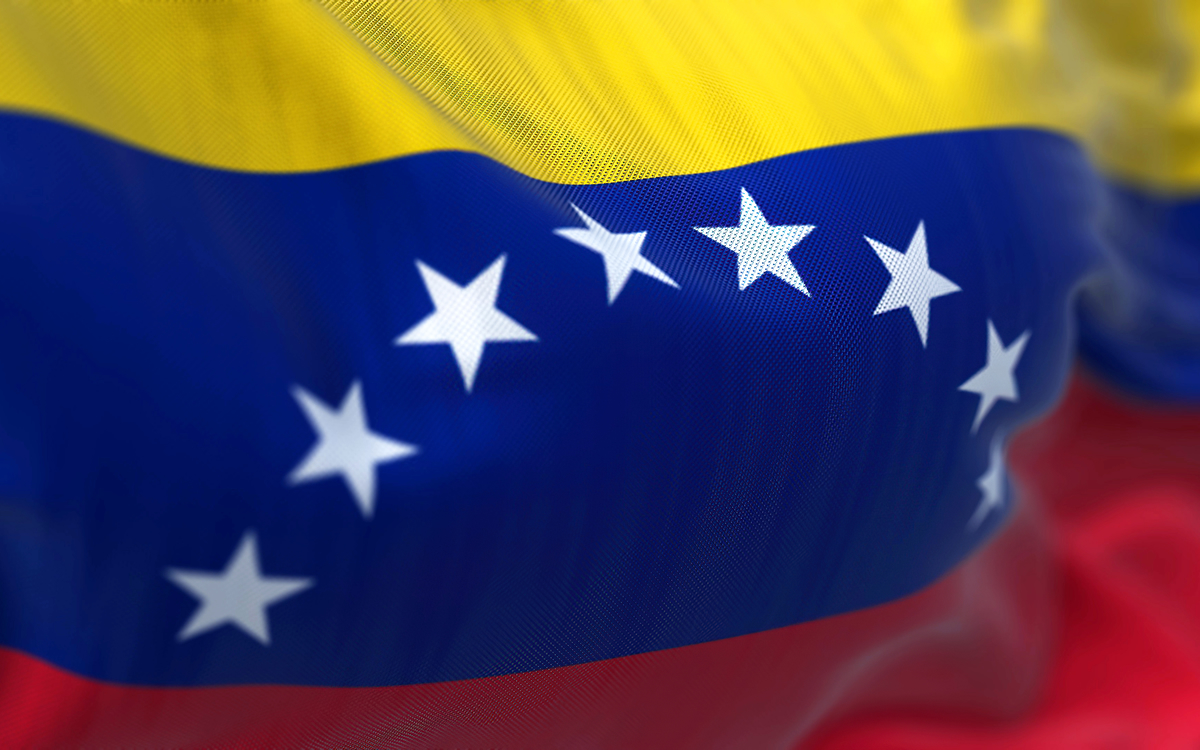 (Photo by Rarrarorro via Bigstock)
Police in Venezuela's Carabobo state on Sunday raided a gay sauna and arrested 33 people.
A Venezuelan activist told the Washington Blade the arrests in Valencia, which is the country's third largest city, took place "without a search warrant, without due process" and violated "the fundamental rights of 33 Venezuelan adults who were in full use of their mental and physical faculties."
"[They were subjected to] degrading treatment," said the activist. "[The police] deprived them of their liberty and subjected them to public ridicule."
One local media report indicates an "orgy" was taking place during a "sex party" at the sauna when the raid took place. 
The report indicates one of the participants who police arrested lives with HIV. It also said party organizers planned to sell videos of the men having sex they recorded.
The activist with whom the Blade spoke said a judge on Wednesday released 30 of the 33 men who were arrested and ordered them to report to authorities every 30 days until they go to trial. The activist noted the sauna's owner and two masseurs will remain in custody until they are able to pay bail.
Discrimination and violence based on sexual orientation, gender identity and HIV is commonplace in Venezuela, a South American country that remains in the midst of an ongoing political and economic crisis.
Members of Venezuela's General Directorate of Military Counterintelligence in January 2021 raided the offices of Azul Positivo, an HIV/AIDS service organization and arrested the group's president and five other staff members. Police on Feb. 15, 2019, raided the offices of Fundación Mavid, another HIV/AIDS service organization in Valencia, and arrested three staffers after they confiscated donated infant formula and medications for people with HIV/AIDS.
Caribe Afirmativo and Fundación de Atención Inclusiva, Social y Humana (FUVADIS) are among the advocacy groups in neighboring Colombia that continue to work with LGBTQ and intersex Venezuelans who have fled their country in recent years.
"Persecution against LGBTIQ+ people in Venezuela is increasing," said the Venezuelan Education-Action Program on Human Rights (PROVEA), a Venezuelan human rights organization, in a tweet. 
"We reiterate the need for due process, the right to private counsel and that every person knows the reasons for their detention," added PROVEA. "To be homosexual is not a crime."
Marielle Franco was a bisexual woman of African descent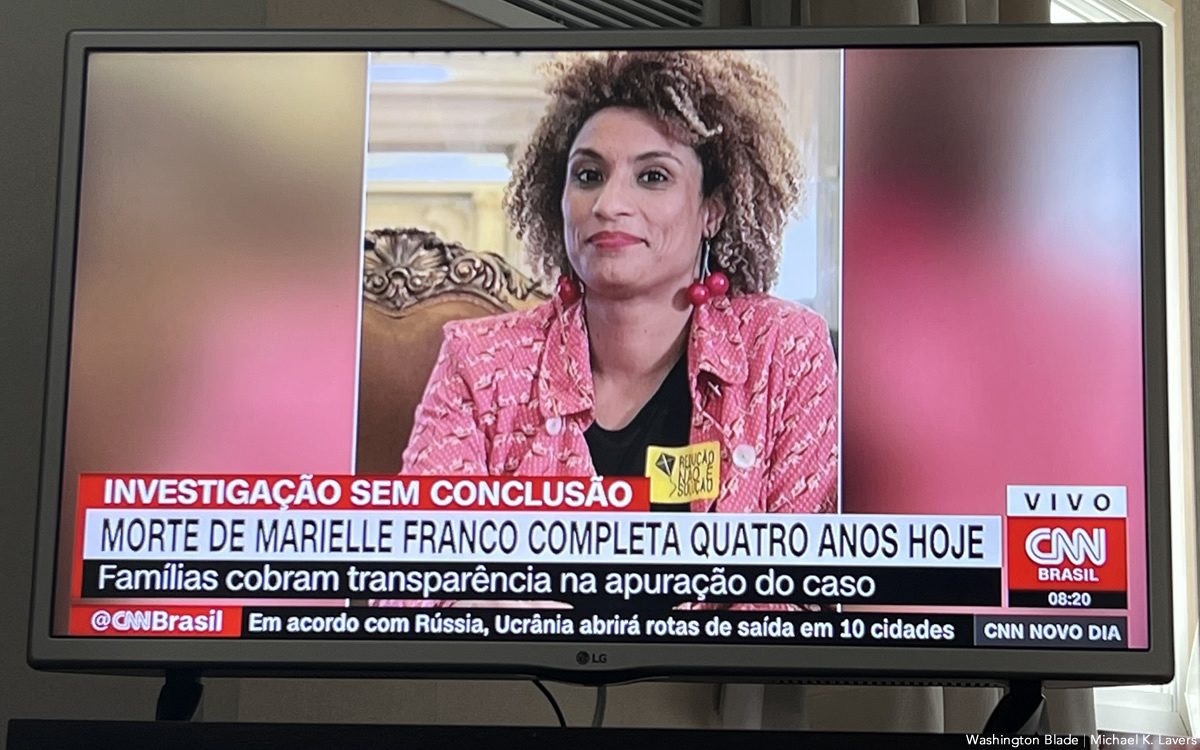 A Brazilian television station on March 14, 2022, reports on the fourth anniversary of Rio de Janeiro Municipal Councilwoman Marielle Franco's murder. A former firefighter has been arrested in connection with her death. (Washington Blade photo by Michael K. Lavers)
Brazilian police on Monday arrested a third person in connection with the 2018 murder Rio de Janeiro Municipal Councilwoman Marielle Franco and her driver.
Reuters reported officers arrested Maxwell Simões Correia, a former firefighter who allegedly hid the guns that two former police officers used to shoot Franco and Anderson Gomes in Rio's Lapa neighborhood on March 14, 2018.
Franco, a bisexual woman and single mother of African descent, grew up in Maré, a favela in the northern part of Rio that is close to the city's international airport. Franco, among other things, was an outspoken critic of police raids in Rio's favelas that have left hundreds of people dead.
Authorities in 2019 arrested two former police officers in connection with Franco's murder.
Reuters reported one of them, Elcio de Queiroz, who prosecutors say drove the car that he and Ronnie Lessa, his alleged co-conspirator, used in the shooting, has entered into a plea agreement. 
Lessa lived in the same large condominium complex in Rio's exclusive Barra da Tijuca neighborhood in which former President Jair Bolsonaro lives.
Bolsonaro, a former Brazilian Army captain who represented Rio in Congress for decades before he became president, had yet to be elected when Franco and Gomes were murdered.
Bolsonaro has strongly denied media reports that indicate Lessa visited his home before the killings. Franco's widow, Rio Municipal Councilwoman Mônica Benício, during a March 2022 interview with the Washington Blade described the fact that Lessa and Bolsonaro were neighbors as "just a coincidence."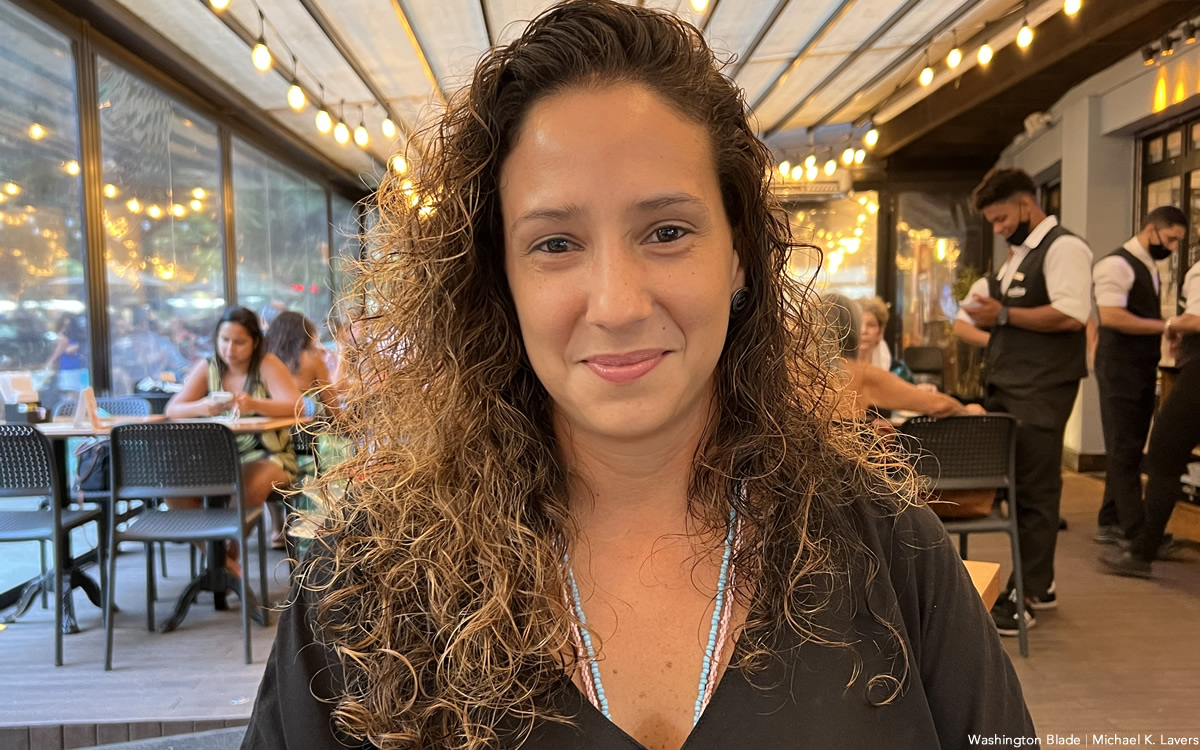 Rio de Janeiro Municipal Councilwoman Mônica Benício in Rio de Janeiro, Brazil, on March 19, 2022. Her wife, Rio de Janeiro Municipal Councilwoman Marielle Franco, and her driver, Anderson Gomes, were murdered on March 14, 2018. (Washington Blade photo by Michael K. Lavers)
Lessa and Queiroz remain in custody.
Justice Minister Flávio Dino on Monday said during a press conference in Brasília, the Brazilian capital, that Queiroz has provided investigators with information they can use to help identify others who plotted to assassinate Franco and Gomes.
"We are close to solving this horrendous crime," said Dino.
Benício on Monday praised Dino and President Luiz Inácio Lula da Silva for their continued efforts to investigate Franco's murder.
"I would like to thank Minister Flavio Dino and President Lula for their efforts to seek a solution to this crime that has shaken our state's structures," tweeted Benício. "Who had Marielle killed? I have faith and conviction that we will have that answer." 
Agradeço ao empenho do ministro @FlavioDino e do presidente @LulaOficial em buscar uma solução para esse crime que abalou as estruturas do nosso Estado. Quem mandou matar Marielle? Tenho fé e convicção de que teremos essa resposta.

— Monica Benicio 🏳️🌈 (@monica_benicio) July 24, 2023
Benício on Monday sent the Washington Blade this statement.
"The Federal Police and Public Prosecutor's Office operation renews our hopes in having an answer about who are the principals and their motivations for the murder of Marielle and Anderson.
The role of the FP in investigations, in collaboration with the MPRJ (The State of Rio de Janeiro's Public Ministry), has been fundamental, But our struggle as family members and civil society, which formed a large task force over these five years, is what has made this case stand out.
Maxwell's arrest, today, is an important step towards the accountability of others directly involved in the execution of the crime, but I hope that the PF and the Public Prosecutor's Office continue in this mutual cooperation action to take Ronnie Lessa and Elcio Queiroz to trial later this year. The pact of silence between these killers has been broken, it is necessary to act with agility and prudence to reach the principals and their motivations. Answering who ordered Marielle's death and why is essential for us to restore democracy in our country. I am hopeful that moment is approaching."
Marco Antonio Ávila faced insults about sexual orientation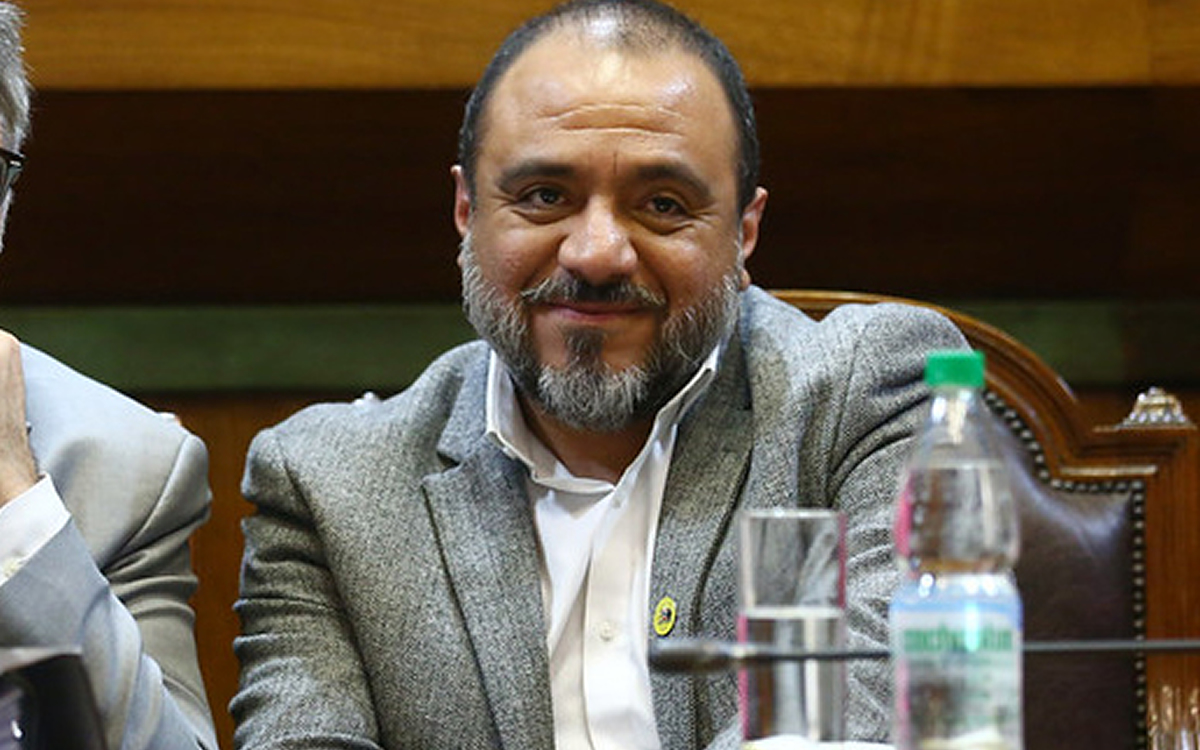 Chilean Education Minister Marco Antonio Avila. (Photo courtesy of the Chilean Congress)
The Chilean Congress on Wednesday rejected a complaint against openly gay Education Minister Marco Antonio Ávila that a group of conservative lawmakers filed against him.
President Gabriel Boric himself denounced and repudiated the series of homophobic statements against his Cabinet member.
The traditional right and the extreme right voted as a block in favor of dismissing Ávila. They accused him of infringing upon parents' rights to educate their children and failing to fulfill his responsibilities to address an alleged "deep educational crisis." 
Lawmakers voted 78-69 to reject the complaint that 10 conservative lawmakers filed.
Four of the complaint's seven chapters contained references to the Education Ministry's gender or sexual education policies they said Ávila implemented. These policies, however, have been in place since leftist President Michelle Bachelet and right-wing President Sebastián Piñera were in office.
"I have never broken the laws or (violated) the constitution," said Ávila after the vote. "I am a firm defender of democracy, of the constitution and of the tools it contains to control and improve the actions of authorities. But I am also certain that it is through constructive dialogue that the vast majority of those of us who participate in politics can move forward to improve the lives of hundreds and thousands of students, children and young people."
Boric on Twitter reiterated his rejection of the accusation against Ávila and once again emphasized those who brought it showed "homophobic character."
"The constitutional complaint against the Education Minister and professor Marco Ávila is the fourth filed by the right wing in less than a year and a half of government has been rejected," wrote Boric. "Its lack of legal support and homophobic character were on display. Justice and reason have triumphed."
Congress seemed poised to approve the complaint until the lawmakers who introduced it invited Christian Legislative Observatory Director Marcela Aranda to testify against Ávila. 
Aranda is the former spokesperson of the Freedom Bus, which Hazte Oir, an ultra-Catholic organization from Spain, brought to Chile in 2017.
She testified that Avila's "LGTBIQ+ activism and his condition has exceeded the limit of what is private." Congresswoman María Luisa Cordero accused Ávila of encouraging child perversion. 
"I find it unusual, inadmissible, nauseating and disgusting that the Minister of Education … is concerned about the incitement to sexuality and whether they have an active and reactive clitoris … I would have already asked for the famous Ávila to be imprisoned for inciting precocity and child sexual perversion if he were not Education Minister," said the congresswoman. 
She added Ávila "is a fatty liver patient with high bilirubin levels." 
"This attacks the neurons and causes mental incompetence," said Cordero. "He is a person about whom nobody worries because he should be evaluated physically and biologically." 
Ávila (and his ministry), according to Cordero "has a perverse preoccupation with the sexual anticipation and development of schoolchildren."
"They are a bunch of perverts who work from the crotch."
Her statements, which El Mercurio, Chile's leading conservative newspaper, and LGBTQ and intersex organizations documented, made lawmakers from Evópoli, a center-right party, and from the center-left Christian Democracy Party, which is not part of the government, reevaluate whether to vote in favor of dismissing Ávila. The coalitions votes were key.
The Movement for Homosexual Integration and Liberation condemned the anti-gay statements. 
"The statements of these people, especially Cordero, are clearly a response to the minister's sexual orientation and the policies of the Education Ministry to promote LGBTIQ+ human rights," said Movilh. "These are homophobic speeches that go as far as the irrationality of insulting an authority with child abuse just for being gay."
Fundación Iguales Executive Director María José Cumplido told the Washington Blade "it is very good news that the constitutional complaint has been rejected because it had no legal arguments and instead was a ruse to personally attack the minister for his sexual orientation. Therefore, from Fundación Iguales' persepctive we celebrate that there has been a rejection to those homophobic attacks that personally attacked Minister Ávila."
Emilia Schneider, a pro-government congresswoman, pointed out to the Blade that "the constitutional accusation against Minister Antonio Ávila was rejected for being an accusation without legal grounds, based on lies and homophobia."
Schneider is the first transgender woman to win a seat in the Chilean Congress.
"It is a very good sign that the National Congress in its majority is not supportive of this civilizational setback, I regret that we have wasted time in this show of the right and ultra-right," Schneider emphasized. 
Finally, Ávila said that "my call today, after this accusation, is to improve (the treatment of people) in the political world, to respect each other beyond differences, not to turn the fair differences between one and the other into personal attacks."
Gabriel Boric's administration to create equality council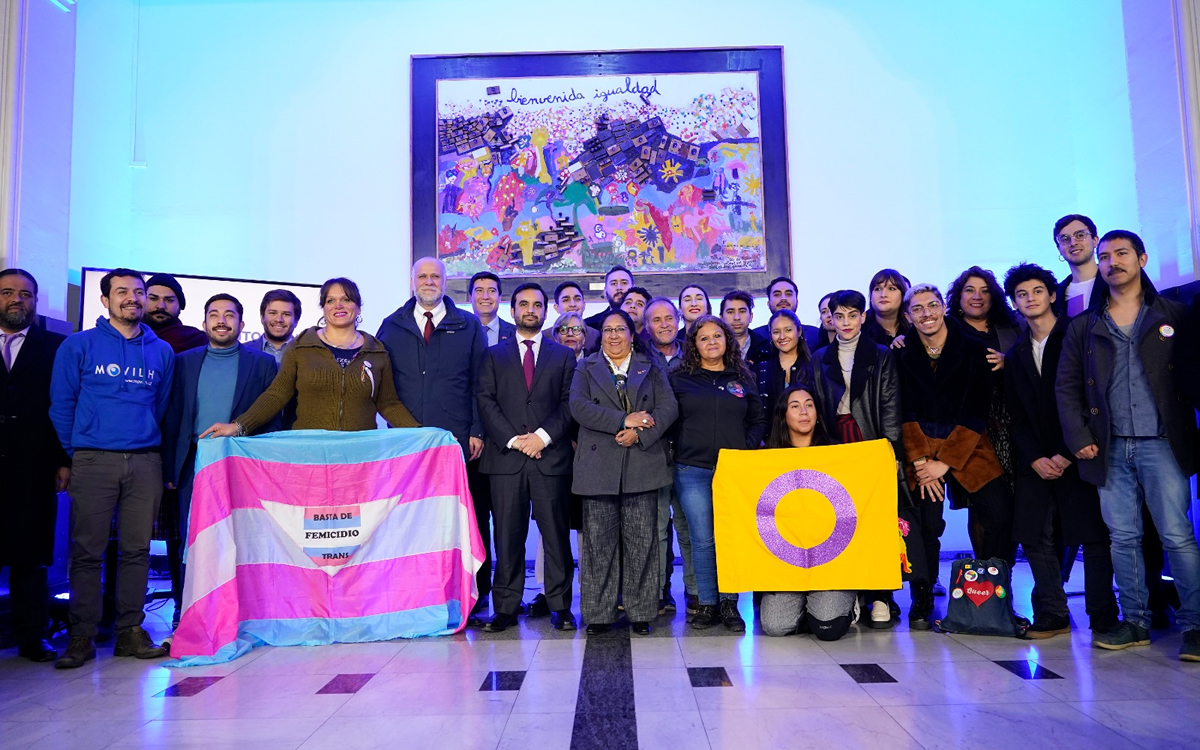 Government officials and LGBTQ and intersex activists attended the announcement of efforts to strengthen Chile's anti-discrimination law. (Courtesy photo)
President Gabriel Boric's administration has announced it intends to strengthen Chile's anti-discrimination law that took effect in 2012.
Law 20,609, named after Daniel Zamudio, a gay man who was murdered in Santiago, the Chilean capital, in 2012, marked an important milestone in the fight against discrimination.
Boric's government is also reportedly going to create an equality and nondiscrimination council, which will provide an institutional framework to fight for LGBTQ and intersex people and other vulnerable groups.
According to the Movement for Homosexual Integration and Liberation (Movilh), the Latin American country's main queer organization, hate crimes doubled over the last year. And for this reason, Movilh for more than a decade has been demanding that Chilean authorities improve the Zamudio Law to prevent violence against LGBTQ and intersex people.
Last month's Pride march that Movilh organized drew more than 180,000 people who demanded improvements to the Zamudio Law.
"We are very happy that our demands were heard and that this announcement is made today in the company of Jaqueline Vera and Iván Zamudio, Daniel's mother and father," said Movilh President Gonzalo Velásquez. "We must not forget that the Anti-Discrimination Law accelerated its approval after the brutal homophobic attack that took the life of Daniel Zamudio in 2012. Along with him, 63 other people have been murdered in Chile because of their sexual orientation or gender identity. It is to them … and to so many victims of other forms of discrimination that we must dedicate this announcement of the strengthening of the law."
Since Boric since he took office in March 2022, he has commissioned the Women and Gender Equality Ministry to work with Chilean LGBTQ and intersex rights organizations to implement his campaign promises. 
State Secretariat Minister Antonia Orellana told the Washington Blade that "first I would like to highlight the work of the governmental roundtable for the rights of LGBTIQA+ people that the Ministry of Women and Gender Equality carried out together with the Sociocultural Coordination of the Presidency in 2022."
According to her, this work "is part of the actions that we have been carrying out to respond to the demands of gender diversity and dissidence gathered at the table, but above all to move towards the protection of people and respect for their identity, freedom and dignity."
"This instance not only allowed us to listen and learn about the particular needs that arise from this experience; receiving them in La Moneda (the Chilean Presidential Palace) was also a sign, a milestone and a message that is consistent with what is commemorated on Pride Day, which is the need to make this diversity visible in search of recognition and respect for the identity and dignity of people, whether they are transgender, lesbian, gay, nonbinary," said Orellana.
"Today, as the Ministry of Women and Gender Equality, we are integrating the LGBTIQA+ community from the possibilities that our institutional framework gives us today," she emphasized.  "All ministries are committed to advancing LGBTIQA+ matters and our Ministry is leading the actions that allow us to push that agenda."
Fundación Iguales Executive Director Maria José Cumplido told the Blade from Concepción that "we believe it is a very good announcement to create an anti-discrimination institution and improve the Zamudio Law. We are happy that the government has listened to us."
"With Movilh we requested many times that the Justice Ministry should host this institution through the Undersecretary of Human Rights. That is the competent state portfolio," added Cumplido.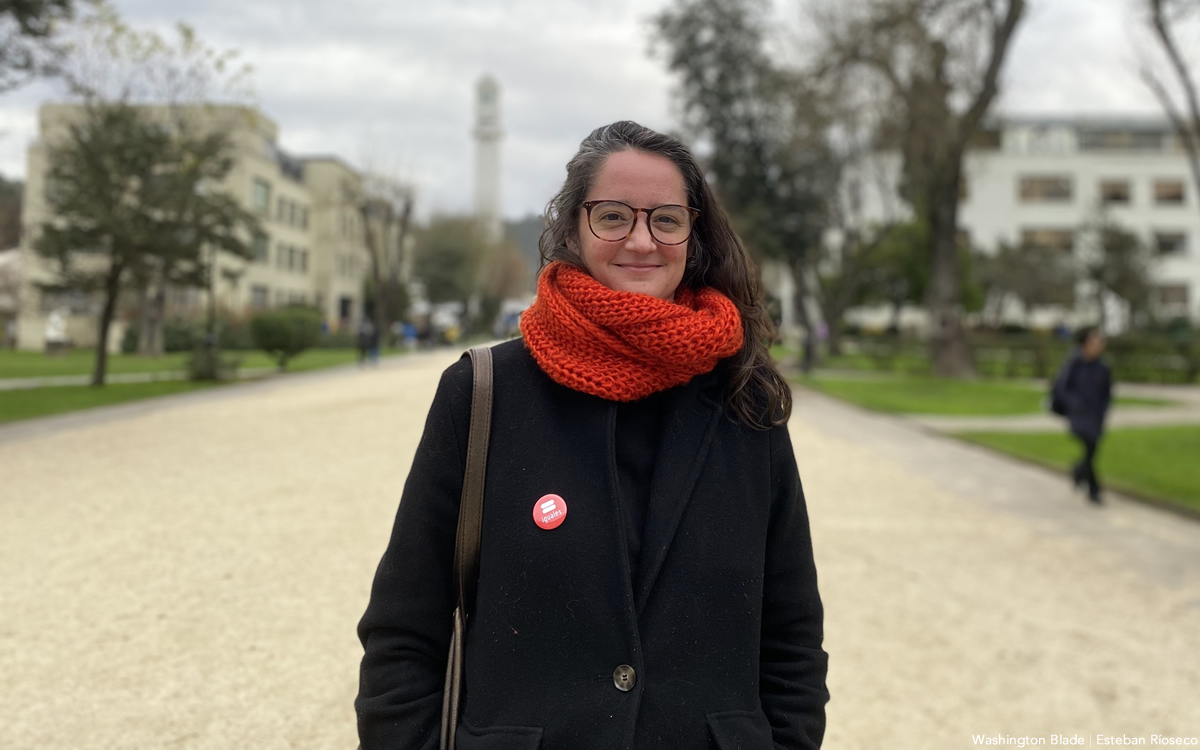 Fundación Iguales Executive Director María José Cumplido. (Washington Blade photo by Esteban Ríoseco)
Orellana further stressed to the Blade that "this new institutionalism is added to other actions that we have been carrying out as a government and that have to do with improving the daily experience of diversities and dissidences, among them the restitution of a public property in the Aysén Region to build the first House of Diversities and Dissidences, which can attend and gather people from the community." She said it will also include "the incorporation of questions on gender identity and sexual orientation in the CASEN (a survey used to create public policy) because it is important to make diversities and dissidences visible, to know how they live, what needs they have, to know and recognize them so that the state can effectively reach all people; or the elimination of discriminatory and stigmatizing practices in health care, including reconversion therapies, through new guidelines of the Health Ministry."
"We have other commitments also in labor matters, to protect the right to work of trans people," said Orellana. "There are still many actions to be taken in this work, but we count on the will and commitment of all the ministries."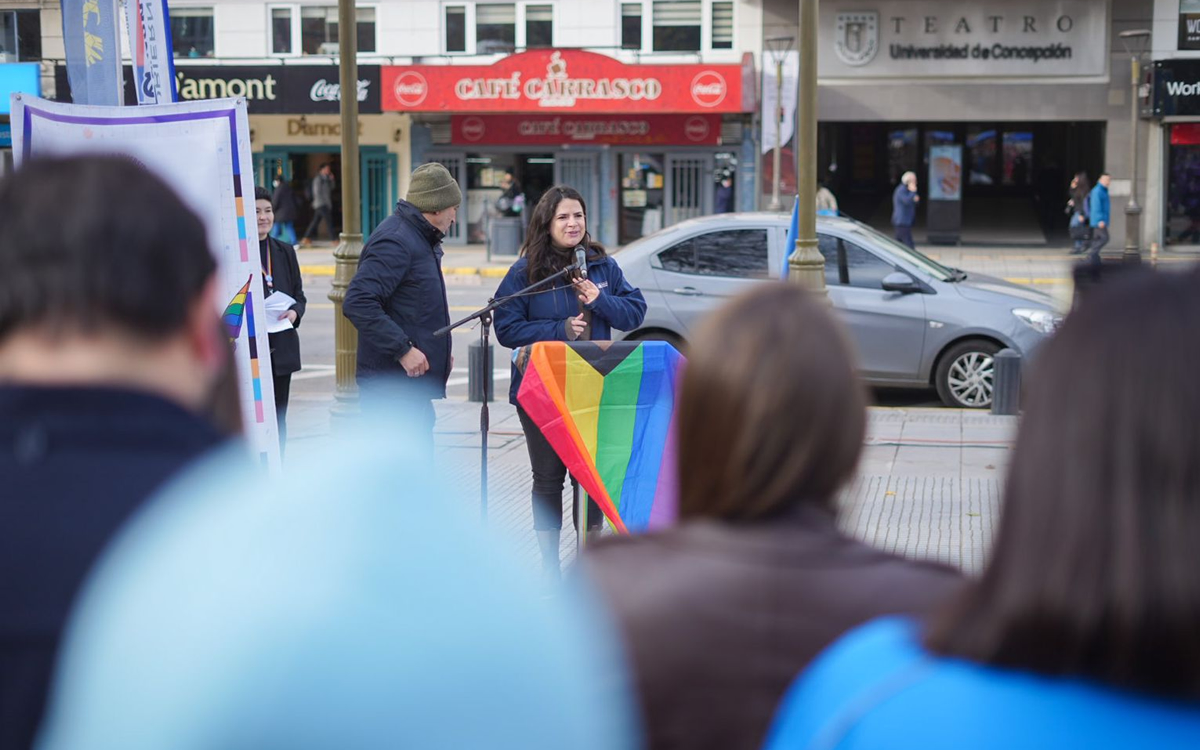 Women and Gender Equality Minister Antonia Orellana speaks at a Pride month event in Concepción, Chile. (Courtesy photo)
This new institutional framework and proposed reforms of the Zamudio Law depend upon Congress. Boric's government has therefore made them a legislative priority.