Russian President Vladimir Putin is likely on the lookout for alternative mercenary groups to replace the Wagner fighters in Ukraine, according to a new intelligence assessment.
Mercenary organizations and private military companies are "less constrained" by poor pay and "inefficiency" that afflict Russia's formal military, the British defense ministry said on Tuesday.
Wagner Group fighters have been heavily involved in Russia's ongoing invasion of Ukraine, most notably in Moscow's efforts to take the embattled eastern city of Bakhmut. The head of the Wagner Group, Russian billionaire Yevgeny Prigozhin, is a long-time associate of the Kremlin leader, having previously earned the nickname of "Putin's chef."
But Russia's top commanders are likely looking for a new private military company they can exert more "control" over, the British defense ministry said, as the "high-profile feud" between the Wagner chief and the Russian military continues.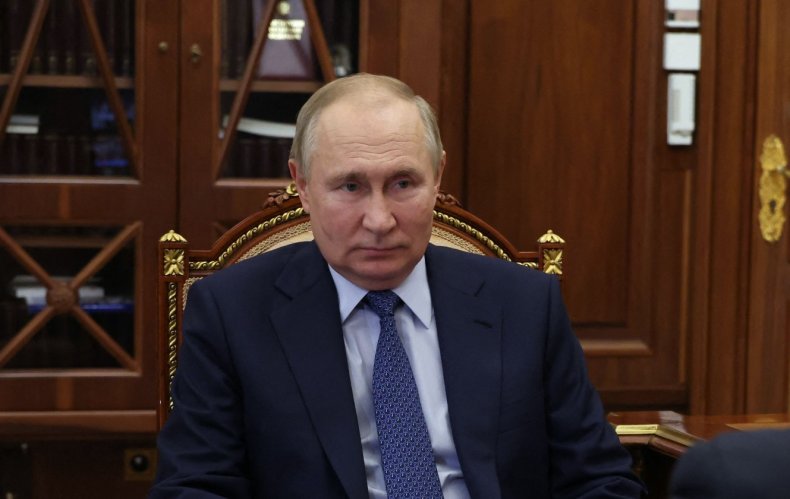 Russian President Vladimir Putin meets with Moscow Region Governor Andrei Vorobyev in Moscow on April 3, 2023. Russia's leadership is likely looking to replace the prominent role of the Wagner private military company as the "high-profile feud" between the Wagner chief and the Russian military continues, the U.K. defense ministry said on Tuesday.
MIKHAIL KLIMENTYEV/SPUTNIK/AFP via Getty Images
Prigozhin has been an outspoken critic of the Russian defense ministry and the top military leadership, accusing top brass of treason back in February.
However, there are no other Russian mercenary groups that match up to the "size or combat power" of the Wagner fighters, the U.K. defense ministry said. Russia's leaders likely think heavy casualty counts for mercenary groups will be "better tolerated" by Russia's citizens, compared to losses sustained by the country's armed forces, the ministry said.
Newsweek has reached out to the Russian defense ministry via email.
— Ministry of Defence 🇬🇧 (@DefenceHQ) April 4, 2023
On Sunday, Prigozhin appeared in a video on a Wagner Group-affiliated Telegram channel, in which he said the mercenary fighters had taken control of the destroyed Donetsk city of Bakhmut, raising a flag above the settlement's city hall. Reports of Russian control over Bakhmut were rejected by Kyiv.
The city has been a hotspot of Russian and Ukrainian fighting for months. On Monday, the Washington-based Institute for the Study of War think tank said Wagner fighters had "made further advances" in the central areas of the city, including the city hall.
Ukrainian troops are still in the western parts of Bakhmut, the think tank said.
Early on Tuesday, Ukraine's General Staff of the Armed Forces said Russia continued its push to capture Bakhmut, with Ukrainian forces fending off 32 attacks in the area over the previous 24-hour period. A further 530 Russian fighters had been killed in Ukraine over the past day, the General Staff added.
On Monday, Russia's defense ministry said up to 285 Ukrainian military personnel had died in fighting in the Donetsk direction, without specifying reported losses in Bakhmut.