Former prisoners who fought for the Wagner Group in Ukraine are causing disturbances in a resort town in southern Russia where they are awaiting pardons, it has been reported.
The independent Russian language news outlet iStories reported that Wagner high command had allowed the convicts among the mercenaries to return home but they were first staying in hotels in the Krasnodar town of Anapa, which lies on the northern coast of the Black Sea.
The Wagner group, founded by the businessman Yevgeny Prigozhin, was crucial to Moscow's fight for Bakhmut. During the war in Ukraine, thousands of men were recruited from prisons across Russia, with their sentence quashed in exchange for a six-month contract.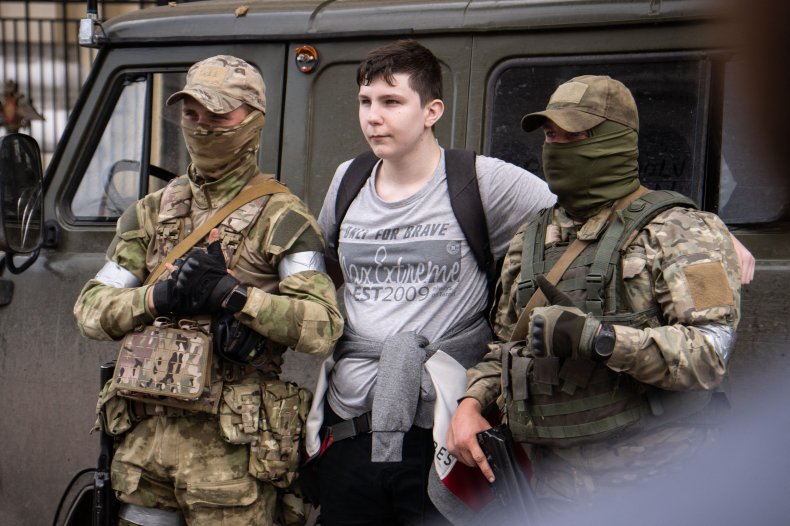 A man poses for a photo with members of Wagner group in a street in the city of Rostov-on-Don on June 24, 2023. Wagner fighters are staying in hotels in the Krasnodar territory, Russia.
ROMAN ROMOKHOV/Getty Images
Casualties among Wagner troops were high, spurring Prigozhin to lambaste the Russian military establishment for not providing enough equipment.
Prigozhin then ordered his men to seize military facilities in Rostov-on-Don in southern Russia and march on Moscow.
After calling off the mutiny on June 24, a reported deal agreed that neither Prigozhin, nor the troops, would face legal action and would be exiled to Belarus.
The fate of Wagner is uncertain but the iStories report, which cited messages between some fighters and their relatives, suggests that many will soon be released back into society.
Around 400 Wagner fighters are staying in the hotels in Anapa. Ex-prisoners were sent to hotels in the nearby village of Vityazevo which had swimming pools, with nightly rates ranging from $25 to $80 a day, it said.
The former convicts cannot leave hotel premises until they receive a pardon, payments and documents which include a release form, proof they fought in the war and a doctor's assessment, iStories reported.
There are also complaints on chat rooms about the Wagner fighters' behavior in the town, causing problems in the town where one said they "are not welcome" and are often seen drunk.
One relative told the outlet that Wagner wanted to release the prisoners from the hotels by July 29. Another relative said that prisoners can return home, or if they want to, extend their contract to go to Belarus, or Africa, where they have a strong presence.
Newsweek has contacted the Russian Defense Ministry by email for comment.
It comes as a Wagner-affiliated Telegram channel said that 22,000 mercenaries have been killed in Ukraine, with a further 40,000 wounded. As of May 20, 25,000 recruits with the group were "alive and healthy," according to the account.
Meanwhile after uncertainty regarding his whereabouts, an unverified video released on Wednesday purportedly showed Prigozhin saying that he was on "Belarusian soil" where he aimed to make the country's army better than Russia's.