When the Los Angeles wine bar and restaurant Melody announced on Instagram that it was hosting "2 nights of dope music, Israeli food &  natural wines," all hell broke loose.
"What will they be serving? Colonized hummus and apartheid falafel? Please," one of the restaurant's 23,000 followers posted.
Then things got really nasty.
"I'm sorry what the hell is Israeli food?!," wrote Yasmeen Alshawwa, founder of the L.A. branding and marketing company Conscious Narratives. "You mean culturally appropriated food from the people they are genociding? Shame on you @_melodyla_ I'll make sure to never go back here again."
A few posters defended Melody's choice. But hundreds from around the world expressed disgust that a food destination in the center of hip, politically progressive Virgil Village had invited an Israeli chef.
"Sigh, y'all suck ass. For real for real," wrote Aminah Musa of the Paliroots clothing company.
In response, the owners did something noteworthy: Nothing. They went ahead with the dinners, fully aware but apparently unafraid of the blowback. It was a teaching moment — not just about how to think about politics and food, but how to persevere in real life when your digital world is crumbling. 
Cross-cultural mixing, borrowing and blending
Melody is a wine bar that rotates its menu among visiting chefs of all cultures. Sometimes it fuses those cultures: A 2021 pop-up offered a pastrami taco that featured a slice of Swiss cheese and heritage masa. The event came about when Melody invited an L.A. promoter and D.J. named Moscoman and the Israeli chef Ofir Horesh to do a two-day pop-up.
Cross-cultural mixing, borrowing and blending is one of the points of Melody, or so its co-owners tried to explain in follow-up posts.
"It's unfortunate that for the past 24 hours our DM's have been blowing up with hate regarding the support of an entire ethnicity," co-owner Eric Tucker posted to Instagram. "Melody is about community. Communities that may rarely cross paths interact here."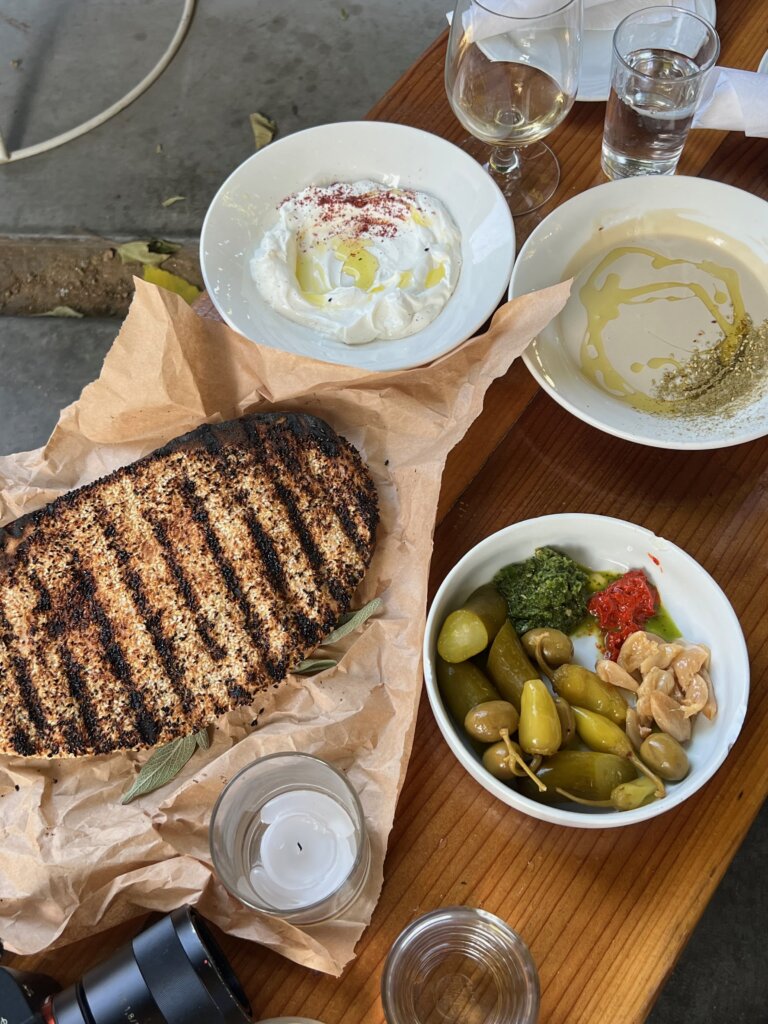 Sesame sage bread, labne, pickles, olives and tahini "Port Said style" from Chef Ofir Horesh at the Melody Wine Bar pop-up in Los Angeles. Courtesy of Ofir Horesh
Paloma Rabinov, an actress and artist with Mexican and Jewish heritage who co-owns Melody with her husband, Tucker, wrote that they have "a zero tolerance policy for xenophobia."
"I support @shifka.dh," posted Rabinov, referring to the event organizers, "not Netanyahu nor Israel's occupation and persecution of Palestinians. I support the freedom of Palestine, and an individual's freedom of expression independent of their governments actions."
The critics were not calmed. Melody's feed quickly became yet one more proxy Mideast battleground, and yes, I couldn't help joining the fray.
"If you think Israel shouldn't exist or everything Israeli should be boycotted fine, argue that," I wrote. "But at least understand that food like music, fashion, language and art diffuses through cultures. Palestinian cuisine itself relies on tomatoes and chiles that are a result of New World conquest and colonization." 
And if you define Israeli cuisine as the foods cooked within a country, of course that includes traditional Arabic foods — the largest minority group in Israel is Palestinian Arabs. Israel is also 40% Jews from Muslim lands— who brought many Arab dishes with them, like shakshuka from Libya, which Palestinians themselves cook.
"Israeli cuisine is what all Israelis eat, Arabs and Jews included— what else should @_melodyla_ call it???," I wrote — using three question marks because, you know, it's social media.
I pointed out that there are serious issues when it comes to Israel, food and Palestinians: Israelis destroy and steal Palestinian olive groves and disrupt harvests. It confiscates, with little or no due process, Palestinian farmland. It deprives Palestinians in the West Bank of their fair share of water.   
If you want to fight for Palestinians over Israel and food, I wrote, those are the battles— not shallow arguments over who owns hummus or whether Israeli chefs have a "right" to cook Palestinian foods.
And, by all means, Melody should include Palestinian chefs and cookbook authors in its lineup — there's no lack of them. 
The chef Melody invited explained it his way:
"At the end of the day the people who wake up in the morning to feed other people are not really coming from a political perspective," Horesh said when I reached him by phone after the event. "They are coming from really touching the hearts and soul of people through food."
Horesh, who is 29, cooked for acclaimed Israeli chef Meir Adoni before moving to New York where he opened Lamalo in Manhattan and the Florida-based string of Motek cafes. I reached him as he was preparing to fly to Nevada where he will cook a kosher Shabbat meal for 800 people at Burning Man.
"I guess people on the internet are really easy with hate," he said.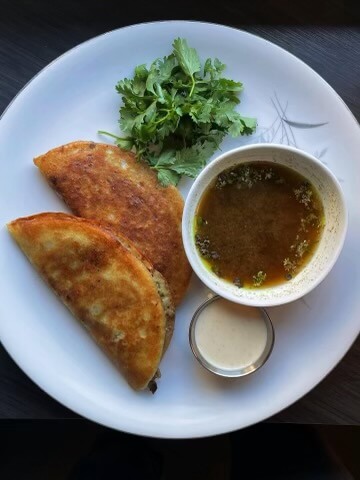 Chef Ofir Horesh's Yemenite lachoh stuffed with birria served at Melody in Los Angeles combined Israeli, Yemenite and Mexican cultures. Courtesy of Ofir Horesh
Horesh pointed out that Israel often comes in for extra scrutiny when it comes to food.  Mexico's famous al pastor-style tacos, whose trumpet-shaped meat you see spinning beside sidewalk taco vendors all over L.A., originated with Lebanese immigrants to Mexico.
"I mean, why aren't the Lebanese people screaming, 'You stole my shawarma!?" said Horesh. "This is food, food travels, we get influences from each other, we inspire each other."
Despite the blowback, Rabinov and Tucker pressed on. (Tucker declined to speak to me on the record). The first night 100 people showed up, according to Horesh, filling the place. The second night 200 came, packing it. 
"There's always so much discourse around Israel," said Simone Lee, Horesh's partner. "But I think that just because it's there doesn't mean that the support isn't there."
Since I wasn't able to attend either evening, I found someone, through Instagram, who had, and reached out by phone for a report.
Jim Czarnecki is not Jewish, but he decided to go to Melody because he's a regular and wanted to show support. The place was full, he said, with no protesters outside, and a lot of happy diners inside.
As I read him from Horesh's menu, he made kind of involuntary moans and exclamations: sesame sage bread, sabra ceviche, Wagyu kebab, Yemenite birria, Israeli potato salad.
"The bread was off the charts," he told me. "The potato salad was the best potato salad I ever had in my life. It was so f—- good."
Czarnecki, a documentary producer whose credits include Fahrenheit 911 and Bowling for Columbine, asked me to explain what exactly the online turmoil was about. 
"Palestinians think it's wrong to use the term 'Israeli food,' to refer to food they were cooking before the State of Israel was established," I explained.
"But I mean," Czarnecki said after a pause, "they did a hell of a job with that Palestinian food."
The post A hip L.A. wine bar hosted an Israeli chef — and Instagram lost its mind appeared first on The Forward.