(New York Jewish Week) — Last fall, when Binyumen Shaechter started putting together the 2023 repertoire for the Yiddish Philharmonic Chorus, he thought an apt theme and title would be "Chutzpah! Yiddish Songs of Defiance" to celebrate the 80th anniversary of the Warsaw Ghetto Uprising as well as the 75th birthday of the State of Israel. 
He had no idea that, nearly a year later, when the chorus was gearing up for an encore performance of its June concert celebrating their 100th anniversary, Hamas would invade Israel and slaughter 1,400 Israelis — and that Jews might need to turn to these historical songs of defiance once again. 
"If anything, what's happening in Israel, in that region and to the innocent Gaza civilians is more of an inspiration and an incentive for us to sing with more passion, emotion and determination and defiance," Schaechter, the director and conductor of the chorus, told the New York Jewish Week. "These songs made the people who sang them feel good about the things that they were feeling bad about."
The concert, this coming Sunday at the Upper West Side's Merkin Hall at Kaufman Music Center, includes three songs about the Jewish people's relationship to the land of Israel at different points in Jewish history: a setting of Psalm 137, the "Partisans' Anthem" sung by Jewish fighters in the 1940s and, perhaps most notably of all, "Di Hofenung," a version of "Hatikvah," Israel's national anthem, that was translated into Yiddish in 1943 by Hillel Meitin.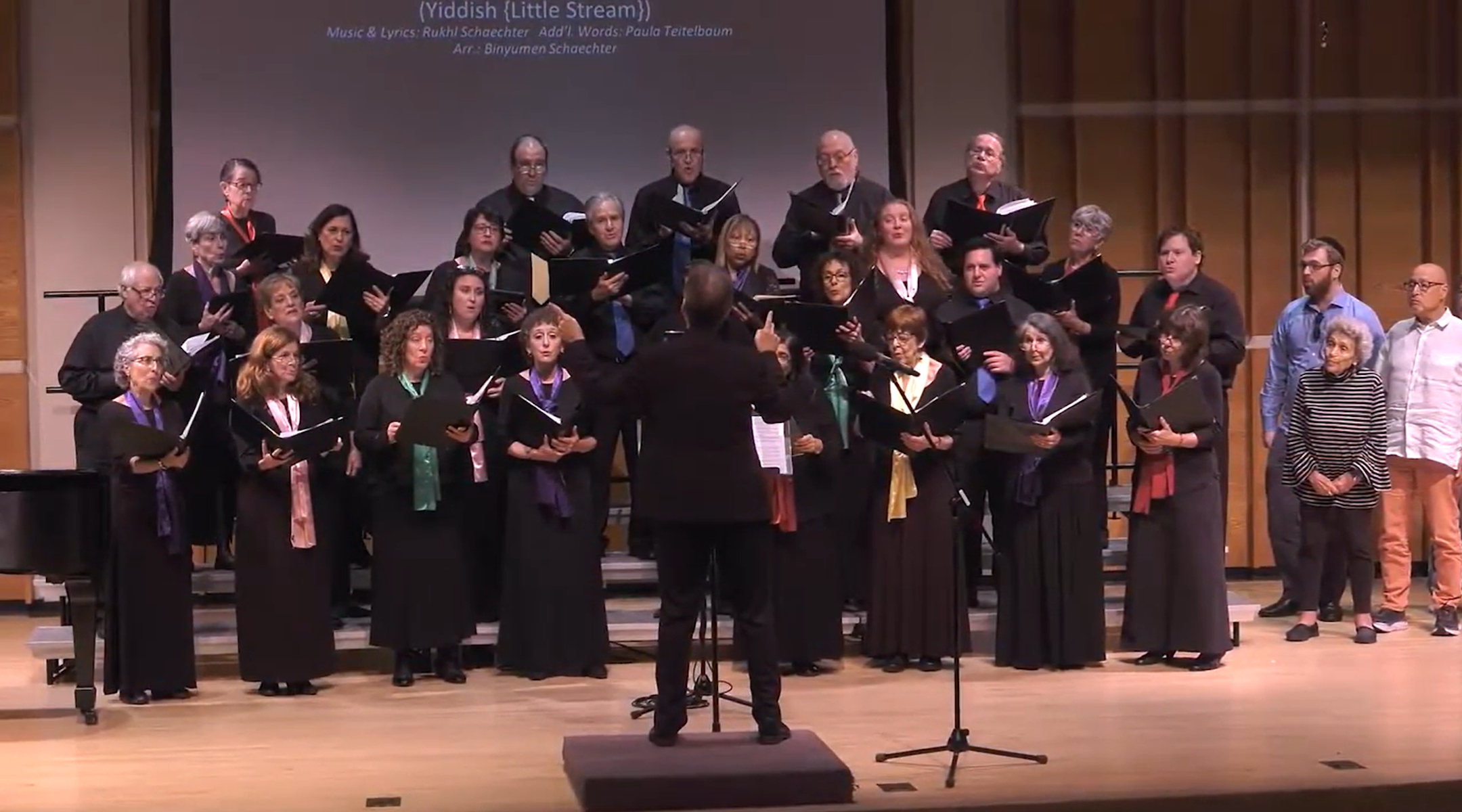 The Yiddish Philharmonic Chorus perform in 2019. Binyumen Schaechter conducts, while alumni join the chorus onstage. (Courtesy Binyumen Schaechter)
Schaechter believes the Yiddish version of "Hatikvah" is relatively unknown and, to his knowledge, has not been performed since his chorus picked it up. "I happened to find it in a collection of Yiddish war songs written in 1943,"he said. "I would be shocked if anybody has performed it in Yiddish. We've made that poem come to life after 80 years."
"Because everything that's going on in Israel, we just feel our hearts so full to be singing these songs like 'Hatikvah' and the partisans' song in Yiddish," Lynne Cassouto, a soprano who has been in the chorus for nine years, told the New York Jewish Week. "It's just so poignant and so powerful right now to be singing together right now."
Founded in 1923 on the Lower East Side as the Freiheit Gezang Farein ("Freedom Chorus") by conductor and composer Lazar Weiner, the chorus was an extension of the Morgen Freiheit, a daily Yiddish communist newspaper. The singers "were native Yiddish speakers and were staunch lefties," Schaechter said. For the first 15 or so years, the chorus would begin every concert with a Yiddish translation of the French communist anthem "The Internationale."
In the decades after its founding, the chorus continued to grow as its leaders wrote new choral and solo works. The group performed all over the city, including at Carnegie Hall. In 1948, during the anti-communist backlash of the McCarthy Era, the chorus changed its name to the Jewish People's Philharmonic Chorus.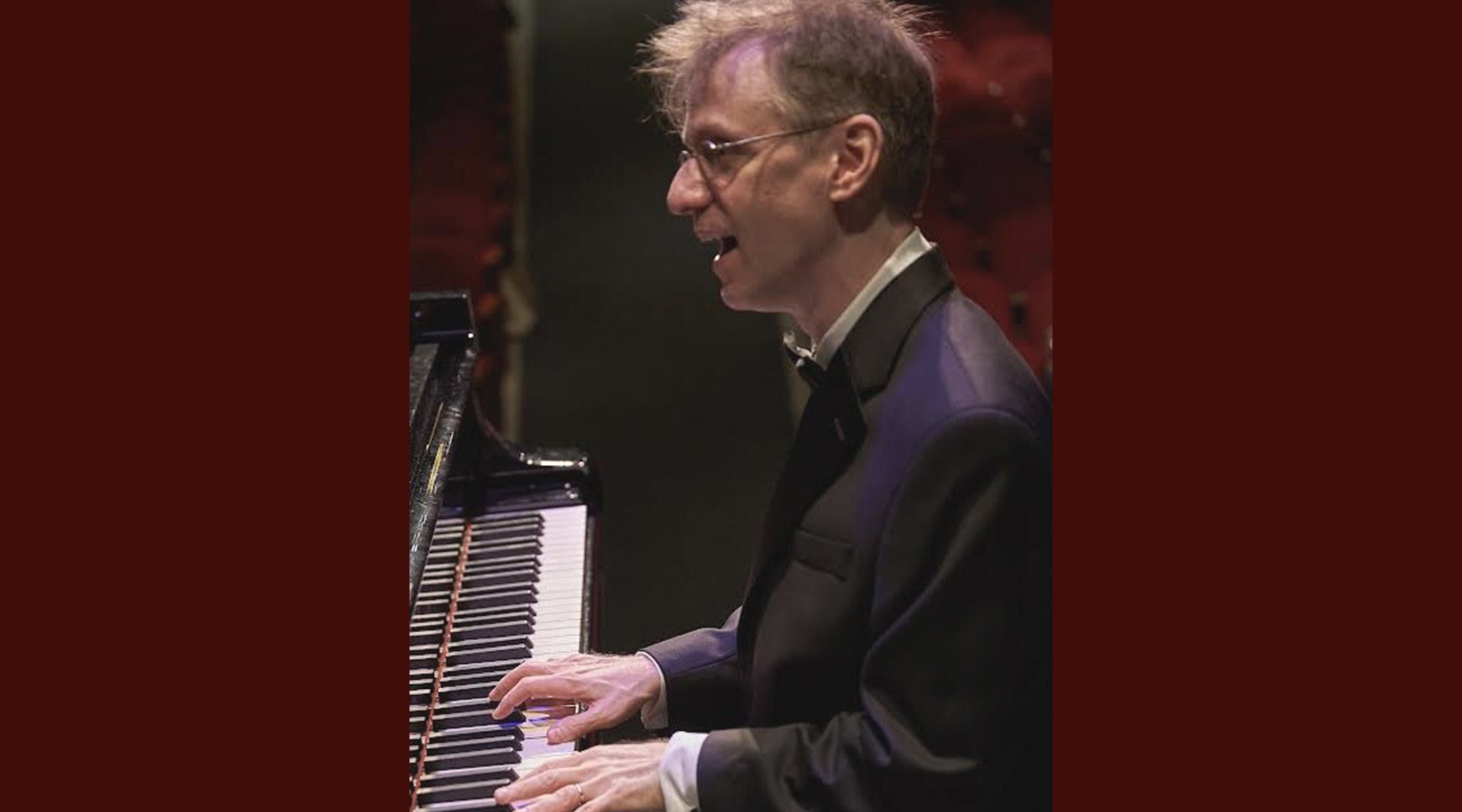 Binyumen Schaechter has conducted, directed and done the choral arrangements for the chorus for the last 28 years. (Courtesy Binyumen Schaechter)
By the 1980s, the chorus' popularity had waned, and it became more of a community choir — anyone who wanted to join could, regardless of whether they could sing, Schaechter said. 
Schaechter, 60, became the chorus' conductor and the director in 1995. Born in East New York, Brooklyn, he grew up in the Bronx in a prominent Yiddish-speaking family: His father, Mordkhe Schaechter, was a Yiddish linguist and professor at Columbia, the Jewish Theological Seminary, Yeshiva University and YIVO, the Yiddish research institute. His aunt, Beyle Schaechter-Gottesman, was a Yiddish poet and songwriter. Binyumen and his three sisters all pursued careers in Yiddish: Rukhl is the editor of Forverts, the Yiddish Forward; Gitl is a Yiddish poet and Eydl teaches Yiddish classes for women in her haredi community in Tzfat, Israel. 
Despite his upbringing, Schaechter said he never planned a career in Yiddish music — he thought he'd become a composer for musical theater. "My dream was to win a Tony Award for Best Score and to give my thank you speech in Yiddish," he said. He wrote a few shows that weren't produced, and worked as a substitute conductor at another chorus that shared some members with the Jewish People's Philharmonic Chorus, who asked him if he'd like to take over as the conductor full time. 
Now, said Schaechter, who also works as a Yiddish translator and lecturer, "I can't imagine doing anything else." 
In 2021, the chorus officially changed its name to the Yiddish Philharmonic Chorus. "Our raison d'etre for many years has been singing in Yiddish, keeping Yiddish alive and doing it in a way that enlightens the audience about the treasures that Yiddish poetry, song and even choral arrangements can have," he said. 
In his nearly 30-year tenure, Schaechter has expanded the range and ability of the chorus. The 36 members, ranging from 30-somethings to those in their 90s, had to audition. They hold a weekly practice session on Monday nights and perform anywhere from from three to 12 times a year around the city. 
While knowing Yiddish is not a prerequisite — Schaechter guesses only about a fifth of the cohort could hold a conversation in the language — singers learn how to pronounce and perform the music with gusto while also learning the translation and meanings behind the songs. 
"One of the things I love about the way Binyumen specifically presents a piece of music to us is that he will give us historical context — he will tell us about the composer, the author if it was originally a poem, the dialect, what the part of the world it was from, the context of when it was written," said Cassouto, who, like Schaechter, hails from a musical, Yiddish-speaking family. 
"I feel very strongly about Jewish continuity through all these art forms," she added. "So that all, for me, is a piece of keeping that spirit alive and being true to where we come from, and not having it just become history, but really be retained as a part of my identity."
"This was our culture. This was our language. This is our tradition going back for centuries," Schaechter said. "There's such wonderful literature and so many wonderful Yiddish songs that we don't want to lose them. We want to pass them on to the next generation."
Tickets for the Yiddish Philharmonic Chorus' upcoming concert on Sunday, Oct. 29 at 1 p.m. can be found here, starting at $50. A recording of the concert can also be purchased.
This article originally appeared on JTA.org.
The post The Yiddish Philharmonic Chorus celebrates its 100th anniversary with a rare Yiddish rendition of 'Hatikvah' appeared first on The Forward.